Stan Jackson's 1961 A10 Super Rocket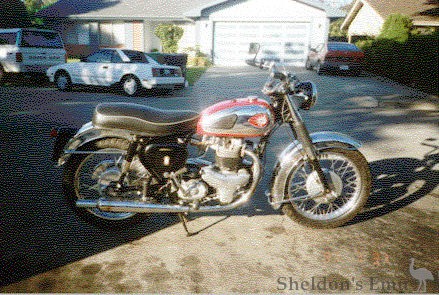 Stans's bike is a 1961 A10 Super Rocket with original frame and engine (manufactured at BSA Feb '61 and shipped to Hap Alzino March 1961). Stan found the bike as a basket case and completely rebuilt it 3 years ago.
This Super Rocket has a siamese exhaust sytem, gold star silence, SRM style main bearing conversion (home machined), belt drive to generator (home made), oil pump modified to high output, 1 3/16 - 389 Monobloc, 9.5-1" Italian slipper pistons, rebuilt magneto, SRM style clutch pressure plate (home made), SRM style oil filter (home made), speedo and tachometer rebuilt by Shaw in England, driven every weekend from March to December.