Mirek Sharp's 1956 A10 Road Rocket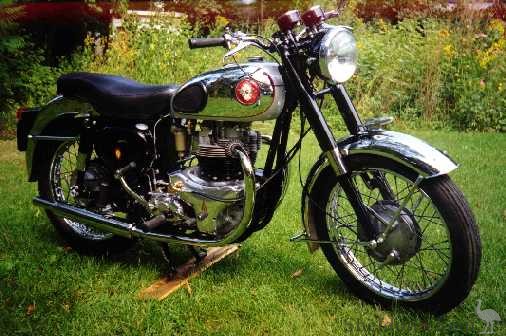 I first saw Mirek Sharp's A10 at an annual Ohio Valley BSA Owners club meet in Ohio and was quite impressed. It is a 1956 Road Rocket, originally delivered to Brown's Motorcycles in Toronto, Ontario.
Following are some of Mirek's improvements and restoration work on the bike:
1. a screw on oil filter conversion (developed by BSA enthusiast Al Mears, not a kit) was added. The filter cannot be detected externally as the connections are inside the oil tank, and oil pipes beneath the saddle carry the oil to and from the filter located in the tool box. 2. The bottom end was dynamically balanced.
3. The head has been bench flowed to balance the intake ports and improve mid range performance, performance valves were fitted with lash caps, and PM silicon-bronze guides were fitted.
4. the rockers were slightly lightened and polished, and the rocker arm springs have been replaced with bushes to enable more accurate rocker arm positioning and reduce friction on the rockers;
5. alloy pushrods were fitted;
6. connecting rods and pistons were polished and balanced, and the pistons modified to be fully floating on the con rods;
7. brakes were relined with oversized linings and then arced to fit the drums;
8. this winter Mirek is converting the clutch to the later 4 spring type with a custom made alloy pressure plate (not SRM) that increases the friction surface and which has a central bearing to even the lift, a mixture of surflex and barnett friction plates with barnett steel plates are being fitted used to provide smooth clutch operation.
9. Mirek is fitting a proper oil seal behind the clutch to replace that the brass sleeve;
10 all wheel bearings have been replaced with modern sealed bearings;
11. tapered roller steering head bearings have been fitted;
12 Mirek and Al made up a special alloy mag pinion with capacity for fine adjustment without removing the hub from the taper on the camshaft - this allows more accurate ignition timing.
All mating surfaces were carefully lapped before assembly and the alloy was polished. All fastners were removed and cadmium plated and many painted parts were powder coated. Components like the magneto and the generator were rebuilt, so the bike is very reliable and probably runs better than new.