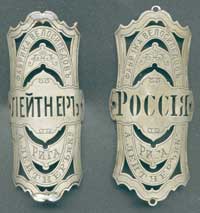 Criminality and corruption in Putin's Russia by Frontline and the Canadian Broadcasting Corporation.
Leitner Motorcycles
Manufactured in Riga, (now Latvia)
Sources:
See also: Russian Motor Vehicles: The Czarist Period 1784 to 1917 by Maurice A. Kelly. (Veloce)
---
Sat Feb 05 2011
piotr.leitner<at>poczta.fm
Leitner L3 , L4
Please information about
motorcycles Leitner
Warszawa
---
Here is some photos from Leitner:
diecar.narod/Russia/Rossija/All-Foto.htm (404)
by rows:
Leitner showroom,
Russia motorcycle 1899,
Russia motorcycle 1903,
Russia motorcycle 1,5hp
Leitner portrait,
Leitner poster,
Leitner poster,
Logo.
---
Sun Jun 11 2006
fworx at hotmail dot com
motorcycles from Russia
Leitner Russia 1903
Manufactured at Riga, engine - Fafnir 150cc, 1,75 ps. Max speed - 40 km/h.
Moscow technical museum collection. Taken September 2001 by Sergey Riabsev
Moscow
(Photo above)
---
If you have a query about these vintage Latvian machines, please contact us
---