SVM Motorcycles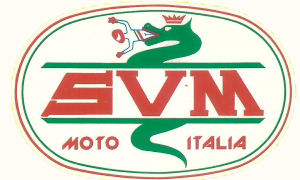 Manufactured in Cesano Maderno, near Milan, 1984-87.
Members of the SWM firm formed a new company after the former closed. SVM built off-road machines with Villa two-strokes of 124cc, a 329cc trials machine, and also a moped.
---
December 28, 2000
Here is some information on the SVM motorcycle brand. SVM motorcycles were formed by the SWM people not long after the shut down of SWM motorcycles. SVM produced three models, Motocross, Enduro, and Trials. These motorcycles were powered by water-cooled VILLA motors. SVM was short lived and closed down after a couple of years. I have some photos of the various models.
Kind regards,
Johnson Kalawe - Hawaii -- kahuwai at webtv.net
From Sheldon: Do send photos or whatever info you might have!
The SWM / SVM Registry
http://www.swm-moto.org/ [404]
---
If you have a query or information about SVM motorcycles please
contact us
---