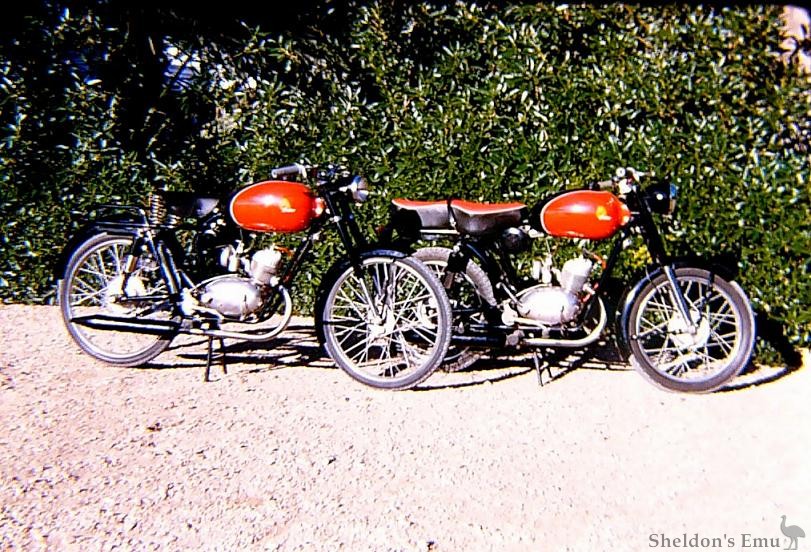 MARCA Setter
MOTOR SANTONJA DE 2 T, 74 CC
NUMERO DE SERIES F- ........
NUMERO DE CILINDROS 1
DIÁMETRO , EN MM. 46
CARRERA , EN MM. 45
POTENCIA CV 1.60
NUMERO TOTAL DE ASIENTOS 2
PESO TOTAL EN VACÍO 80
PESO CON CARGA MÁXIMA AUTORIZADA 160
Sobre el motor de 74 cc, evolucionado de los modelos M 59, y con numerosas mejoras sobre ese modelo, se lanzan dos modelos distintos. Uno a sillín corrido, ruedas más gruesas y un cuadro de diseño más actual y otro (de menor tirada) con sillín de muelles, ruedas 600x50 y cuadro derivado del M-59. En ambos casos se adopta un cambio de 3 marchas al pie, y una nueva motorización que fue sin duda el mejor motor fabricado por Santonja.
Como no podía ser de otra forma, las fotografías de arriba fueron tomadas en el Palmeral de Elche hacia 1961.
---
BRAND Setter
SANTONJA ENGINE 2 T, 74 CC
SERIES NUMBER F- ........
NUMBER OF CYLINDERS 1
DIAMETER, IN MM. 46
STROKE, IN MM. Four. Five
POWER CV 1.60
TOTAL NUMBER OF SEATS 2
TOTAL EMPTY WEIGHT 80
WEIGHT WITH MAXIMUM AUTHORIZED LOAD 160
On the 74 cc engine, evolved from the M 59 models, and with numerous improvements on that model, two different models are launched. One with a continuous saddle, thicker wheels and a more up-to-date design frame, and another (less run) with a spring saddle, 600x50 wheels and a frame derived from the M-59. In both cases, a 3-speed gearbox is adopted, and a new engine that was undoubtedly the best engine manufactured by Santonja.
How could it be otherwise, the photographs above were taken in the Palmeral de Elche around 1961.
(Sadly, the photographs are unavailable)