Den K(lein)-R(oller) 51, "Schwalbe", gab es ab 1964. Äußerlich ähnelte er zwar dem Kleinroller KR 50, leistungsmäßig hatte er jedoch viel mehr zu bieten. Da zu diesem Zeitpunkt der neue Motor M 53 KHL mit 3,4 PS zur Verfügung stand, wurde die "Schwalbe" als zweisitziger Roller entwickelt. Nach 1964 wurden von diesem beliebten Fahrzeug viele verschiedene Varianten gebaut, unter anderem eine Variante mit dem Schaltdrehgriff am Lenker und eine andere Variante mit einer Fußschaltwippe. Besonders für Beinversehrte wurde ermöglicht - bei der Variante mit Handschaltung - die Fußbremse auf die linke Seite umzubauen. Seit 1968 wurde ein leistungsstärkerer Motor (M 53/1 KFR mit 3,6 PS) eingesetzt, und so erhielt die "Schwalbe" die Typenbezeichnung KR 51/1. Mit dieser neuen Typenbezeichnung kamen noch weitere Verbesserungen:



43 Watt Lichtmaschine,


verlängerte Sitzbank


bei der KR 51/1 S eine automatische Kupplung


Translation:
The K (lein) -R (oller) 51, "Swallow" was available from 1964. Outwardly it resembled the small KR 50 scooter, in terms of performance but he had much more to offer. The new M 53 KHL engine offered 3.4 hp, so the "Swallow" was developed as a two-seat scooter. After 1964 many different versions were built of this popular vehicle, including a variant with the twist shifter on the handlebars and another variant with a Fußschaltwippe. Especially for Beinversehrte was made possible - in the version with manual transmission - the foot brake was moved to the left side. Since 1968, a more powerful engine (M 53/1 KFR with 3.6 hp) was fitted, and so was the "swallow" the type designation KR 51/1. With this new type designation further improvements were:


43 watt alternator
longer seat
automatic clutch on the KR 51/1 S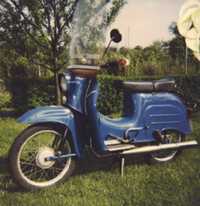 Eine KR 51/1 aus meiner kleinen
Schwalbensammlung
ÜBERSICHT DER KR 51/1 - TYPEN

KR 51/1 und KR 51/1 F

Diese beiden Grundmodelle der Rollertypenreihe sind mit Federbeinen mit Reibungsdämpfung ausgestattet. Zur äußeren Kennzeichnung dienen die Farben "sandgrau" und "blau". Sie besitzen entweder Hand- oder Fussschaltung.

KR 51/1 K

Bei dieser Version der "Schwalbe" bedeutet das "K" in der Typenbezeichnung "Komfort". Dieses Fahrzeug fährt sich auch wirklich sehr komfortabel. Das wurde durch den Einbau von hydraulischen Federbeinen erreicht. So war nicht nur der Federungskomfort erheblich verbessert, sondern auch die Straßenlage. Durch verbesserte Bodenhaftung war sie bedeutend sicherer. Außerdem wurde der Fahrkomfort des Mitfahrers durch eine verlängerte Sitzbank erheblich verbessert. Diese Fahrzeuge gab es in den Farben "weiß" und "saharabraun".

KR 51/1 and KR 51/1 F

These two basic models of the scooter type series are equipped with shock absorbers with frictional damping. For external marking the colors "sand gray" and serve "blue". They feature either hand- or foot-circuit.

KR 51/1 K

In this version of the "swallow" the "K" in the model name means "comfort". This vehicle also runs her really comfortable. This was achieved by the installation of hydraulic struts. Thus, not only the suspension comfort was greatly improved, but also the road position. Through improved traction it was much safer. In addition, the ride comfort of the passenger by an extended bench was greatly improved. These vehicles were in the colors "white" and "brown sahara".
KR 51/1 S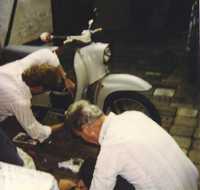 KR 51/1 - manche Probleme
brauchen zwei Techniker!

Die (S)onderausführung der "Schwalbe" wurde von 1968 - 1980 gebaut. Sie unterscheidet sich im Wesentlichen von den anderen Modellen durch die automatische Kupplung. Da die Kupplungsautomatik mit dem Fußschaltmechanismus gekoppelt war, konnte der Kupplungshebel völlig entfallen. Die Funktion der Kupplung basierte auf dem Fliehkraftprinzip, sie wurde durch das übertragene Drehmoment zusätzlich stabilisiert. Dies bewirkte auch ein sehr zügiges Anfahren ohne langes Aufheulen des Motors (dieser Motor wurde auch in das "Duo" eingebaut). Die Lichtleistung des Scheinwerfers wurde von 15 auf 25 Watt erhöht. Die Zündspule wurde erstmals außerhalb des Motors angebracht, was die Stärke des Zündfunkens nochmals erhöhte. Die KR 51/1 S hatte an den vorderen Stoßdämpern verchromte Schutzhülsen und war entweder "olivbeige" oder "signalrot".

Im Jahre 1980 begann eine neue Ära der "Schwalbe" mit der KR 51/2. Ab diesem Baujahr besaßen alle Schwalbemodelle den in der S 50/51 bewährten Motor (M 541 mit 3,7 PS) mit Fahrtwindkühlung und Ziehkeilgetriebe. Durch den gummieelastisch aufgehängten Motor und den Wegfall des Gebläses konnten die, teilweise durch Mitschwingen der großen Blechkarosserieteile hervorgerufenen, Fahrgeräusche drastisch gesenkt werden. Der Auspuff wurde auf die rechte Fahrzeugseite verlegt, einmal um den Hinterradausbau zu erleichtern, zum anderen um Verbrennungen an den doch meist von links aufsteigenden Fahrern (Fahrerinnen) zu vermeiden. Der Scheinwerfer bekam einheitlich eine Lichtleistung von 25 Watt und am Heck wurde das - an der "Schwalbe" eher häßlich wirkende - Rücklicht der S 51 angebracht.
The (S) onderausführung the "Swallow" was from 1968 - built 1980th It differs substantially from the other models by the automatic clutch. Since the clutch automatic was coupled to the Fußschaltmechanismus, the clutch lever could be completely eliminated. The function of the clutch based on the principle of centrifugal force, it was further stabilized by the transmitted torque. This caused a very brisk start without long roar of the engine (this engine was also in the "Duo" installed). The light output of the headlight was increased from 15 to 25 watts. The ignition coil is mounted for the first time outside of the engine, demonstrating the strength of the spark increased again. The KR 51/1 S had chrome on the front Stoßdämpern sleeves and was either "olive beige" or "signal red".

In 1980 a new era of "swallow" the KR 51/2 began. From this Year all Schwalbe models had the best in the S 50/51 engine (M 541 with 3.7 hp) with air cooling and pulling wedge gear. By gummieelastisch suspended motor and the elimination of the blower could the, in part, by resonance of the large sheet metal body parts caused, driving noise can be drastically reduced. The exhaust has been moved to the right side of the vehicle, even in order to facilitate the rear extension to avoid others to burns on the left but mostly from ascending drivers (drivers). The spotlight was uniformly a light output of 25 watts and which was at the rear - at the "swallow" rather ugly-looking - back light of the S 51 is attached.
DIE KR 51/2 - TYPEN

KR 51/2 N

Dies ist der Grundtyp der KR 51/2 - Reihe. Er besitzt reibungsgedämpfte Federbeine und Fußschaltung. Die Elektronikbauteile wurden unter das vordere Abdeckblech verlegt, der dort vorher sitzende Luftfilter sitzt jetzt direkt vor dem Vergaser.


KR 51/2 E

Dieses Modell besitzt hydraulische Federbeine und Vierganggetriebe.


KR 51/2 L
Bei diesem Fahrzeug bedeutet das "L" in der Typenbezeichnung "Luxus". Es besitzt die von der "S 51 E" übernommene wartungsfreie Elektronikzündung und einen Scheinwerfer mit 35 Watt Lichtleistung. Selbstverständlich besitzt die "KR 51/2 L" auch Vierganggetriebe und hydraulische Federbeine.
THE KR 51/2 - TYPES

KR 51/2 N

This is the basic type of KR 51/2 - series. He has friction damped spring legs and foot switch. The electronic components have been installed under the front cover plate, of there before fitting the air filter is located now in front of the carburetor.

KR 51/2 E

This model has hydraulic struts and four-speed transmission.

KR 51/2 L In this vehicle, the "L" in the model name means "luxury". It possesses of the "S 51 E" acquired maintenance-free electronic ignition and a headlamp with 35 watts. Of course, having the "KR 51/2 L" also Vierganggetriebe and hydraulic shock absorbers.
| | |
| --- | --- |
| | |
| Meine KR 51/2 L | Eine Auswahl aus meiner kleinen Schwalbensammlung! |
---