Astra Motorcycles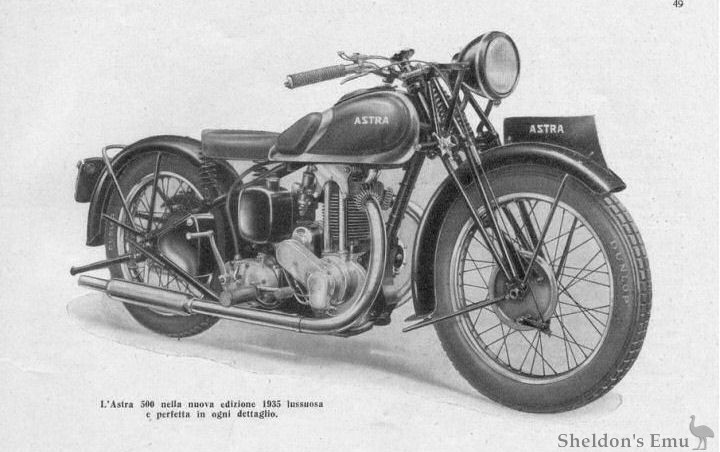 Astra 1935 500cc

A Brief History of the Marque
Made in Italy 1931 to 1951
Max Turkheimer & Co assembled Astra motorcycles in Milan using numerous parts sourced from the Birmingham firm Components Ltd, builder of Ariel Motorcycles. These very attractive machines had 248cc and 498cc single cylinder engines, usually with Burman gearboxes and Bosch electrics. Prior to WWI the Turkheimer company manufactured Otav motorcycles and cyclecars.
---
Sat Apr 06 2013
mekeel29<at>hotmail.com
what is this worth?
astra 125 scooter
I want to sell this scooter for some extra money but have no idea what it is worth.. Has 665km (441miles) great condition

---
Sat Apr 13 2013
gabosimo<at>libero.it
astra 500
sport? anno 1935
se interessano ho altre foto.grazie.
giuseppe
brescia
Italian
Images of the Astra 1935 Sport in the gallery

---
Sturknj at comcast.net
astra-turkheimer
my name is steve turkheimer and wanted to see if you had any turkheimer
history.max turkheimer would be my fathers great uncle.thank you.
new jersey
---
"eloi duez" <eloiduez at hotmail dot com >
Date: Thu, 18 Aug 2005 10:41:17 +0000
...thank you,and I you joint of the photographs of my Astra 500 1937, completely restored it has rolled for one month, Astra is a mark Italian importer of ariel has Milan, beautiful motor bike and rare, has more
...Astra was a motor bike built by max Turkheimer has Milan, importer of Ariel, they was similar with Ariel, except, Bosch tape recorder, limps burman, but built at FIAT, I have all the history of the mark if that you intéresse?
Hello, here of documentation on Astra, if are not beautiful for them I you scannes, because I have all hitoric mark,I possede of the photographs of the models on paper of 1932 has 1939, for Aremacchi, it is Ala D' Horo 175 S of 1960, big large valves, piston high compression, limps Racing, pinions cuts right origin?? 9500tr/min
---
Date: Fri, 25 Feb 2005
subject: Astra
Email: roberto.gruber at poste.it
message: please, can I have complete information and pictures about Astra motorcycle.
thanks in advance
best regards
robert gruber
---
If you have a query or information about Astra motorcycles please contact us