Egli Motorcycles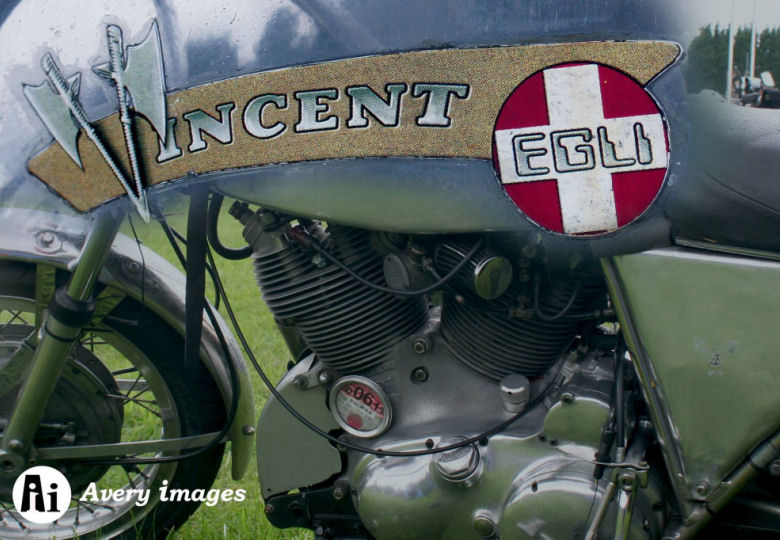 The best known of all the machines built by Fritz Egli is the Egli Vincent, of which around 100 were produced between 1967 and 1972.
The Egli frame has a large diameter backbone which houses the oil tank, and it was graced with Ceriani forks and a large diameter 4LS front brake.
It is widely regarded as the best cafe-racer of the era. Some would go further than that.
Other notable models include Egli-Suzuki, Egli-Kawasaki and Egli-CBX1000. There were also frames for the Yamaha TZ series in various guises.
Egli models produced post-1972
| | | | |
| --- | --- | --- | --- |
| Model | Years | Frame | Production |
| BMW K100 | 84-89 | EB | 10 |
| BMW R100 | 95-on | EB | 2 |
| Ducati 750 | 73-74 | ED | 10 (15) |
| Ducati 750/900'* | 89-90 | ED-9C | 20 (25) |
| Harley Davidson | - | - | 1 |
| Honda VF1000F/R | 84 | - | 4 |
| Honda CB 900/1100 | 78-on | EH9-C | 500 |
| Honda CBX1000 | 79-90 | EHI0-C | 50 |
| Honda Singles | 82-85 | ES1-C-H | |
| Honda 1000GW | 77 | - | 1 |
| Kawasaki Z900-1000 | 73-79 | EK9 | 400 |
| Kawasaki Z900-1100 | 79-on | EK9-C | 600 |
| Kawasaki Z900-1100 | 79-on | EK9-C-T | 40 |
| Morbidelli 250 | 76-77 | EM | 20 |
| Rotax 250 | 82-83 | - | 2 |
| Royal Enfield 500 | | - | 1 |
| Royal Enfield 750 | - | - | 1 |
| Suzuki 750-1100 | 82-0n | ESI0-C | 300 |
| Yamaha T Z 250/350 | 75-77 | EY | 20 |
| Yamaha TZ 700 | 76-77 | EY | 10 |
| Yamaha Singles | 82-85 | ES1-C-Y | 30* |
Source: Classic Bike June 2000
Superb replicas of the Egli Vincent were manufactured in France by Patrick Godet, who died in 2018.
---
16-May-2020
jonathan_cook at talk21.com
Kawasaki
Trying to find a set of red Egli front forks
Jonathan Cook
Manchester United Kingdom
---
Sat, 06 Jan 2018
warwickbiggs at iinet.net.au
CBX Racer prolink 1982
What year did Egli commence making the Red Baron? I need this info for our historic race rules because the cut off date for my CBX racer is 1982. Any replica parts must have been available prior to 1983. Dudley Lister here in Oz claims to have a red baron frame. He says, one of 3 of a "recent" production run. Is this possible? Was there a recent run of these frames? I would be very grateful if you could answer these questions please.
Rick Biggs
Wollombi Australia
Vincent Motorcycles: The Untold Story lists Egli CBX from 1979, which may well be correct.
Can anyone help with these questions?
---
Sept 6th 2017
Wunderschönen guten Tag,
im Anhang findet Ihr die Vorab Information zum EGLI Treffen 2018 in der Schweiz vom 7.-9.September 2018.
Wir bitten alle Interessierten sich bis zum 15. September 2017 über die mail Adresse:
events at eglimotorcycles.com
für weitere Informationen anzumelden.
Damit erfolgt noch keine Anmeldung zum Treffen ! Diese ist erst nach dem Versenden der Einladung möglich.
Wir wünschen noch eine schöne restliche Motorradsaison
Viele Grüße
Michael Niemann
Beautiful good day,
in the appendix you will find the preliminary information on the EGLI meeting 2018 in Switzerland from 7th - 9th September 2018.
We kindly ask all interested parties to register by the 15th of September 2017: events at eglimotorcycles.com for further information.
No registration for the meeting! This is only possible after the invitation has been sent. We still want a nice rest of the bike season
Best regards
Michael Niemann
---
Sun Nov 25 2012
corinneluczak<at>hotmail.com
production of egli 900 kawa
egli kawasaki 900
please I'm looking for informations about egli 900 kawa number of produts years of production specificities. thanks
montreux suisse
---
Hello Ruben,
I have just seen the pictures of your bike on Shelddon´s EMU.
I am the German importer of EGLI® motorcycles.
I am sad to tell you that your frame is not an EGLI® frame. I think that your frame is a RAU frame. RAU copied the EGLI frames beginning in the late seventies. The swing arm looks like a Krüger & Junginger one. The Alloy tank seems to be a Rheinschluessel production.
The carbs should be taken from a HONDA CB 750 F2.
When I visited the 30th international EGLI meeting in August we stayed some more days in Switzerland this year. When we drove over the Furka we met some Spanish guys with DUCATI bikes. I was riding with my EGLI® DUCATI . These guys told me that they know someone in Barcelona who is working on an old special frame probably an EGLI® in Barcelona. I think they spoke of you. Many greetings to those guys.
With this mail you get some pictures of EGLI bikes and a picture of the Furka when we met these Spanish guys.
Cheers
Michael Niemann
EGLI-RACING
Obere Mühle 28
D-58644 Iserlohn
Tel: +(0)2371-25292
Fax: +(0)2371-22310
---
Tue Dec 06 2011
aiw62<at>yahoo.co.uk
Frame production
Egli All
I will soon be manufacturing Egli Vincent frames and will be able to mkae frames for other makes
Essex UK
---
Sat Aug 06 2011
rubenvmax<at>yahoo.es
Egli frame
Honda 750 sohc
Hi!! I'm Ruben from Barcelona. 3 months ago I found a Honda 750 sohc standing in a backyard since 1985... I don't know which year is the engine, the serial number is B750GE-1007893, and the frame looks like an Egli, but I'm not sure. Can you help me please? I want to rebuild the bike but I don't have too much information. Front forks are Marzochi, wheels are DID, front brakes AP Lockheed, I don't know the carbs, rear shocks, swingarm... and the frame! I'm not sure if is an Egli or replica (Martin...).
Thank you so much, best regards.
Ruben.
Barcelona
---
Thu May 12 2011
markh<at>silenzio.co.uk
Info on my frame
egli cb750 engine
I bought an egli frame from a guy living france , it originally came with a sand cast cb750 engine with no numbers 1969 0r poss 1970 judging by the forks and carbs. The head stock has a number 2 with an arrow then below that H750 and below that 143 A.E. If any one can help with info this ,it would be greatas I am now starting to rebuild.
Kent
---
Wed Nov 10 2010
pwzell<at>aol dot com
Egli Vincent Cafe Racer
Vincent Egli
you have a photo of my Egli Vincent asking for information. What can I tell you?
USA
...
I can't find it again either. I came across your site from a google image I saw of it. Here is a photo in case you come across it.
.........
I found the page that directed me to your email.
cybermotorcycle.com/gallery/vincent/Vincent-Cafe-Racer.htm
....
I built it in 2002, frame was made by Fritz Egli, engine is 1952 Vincent with Lightning cams, 36mm Dellortors on ported heads, 10:1 compression. Quaiffe 5 speed gearbox. Ceriani road race forks, Laverda wheels (Grimeca brakes), Ohlins shocks. Owner fabricated alloy tank, seat, exhaust system, primary drive. Honda kick starter. 375 lbs wet.



---
Sun Feb 28 2010
wullieglennie<at>hotmail dot com
Dating / Authentic Egli ?
Kawasaki z1000
Hi ... New to (hopefully)Egli ownership, a recent purchase of an Egli Kawasaki Z1000, will have me looking to register the bike in the UK for the first time. Can you possibly tell me firstly, is it a genuine Egli frame , and, which year (if it is) would it have been made. It was advertised as an 1982, but does the frame No 79057 mean it's an 1979. Curious...
Thanks Willie G.
Scotland
---
Sun Sep 27 2009
happyland at talktalk.net
egli honda cb 750 engine numbers
egli honda sohc 750
i have recently purchased an egli honda cb 750 manufactured 1975 with 002 on the front of the headstock is this the chassis number or is it elsewhere loock forward to a reply thanks roland
sunderland
---
Jan 2009
thanks for your answer.
My website is still under construction. I hope that I will get it ready
this year. But there is so much work with supporting the EGLI owners
with new parts and I am still building new EGLI´s. Actual I am building
three EGLI DUCATI´s nearly the same as my private EGLI DUCATI which shows the picture I have sent you.
One of the new EGLI DUCATI´s is built up with a round case engine. You will find a picture of this in this mail.
An EGLI SUZUKI with the old air cooled 1135 engine is built up here.
Three MRD 1 ( EGLI KAWASAKI with a turbo charged engine ) are here to build up.
T last I am restoring an EGLI VINCENT for myself.
A lot of new spare parts are made here. For example the down tubes for The EGLI front fork with 38 mm, the development of a new adjustable damping system for the front fork, the rear sprockets, a lot of mounting plates for the engines, and lot of things more are my job. All bodywork parts made of carbon fibre come from here. Engine tuning is a job I do here too. A lot of people with DUCATI bevel driven engines, HONDA sohc fours, KAWASAKI Z 900-1100 are bing there engines or buy parts from here.
I have nearly 1000 customers all over the world.
The earls EGLI DUCATI looks quite different from the bike which I have found on your page. The rear suspension was a conventional swing arm with one oval tube on each side and normal twin shocks.
I remember that I have seen pictures of the frame of EGLI DUCATI from your side. The frame construction is really different to the typical
EGLI frame.
I bought my first EGLI in 1974. From that time on I never lost contact
to the EGLI scene. From 1984-1986 I worked as a constructor direct in Bettwil. In the same year I started my company.
The picture of my second EGLI HONDA shows the typical construction of an EGLI with twin shocks at the rear. Only the brakes and the use of ÖHLINS shocks are modern parts - but these parts are working really well!
I also own a very rare EGLI KAWASKI with a 2 stroke triple engine. Only three or four frames of that type were built around 1970.
If you need more information or more pictures you can contact me again.
A book about EGLI was published in 2007. It shows a lot of bikes - not all. The language is in German and in English too. I can deliver it from here.
Best regards
Michael
MICHAEL NIEMANN
EGLI-RACING
Obere Mühle 28
D-58644 Iserlohn
Tel: +(0)2371-25292
Fax: +(0)2371-22310
I have forgotten to give you an interesting link to the following page:
On this site you get a lot of information about nearly every frame builder ho has worked with the HONDA 750 sohc engine. You will find a lot of interesting details of frame builders like Seely, Rickmann, Dresda, Martin Segoni and others mostly European ones.. Axel has also begun to built up a Seely register. The link leads you to the English site.
The pictures of this mail show an EGLI LAVERDA one of 11 which were originally produced and one the best EGLI HONDA Bol d´or 1100.
Best regards
Michael
---
Mon Jan 26 2009
egli-niemann at t-online.de
EGLI DUCATI Racer
Hallo,
I am the German importeur of EGLI Bikes. I also sell the parts for these bikes to customers all around the world.
The EGLI DUCATI in the Your gallerie doesn´t show an EGLI!
It has a quite different frame construction.
With this mail I send you a picture of my EGLI DUCATI.
best wishes
Michael Niemann
D 58644 Iserlohn
---
Wed Jan 30 2008
matt-egely at hotmail dot com
Egli ?
Hello my name is Matthew Douglas Egely(origanly Egli) I was wondering if the you know anything about the Egli family I'm trying hard to find info on my family if you could help my that would mean the world to me thank you
Kelowna, BC, Canada
---
Tue Jan 29 2008
annavpaul at bigpond dot com
Laverda 3C Egli frame
Laverda 3C or 3CE
Are Egli Laverda frames still availble for the Laverda 3C, 3CE and Ducati Bevel gear motorcycles? If so, how much? Hope to hear from you soon. Best Regards, Paul
Victoria, Australia
As far as I'm aware frames and kits for those engines are no longer available. Ed.
---
Wed Oct 24 2007
sancarlostom at aol dot com
looking for egli frame manufacturer
buell
looking for fabricator for egli-framed buell engine.
san carlos,ca
---
Fri Oct 12 2007
solivero at tiscali.it
EGLI-Kawasaki 1975 Super 4
I am restoring an EGLI Kawasaki Super 4 1975. Does anyone has a picture of what was the original colour ? The morbike has been repainted red, but I am not sure this was the original colour
Pisa, IT
---
Sat Sep 29 2007
mrcbx at att.net
EGLI CBX
What is the current market value for an EGLI CBX in original condition?
Ohio
Try the page on Motorcycle Valuations and Prices
---
Fri May 04 2007
rpiegsa at compuserve.de
Wanted: EGLI CBX 1000 "RED BARON"
EGLI "RED BARON" EH10-C
I am looking for a frame or complete Honda EGLI 6-Cylinder CBX1000 bike. Further I am looking for a Turbo Kit for a CBX1000. Is there anyone who knows where to find these kind of bike/parts ?
Hamburg

---
Mon Aug 07 2006
jsutton at gmavt.net
Egli BMW
Egli framed BMW racebike
my father inlaw has an Egli framed BMW racebike made for Walter Hanss. Do you know if any other BMW's were made? Pictures are here: http://junkyard.smugmug.com/gallery/1732288
Any information you have would be nice. Thanks Jon sutton
Vermont USA
---
Mon Jul 24 2006
noel the fabricator at yahoo dot com
egli motorcycles
ek900 or ek900r
the r in the serial number means race stearing head bearings ie 26x52 tapered rollers instead of balls, the last two letters are the first and last letters of who made the frame if its hy i did.fritz egli used owner supplied wheels or egli produced magnesium h section 6 spoke wheels each is serial numbered contact herr egli for more info
los angeles
---
Thu Jan 26 2006
askhenry at aol dot com
Egli type Kawasaki
I am trying to buy a bike. It is Kawasaki powered. It is represented as an Egli type frame. I am told that it is an Egli protege. I am not sure of the Marque. I think the fellow selling the bike is calling it Moto Mako. Spelling may be incorrect. Are you familiar with a bike with a name like this? The bike I am considering is represented as a complete roller minus the engine. It is supposed to be new never built. I do appreciate any help you may be able to offer. Regards, Henry Kellar
--
Not familiar with such a make. There are several frame builders, of course, who built chassis for earlier Kawasaki engines, in particular the Z900 which were particularly evil handling in standard form.
Which engine is it designed to take?
Could it perhaps be a Moto Martin? Have you a picture of it? --
Since e mailing you I have discovered the correct name. It is Moto Moko. Supposed to have been an Egli builder and ended up building a similar bike to the Egli. Thanks for your response. Regards, Henry kellar
---
Sat Aug 20 2005
joekennerson at aol dot com
inline 4 Egli Chassis
I would like very much to purchase basic Egli style chassis for a Japanese inline 4 (Yamaha FJ). I don't beleive there a Egli chassis for this engine so I could use one from a Kawasaki are Suzuki.
---
Cycle Guide magazine of April 1987 has a feature article on Fritz Egli and an Egli-Suzuki 1400.
---
Thu May 19 2005
www.modmorini at verizon.net
egli spare wheels
I have the chance to purchase an Egli Kawasaki from the 70's with the Pops Yoshimura engine but it has been hit in the rear by a car. The rear wheel is cracked and will need to be replaced. Were these wheels made by Egli or did they use Campagnola or some other wheel company. Any idea of the value of these machines when they are in good condition? Sorry I don't have the specific year. I am trying to figure out if it worth pursuing.

I think some Eglis had the brand cast into the wheels, but it's more likely that he used a proprietory wheel - most of these also had the brand cast into them. Ed.
---
Date: Mon, 21 Mar 2005
subject: Egli
Email: mvw at vwmaps dot com
message: Egli has a website. He's remarkably modest about his frames and accomplishments; the site mostly is an ad for his bike import business. eglimotorcycles.com

If you have a query about Egli motorcycles, or wish to share information about these classic Swiss machines, please contact us