Junior Motorcycles of Austria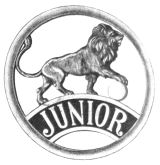 A Brief History of the Marque
Manufacturer: Fahrradwerke Graz Puntigam

Franz Weiss junior began building bicycles in 1934 and became an important producer during the war years and the early postwar period. The name "Junior" was chosen apparently due to the fact that his father, Franz Weiss senior, was also involved in the bicycle trade.
In 1938 the first motorised bicycles with 98cc Sachs engines were produced, but ceased quite soon after the outbreak of war. It would appear that production of Lohmann-engined mopeds resumed on cessation of hostilities, but tragically Franz Weiss Jr. was killed in an accident in 1951.
Franz Weiss senior then took over management of the firm until 1961 when he handed control to his 23 year old grandson, Franz Weiss. Confused yet?
Bicycle sales were falling off and the moped was very dated. The firm slipped further into debt and eventually collapsed in 1975.
Models:
Junior type MF 98 ccm (c1937)
MF 1939 Sachs 98cc.
Junior 50 Luxus 1955
Sachs 47cc two-stroke.
Junior Stadtrad 1957
Lohmann 23cc two-stroke diesel engine
A Steyr Junior c1952 was listed by Bonhams which features an identical fuel tank and logo to the Franz Weiss Junior. Bonhams say of this machine, "...from the Ehn museum is this diminutive cyclemotor engine, mounted on what is described as a pre-war, Austrian army Steyr 'waffenrad' bicycle. Museum-catalogued as a Steyr 'Junior', this is a re-titled German Lohmann diesel engine. The Lohmann has more of a resemblance to a high-speed model aircraft engine than to a cyclemotor, both in its diminutive 18 cc capacity and compression-ignition operation."

---
Sources: Bonhams, voz.co.at, cyclemaster.co.uk, South-Bohemian MC Museum
NB. There is also an Italian marque "Junior" built by Edoardo Mascagni in the 20s and 30s.
---