Miller Balsamo Motorcycles

Miller Balsamo 250 Jupiter 1947



Miller Balsamo 1936 BT5 250
Piloting this motorcycle, Carlo Fumagalli won eight world records in 1932. During preparation of the motorcycle, the Balsamo brothers had the collaboration of Officine S.I.A.I. Sesto Calende.
Collection Museo Nazionale Scienza e Tecnologia Milan. CC BY-SA 4.0
A bordo di questa motocicletta il pilota Carlo Fumagalli conquistò otto record mondiali nel 1932. Per la preparazione della motocicletta, i fratelli Balsamo ebbero la collaborazione delle Officine S.I.A.I. di Sesto Calende.
---
A Brief History of the Italian Marque
Miller Balsamo moto d'epoca
I fratelli Ernesto, Edgardo e Mario Balsamo di Milano, gia' rappresentanti in Italia della americana Excelsior e della britannica Ariel, nel 1921 (forse 1919) iniziano a produrre moto in proprio dapprima impiegando i motori Moser 175.
Nel 1924 le biciclette a motore dei Balsamo hanno marchio Excelsiorette e nel 1926 il Moser 175 a due tempi viene sostituito con un quattro tempi.
Il primo motore Balsamo nasce nel 1925 e la moto ha marchio Miller.
Nel 1928, conquista numerosi record mondiali. Il propulsore che equipaggia le moto Miller, costruite nell'officina di Viale Pasubio 1, è di 175 cccon distribuzione a valvole in testa e tre marce.
Nei primi anni Trenta vengono realizzati anche modelli sportivi con motori Python della Rudge a quattro valvole da 250, 350 e 500 cc.
Nel 1932 viene costruita una 250 sport siglata B.S.8 e una 175 con carenatura parziale in lega leggera del peso solo 10 kg, realizzata con la collaborazione dell'ing. Marchetti (progettista degli aerei Savoia-Marchetti).
La moto pilotata da Carlo Fumagalli raggiunge la velocita' di 141,998 km/h sulla distanza dei 5 km con partenza da fermo.
Nella seconda meta' degli anni Trenta le moto hanno marchio Miller-Balsamo.
È del 1934 una 98 cccon motore Sachs ed una nuova 250 che monta motore originale Balsamo invece del Python.
Questo nuovo propulsore ha valvole in testa inclinate di 45è e cambio a quattro rapporti.
Nel 1936 il modello di 98 ccprende il nome di Vespa e viene presentato anche nel nuovo modello Schermato.
Nel 1939 viene costruita la 200 carenata con motore a due tempi di 196cc, che pero' non ottiene il successo sperato.
Nel dopoguerra, 1946, la ditta viene portata avanti da Edgardo e Mario nell'officina di viale Certosa 60.
Vengono realizzate la Jupiter, sempre carenata, con motore 4 tempi di 250 cce vari modelli di 125 e 175.
Al salone di Milano del 1950 la Miller Balsamo presenta la gamma di moto completamente rinnovata con anche una nuova motoleggera di 125 cc.
Nel 1954 è la volta di una 175 quattro tempi ad albero a camme in testa e cambio a quattro rapporti.
Nel 1957 vengono prodotti dei ciclomotori, forse con motore Sachs, ma poco dopo, nel 1959, la casa milanese chiude i battenti.
I motori Balsamo erano progettati da Ernesto Balsamo e dall'ing. Giulio Cesare Cappa.
---
The brothers Ernesto, Edgardo and Mario Balsamo of Milan, representatives in Italy of the American Excelsior and British Ariel marques, began producing motorcycles using Moser 175 engines in 1921 (or possibly as early as 1919)
In 1924 Balsamo had the Excelsiorette brand and in 1926 the Moser 175 two-stroke is replaced with a four-stroke.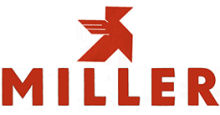 The first Balsamo engine was assembled in 1925 and marketed under the Miller name.
In 1928, they won several world records. Designed by Cesare Cappa, the 175 cc OHV engine with three speed gearbox was built in the workshop on Viale Pasubio.
1928 Production models were available in turismo, sports and racing version, capable respectivly of 90, 105 and 120 km/h - at the time, quite phenomenal performance.
In the early thirties they also produced sports models powered by Rudge four-valve Python engines of 250, 350 and 500 cc.
1932 saw the appearance of a 250 sports model designated B.S.8 (and also a 175cc it is thought) with partial alloy fairing weighing only 10 kg, made in collaboration of Marchetti, designer of the Savoia-Marchetti aircraft.
In 1934 a 98cc Sachs-engined machine was added to the catalogue, along with a new 250 using a Balsamo engine with 45 degree inclined overhead valves and a four-speed gearbox. That year they planned more record attempts and a Marchetti-designed fairing was employed for the machine. Carlo Fumagalli, lying prone on the machine, established a string of new world records. 1934 also saw the introduction of much larger and faster motorcycles fitted with Rudge 4-valve engines.
Miller-Balsamo
In the second half of the thirties the machines were branded Miller-Balsamo.
In 1936 the 98cc model was given the name Vespa [1], and was also presented as the new Schermato model.
In 1939 they built a fully enclosed model with a 196cc two-stroke engine, but it was not well received.
---
On cessation of hostilities Edgardo and Mario resumed production at a workshop in Viale Certosa 60, in 1946.
They built the fully faired Jupiter model with a 4-stroke 250 cc engine, and various models of 125 and 175cc.
At the Milan Salon of 1950 Miller Balsamo presented a completely new motorcycle range which included a lightweight 125.
A 175 SOHC model with a four-speed gearbox was introduced in 1954, and the 1957 catalogue offered mopeds believed to be Sachs-powered.
The Milanese company ceased trading in 1959.
The Balsamo engines were designed by Ernesto Balsamo and Giulio Cesare Cappa.
Notes
1. The Vespa name was registered by Balsamo in 1934, and was later sold to Piaggio. MV Agusta also built a model named Vespa and then faced a legal challenge from Balsamo. ~ motoclub-tingavert.it
Sources: Moto di Lombardia, Henshaw, moto-collection.org, motoclub-tingavert.it
---
If you have a query about these vintage Italian machines, please contact us