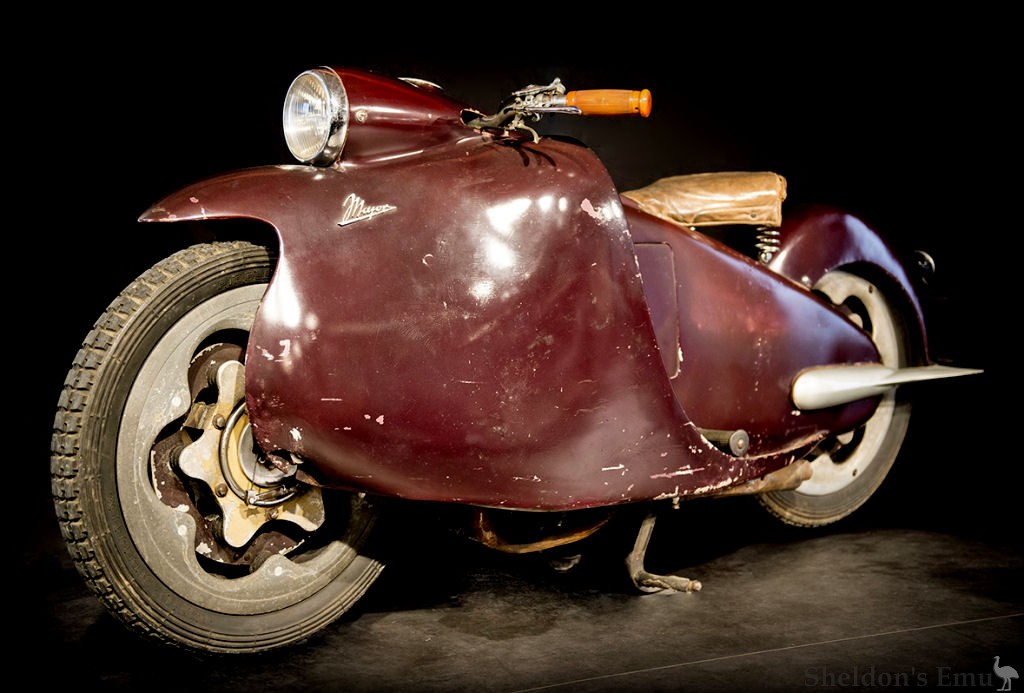 Moto Major
A Brief History of an Extraordinary Machine
First seen at the Fiera di Primavera di Milano (Milan Spring Fair) of 1947, the motorcycle was built in prototype form only and did not achieve production. It had a single-cylinder OHV 350cc engine and was fully faired. The machine was designed by the aeronautical engineer Salvatore Majorca, who worked with Fiat specialising in landing gear for aircraft before WWII, and was built in Turin at the Aeritalia workshops of the Fiat group.
It has hub-centre steering, and the wheel rims are mounted to the hubs using rubber blocks in an unconventional approach to suspension. Bench-tested to a simulated a distance of 40,000 km, the system proved very durable.
A water-cooled twin was planned for the project, and the elegant design incorporated dual fish-tail exhausts. When they decided to opt for a single cylinder engine dual exhausts were retained.
The engine was designed and assembled by Angelo Blatto, an engineer of some fame.
The 350cc engine was fan-cooled, had a dry clutch and a four-speed gearbox with a foot-operated gear shift. Final drive is by cardan shaft.
The Moto Major is regarded as an iconic example of motorcycle history, and was far ahead of its time. The sole example was first displayed outside Italy at the Zweirad Museum, Neckarsulm, during a special exhibition in 2017.
Sources: MC Storico Conti; Gérard Martin; autoemotodelpassato.
---