Ogar Motorcycles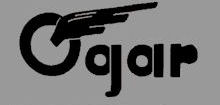 A Brief History of the Marque
Founded by Jan Machek in 1910, the Ogar company produced accessories for the bicycle and automotive industries. Their first motorcycle appeared in 1934, a 250 cc with two-speed gearbox and bore and stroke of 68 x 68 mm.
In late 1935 the company introduced the Autfit OGAR-4, another 250cc machine but with four-speed transmission. 1938 saw the introduction of the 3-speed 250cc Elan. The engine on this model remained much the same as earlier versions, and it was housed in a square-section tubular frame with pressed- metal forks, Bosch electrics and an Amal carburettor. Plunger-style rear suspension was optional. Around 250 of these were produced, of which about 20 have survived.
Ogar 250 (1937) - 247cc, 10 hp, 100 km/h max speed, weight 116 kg. An example of this machine is exhibited at the National Technical Museum in Kostelní, Prague (see Museums)
A Sachs-powered 125 was offered in early 1940 with foot-change and girder forks.
During the war the company quietly developed their designs and in 1946 their first post-war production model arrived using the same 250cc engine but with telescopic forks and better electrics. The same year they build a competition OHC model designed by Vincent Sklenar.
Following the nationalisation of the company by the Soviets, a Jawa-based model 350/12 was released.
Sources: ogary.unas.cz
---
Mar 24, 2019
golonkarm at gmal.com
Cant put the year as thats the reason im reaching out to you. Got an Ogar 350, but there is no vin plate on the frame neck and no paperwork. So is there a way you could help find a year of manufacturing from the frame and motor number?those i found, and tbey are matching. Prlease advise, Rafal
Rafal Golonka
yucaipa, ca, usa
---
Wed, 16 Aug 2017
harshadgavandi at gmail.com
OGAR 1949
The engine number starts with N354. Is it correct as the name plate and tank says it is ogar 1949.
Harshad Gavandi
Pune India
---
Mon Jun 15 2015
Jawaman1960 at Gmail.com
OGAR
Ogar Type 12
Hello.
Bestaat er een lijst met alle frame nummer van Ogar type 12 350 cc?
Groningen

---
Sun Aug 24 2014
tatuagem at live.nl
wiring diagram
ogar 4
Hai
i have an ogar type 4 250cc but the bike has no wiring, is there some way to get a diagram for this bike?
amsterdam

---
Thu Sep 22 2011
elvis.cramm<at>yahoo.ca
Vintage Motorcycle for Sale
Ogar 350 cc
I have a 1949 ogar 350cc motorcycle that I am interested in selling. It has 3800 mi and is in original condition. If interested, Please contact me.
Ontario, canada
---
Wed Sep 29 2010
newhudson<at>email.cz
Ogar Producer
Ogar 2, 4, Elan, 125, 1946, 350OHC
The Ogar producer is missing, see f.e. www.ogarklub.cz or www.ogary.unas.cz
Prague
---
Sat May 01 2010
adouglasbp.<at>gmail.com.au
value
ogar 350cc 1949
value of original complete bike
australia
If you have a query about Ogar Motorcycles please contact us