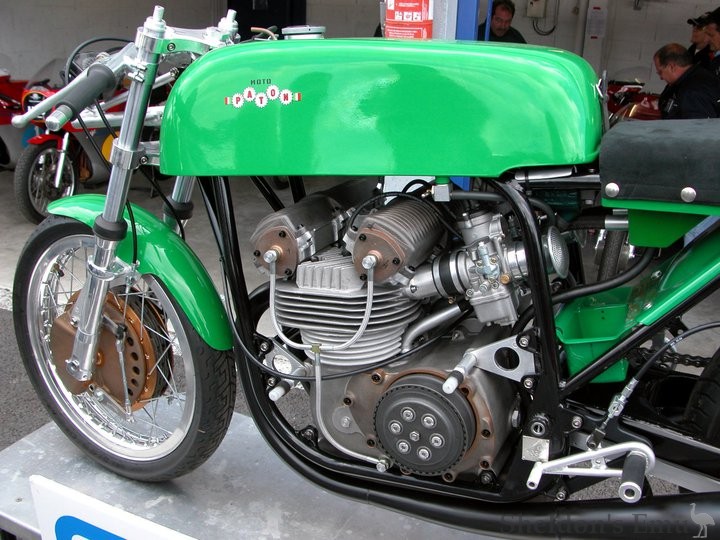 Paton Motorcycles
A Brief History of the Marque
Manufactured: 1957-current
Viale Lombardia, 10F, 20081 Cassinetta di Lugagnano, Milan
Commencing in 1958, Giuseppe Pattoni and designer Lino Tonti produced motorcycles of 125 and 175cc, using components sourced from the Mondial factory which, along with Moto Guzzi and MV Agusta, had agreed to cease international competition. That year a machine sporting their DOHC 125ccc engine finished in 7th place at the IOM TT, ridden by Mike Hailwood. Giuseppe had previously been chief mechanic of the FB Mondial team, and Tonti is perhaps best known for the frame he designed for Moto Guzzi. Tonti left Paton shortly after the first success.
Leo Tonti had designed and with Giuseppe Pattoni built a DOHC 250 twin for Mondial shortly before the company abandoned GP racing. The Paton team campaigned this machine at Monza in 1958 and 1959.
In 1964, using components from the 125, Paton produced another 247cc twin-cylinder motorcycle developing 32 hp at 11500 rpm. Alberto Pagani took 3rd at the 1964 TT on this machine.
In 1966 a 500cc twin of 52 h.p. distinquished itself.
During the 1960s they built around ten racing motorcycles which competed in some 150 events.
1976 saw the advent of a remarkable two-stroke transverse V-Four, with the two central cylinders facing rear and the outer two inclined forwards. The 492.6cc engine is water-cooled with a six-speed gearbox and develops 95 hp at 11300 rpm. The frame too is innovative.
The firm began building replicas of their earlier machine for competitors in classic racing, and also built road-going TT style motorcycles designated S1 Strada using Kawasaki engines.
Paton returned to GP racing in the years 2000 and 2001, in the 500 class. In the same period they introduced their PG500R, a 500cc 70° V4 two-stroke capable of speeds in excess of 340 km/h.
In 2016 the company was bought by Advanced Group S.r.l.
Sources: MC Storico Conti, mcnews.com.au, paton.it, Phil Aynsley, et al.