Sertum Motorcycles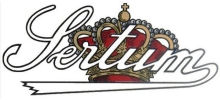 Historical Note

The company went bankrupt in 1952 after not following the market trends for scooters & mopeds, and the non-payment for a large shipment of machines to Argentina.
---
01-May-2018
quincaptinc at gmail.com
Sertum 500 SV
Engine to sell completely new never installed in any frame
Juan Pallares Spain
---
Fri Jun 14 2013
jcarlosv<at>arnet.com.ar
juan carlos
sertum 500
estoy necesitando para una sertum 500 1935 algunos repuesto magneto,arranque, balvulas,balancines, tanque nafta, guardabarros.
si alguien tiene algo por favor avisar.
eternamente agradecido
argentina, Bs.As
---
Tue Dec 06 2011
leonorpascua<at>hotmail.com
fotos de motos sertum 250 cc
restauracion 1937
qiero saber de moto sertum con valvulas afuera modelo 1937 qe manden fotos
argentina
---
Mon Jul 25 2011
santapascua<at>gmail.com
Sertum ohv 250
Hola...necesito una informaciòn: hace varios dias que estoy provando a contactar a: kasapropia<at>yahoo.com.ar en argentina,solo que cada vez envio la mail me da error....
Quisiera saber si me pueden ayudar a contactar èsta persona para saber si todavia està vendiendo la moto, pues estoy interesada en comprarla...Gracias:Adriana.
Caracas
Spanish
---
Thu Apr 28 2011
renato.paganini<at>rpw.it
End of Job
Sertum 250 VT SS
End of restoration process.
More photos at:
rpw.it
Casarza Ligure (GE)
More about Renato extensive list of restoration projects here...
---
Fri Dec 03 2010
antonio-sabado<at>hotmail dot com
Saber año y modelo
Sertum 500
quiero saber el modelo y el año porque quiero venderla
zaragoza
Spanish
---
Thu Oct 07 2010
estebanbarreda24<at>hotmail dot com
sertum restaoration
sertum 500 twin cilinder rigid
I'm the owner of a sertum 500 twin cilinder rigid and I need some information for the restaoration . thanks ESTEBAN
ARGENTINA
---
Sat May 29 2010
sapartyhire<at>bigpond dot com
Sertum parts
Sertum 250cc 1945
Hello My 1945 250 sertum blows smoke and uses oil. where can i get new piston rings and possibly a new piston.
Thanks Rob.
Australia
---
Fri Feb 19 2010
dppk1998 at yahoo.gr
informations
sertum 1946
I had a sertum motorsycle and i want any information and manual adout it is 345 cc and the first day movement was 26/03/1946 chassis number is 12036 and number of vehicle is 20566. if you know something please help me with the information. i will appreciate very much
Athens
---
Batua 120cc engine
by pino on 25 Nov 2009 09:14 am
I am looking for any information and manuals, etc. on the 2 stroke, Italian made Batua 120cc engine, dating from the late 1930's, as fitted to Sertum motorcycles and others. I am also looking for a complete engine. Any contacts or help will be very much appreciated.
Forum Entry
---
Mon Oct 26 2009
capitanluca at alice.it
moto sertum 175cc 1933
1933 sertum 175cc
ciao volevo sapere quanto può valere la moto sertum 175cc del 1933 grazie
---
Wed Sep 23 2009
diegorubin26 at hotmail dot com
sertum 500
sertum 1943
necesecito si alguien tiene manuales de sertum 500 1943
bs as
---
Sat Jul 18 2009
elt94 at hotmail dot com
SERTUM MOTOCARRO 500 cc
Poseo algunos repuestos de Sertum motocarro.
mi mail es: elt94 at hotmail dot com
Argentina
---
Mon May 11 2009
kasapropia at yahoo.com.ar
venta moto sertum
sertum desconosido
deseo vender esta moto fue traida por el hijo de musolini a argetnina esta en perfecto estado.andando
argentina
The bike has quite unusual rear suspension and an OHV exposed hairpin engine. I suspect it dates from about 1940. Ed.
---
Wed Mar 04 2009
pauloneher at hotmail dot com
motocarro sertum 500 lateral
sertum 500 lateral
tengo esta moto. Alguien tiene info de ella?
argentina
---
Sat Mar 29 2008
ebonito1 at iprimus.com.au
about price
SERTUM 1942
I would like if it is possible, some one can tell me how much can be the price of one Sertum 500 cc year 1942 in good conditions. Thankx
Australia
---
Tue Dec 18 2007
mvisentin at hotmail dot com
Info
SERTUM 250 VL
Hello, I hope you speak English, because my italian is horrible.
My name is Mark Visentin, from Canada.
Im looking at a few motorcycles advertised here on cybermotorcycle.com.
I wanted to purchase one when I come to Italy next spring to visit my relatives. I was looking at one motorcycle in particular that says "forcella stampata". Can you tell me what forcella stampata means in English?
thank you so much
Mark
Babelfish gives "printed publication staple". Google says "fork pressed". I imagine it means "pressed metal forks". Ed.
---
Sun Jul 15 2007
GS2709 at t-online.de
Sertum 250 ccm
Have enyone Informations about the Sertum 250 with open Valves?
Thanks very much
Gerd
Bavaria
---
Sat Nov 25 2006
tmjq2003 at yahoo.co.uk
SERTUM Motorcycle
Dear Sir:
An old SERTUM motorcycle had been shown to me. All the following information is referred to the nameplate on the engine. Some figures are missing.
LA COSTRUZIONE DI QUESTO MOTODE...O "SERTUM" E PROIETTA DAL SEGUENTE BREVETTO NAZIONALE: 68405 348870 8765 7682 3354
Kindly provide information (or pictures) related to this motorcycle.
As soon as a photo is available I'll send to you.
Should you have any question do not hesitate to contact me.
Best regards.
Mario Barriviera
Buenos Aires - Argentina
---
Sat Nov 04 2006
mpompili at bellnet.ca
Sertum 250cc Identification
Hello friends, I am the owner of a Sertum 250cc w/ rear suspension. This is very different from the photos I am seeing on the web, this motorcycle has 2 horizontal tubes with springs in them under the engine similar to the Guzzi 500 Falcone. I would like to find the year and the model and possibly photos for this particular bike, and any other info that would help me in the restoration process. The motocycle frame number is 13000. If anyone has any information on this bike, could you please contact me, it would be greatly appreciated.
Toronto, Ontario
Sertuo 250cc
Amici motociclisti io ho in posesso una moto sertum 250 telaio#13000 se qalcuno conoshe questa moto che a infomazioni date di cstruzione modllo. Io ho appena ricevuto un libbro da Mario Colombo con diverse foto, e nesuna delle foto sono uguali della mia sertum, specialmente la sospensione posteriore se quacono conoshe questo modello ne gradirei una risposta grazie m pompili
Toronto, Ontario
---
Tue Sep 19 2006
pauloneher at hotmail dot com
consulta
sertum motocarro 500
necesito informacion e imagenes de la motocarga sertum 500 valvula lateral del año aproximado 40 (es una moto con carro, caja de transferencia con alta, baja y marcha atras, diferencial y llantas de chapa)
Cordoba Argentina
Translation: I need information and images motocarga 500 sertum sidevalve c1940 (moto with car, box of transference with discharge, low and reverse gear, differential and rims of plate is one)
---
Thu Jun 01 2006
mjderaadt at hetnet.nl
photograpgh
Sertum 250 VL magnete
Is there anyone who has a picture of this bike? It is for an old Italian friend (84) who bought the bike new on 7-3-1950 by Officine Meccaniche Fausto Alberti in Milano? Many thanks.
---
Fri Mar 17 2006
greeneyes1515 at hotmail dot com
italia orlando
i have one sertum 500 mc of 1939 I have problems of test as far as the measures of the tires I would wish to find also photocopies to us of a booklet of circulation of the same type of motion and age having lost photocopies of the booklet originates them of epoca..thank you anyone can help me
bergamo
---
Sun Feb 12 2006
andydepamelaere at skynet.be
Sertum
Dear,
My uncle has a Sertum 250ccS from 1937. He's searching technical information about the engine. A service manual or an owner manual would be very greatfull!
Can you help me with this?
Many thanks!
Deinze
---
Sat Dec 17 2005
luigi.colombo at gmail dot com
sertum
this website describe in detail the process of restoring a sertum 500 from scratch, and it may be of help to someone:
digilander.libero.it/bike-sertum (404)
Regards
Luigi
---
Wed Oct 05 2005
estebanmalespina at hotmail dot com
SERTUM 500cc bicilindrica mod.37
Solicito informacion para su restauracion (datos tecnicos,fotos y direcciones para conseguir repuestos en Argentina).
---
Fri Aug 19 2005
badaloni231 at hotmail dot com
Badaloni Sebastián Pablo
Poseo una sertum 500 modelo 1948 totalmente original para la venta
---
Thu Jul 14 2005
jorgeernestosalas at yahoo.com.ar
sertum 250 vl
hola
tengo una Sertum 250 válvulas afuera modelo 1937.
Esta toda original salvo el manubrio y el asiento. Hay que reparar el motor. Vivo en Mar del Plata Argentina. Quisiera conectarme con interesados en comprarla . Necesito precio, así o restaurada.
Por favor transmita este mensaje a quien pudiera ayudarme. Muchas gracias
Translation: I have a Sertum 250 outside v?ulas model 1937. This all original except for the handle-bar and seat. It is necessary to repair the motor. Alive in Sea of the Argentina Silver. It wanted to connect to me with interested in buying it. I need price, ace? recovered. Please it transmits east message to that could help me. Thank you very much
---
April 13, 2002
Hello to all!
I have owned a Sertum 250VL since 1981. I know little about her including her age! By the pictures I have seen on this site she appears to be older. The SN 3043 might be of help if there are any listings available.
Most of the paint seems to be original except for brushed touchups from accidents. The color is a rich red with White stripes on either side of the center bead. They are about 4mm. wide. She must have been dropped a Few times or just mishandled. Once owned by a merchant marine I know she is a veteran world traveler. I haven't driven her since 1982 but I am planning a full restoration in the next 2 years.
I would enjoy hearing from any and all fellow Sertum owners. I need literature, parts books, and photocopies of these motorcycles to aid in my project. Due to the damage on the machine I will need a replacement light/horn switch/button mounted on the handlebar. A correct taillight replacement or a good picture to make a copy would be of help. Handle grips, foot peg rubbers, starter rubbers or anything available for this motorcycle will be appreciated! Thank you! -- Gary R. Frankel -- Concord Ohio USA Reply to: grf at 3ace.net
---
April 13, 2002
Amigo motociclista:
Mi nombre es Leandro y
estoy armando una Sertum 500 del año 1946 y me gustaría mucho poder conseguir un manual, fotos o cualquier dato sobre esta moto. Por favor les pido que si pudieran solicitarme esta información me la envíen a mi mail que es R-sos at yahoo dot com .
Desde ya muchas gracias.
Leandro R
---
December 17, 2001
Good evening,
I am restoring a 500cc Sertum. The bike was a military bike and it was painted in red after the war. I haven't yet decided which colour it will be but I am struggling to get the colour code for the paining. Someone told me that Lechkler is making both red and green Sertum colour but no one is able to tell me more.
Do you know the code for both red and green?
Thanks a lot
Gabriele -- gdellicolli at ferrari.it
---
December 16, 2001
Dear friend,
I have a SERTUM 1948 500cc does anyone have some photos of this bike? -- Thanks -- Giovani.voy - giovani.voy at zaz.com.br
From Sheldon: Giovani, from Brazil, also included a scanned brochure and other documents from 1937. See the Sertum gallery
---
September 12, 2001
I am looking for the lamp holder of my sertum its gone. Its a 250 cc from 1938.
And are there also others with this type of bike ?
pleas contact me at:
telephone : 0031 597-645364 after 19:00
mail :berwin.bijholt at wanadoo.nl
---
September 7, 2001
Hola amigos de sertum soy propitario de dos sertum 500 una monocilindrica y la otra bicilindrica deseo obtener datos y fotos de las mismas o direcciones de consulta mi direccion de correo es naperiz at hotmail dot com saludos
---
August 26, 2001
I am searching of documentation and photos about bike Sertum 500cm 1938. I don´t have front fork. Thank you for information.
Tomas -- t.pecha at worldonline.cz
---
May 7, 2001
Spanish:
Amigos Motociclistas:
Soy propietario de una Sertum 500 modelo 1938, la estoy restaurando. Necesito ver fotos y manuales.
por favor que alguien me ayude. Yo estaría muy agradecido. Antonio art at lanet.com.ar
English:
Motorcycling friends,
I am the owner of a Sertum 500 model 1938, I am restoring and I need to see pictures and manuals. I would be please if someone could help me and would be very grateful. -- Antonio -- art at lanet.com.ar
---
March 5, 2001
Ciao a tutti, sono anche io un appassionato di moto d'epoca e posseggo un po' di documentazione e alcuni ricambi eventualmente da scambiare.per chi occorre ho la copia del catalogo di uso e manutenzione della sertum 500. Cerco notizie su una sertum 250 vt prototipo del 1949, con carburatore dell'orto rd27s, cerchi borrani da 21" in alluminio, copertoni da 2,75 anteriori e posteriori, numeri di telaio e motore 60005 / 90008grazie ociref2001 at libero.it
From Sheldon: My best translation, hopefully I am close: Can anyone give me a better translation?
Hello everyone,
I am a big fan of old motorcycles and am in possession of some documentation which I would like to share, for the Sertum 500. I have both the user manual and maintenance manual for this bike. I am also looking for information on the 1949 Sertum 250 VT prototype, with Garden RD27S carburator, 21" Borrani aluminum wheels, (Copertoni????) 2.75 and rear ones???, number on the chasis and motor is 60005/90008.
Thank you,
Federico -- ociref2001 at libero.it
---
February 20, 2001
por medio de la presente solicito foto de sertum 350 año 1938 de un cilindro. mi motivo es que tengo mi moto completa y deseo saber mas que nada el o los colores originales de la misma , como asi tambien información de donde en argentina conseguir los repuestos y la pintura original. sin otro particular y en espera de su favorable respuesta, me despido de Uds, muy atte. -- Jose Maria Larrache -- j-m-larrache at hotmail dot com
Sheldon's translation:
I am looking for photos of a Sertum 350, year 1938. My reason is that I have my motorcycle complete and desire to know that everything is original including the original colors. I'd also like to know where in Argentinean I can obtain spare parts and the original painting(??? Maybe manuals and literature?). I await a favorable answer. -- Jose Maria Larrache -- j-m-larrache at hotmail dot com
---
August 20, 2000
Spanish:
Hola, soy propetario de una Sertum 500 del 38 en argentina, la estoy restaurando y quisiera ver fotos de la moto para saber como era originalmente. Gracias
English:
Hello I have a Sertum 500 of 1938 in Argentina, a has been restored and I need pictures of this motorcycle to know how much is original.
Thank you -- GHG -- gh6 at retemail.es
---
June 14, 2000
Dear Sir,
For quite a long time I have been trying to find information about Sertum on the Internet. The only thing I ever came across is the forum on the "European motorcycle universe", with only a few messages. I have recently transported my Sertum motorcycle to my garage and decided to restore it, but since I cannot begin work without technical information or other data, information about it would be invaluable.
I hope you can help me, or at least tell me where I can find information about Sertum (an URL address or email). I believe the one in my possession was produced in about 1938. The capacity of the cylinder is probably 250ccm. It may, however, be 500ccm, I cannot be certain since I have not as yet opened the engine. The chassis number is *12367* , and the engine number *10660*.
I look forward to your reply, and any information you can provide me with will be appreciated.
Sincerely yours
Uros Piperski -- piperski at hotmail dot com
---
I have a workshop manual and an owner's manual for a 500, and spare parts catalog for the 250 VT Plus some more - articles, road tests - that I could get from a dealer here near me.
If you have an particular need let me know. -- Best Wishes from Italy - CESARE RESTA -- motomanuali at tiscalinet.it
---
December 3, 1999
I have something about Sertum 250 ohv and 500 militar one. -- Cesare Resta -- motomanuali at tiscalinet.it
---
May 8, 1999
I'm in possession of a motorcycle, mark Sertum 248cc, chassis 30285 171PVG, first time in use on 02/01/1937.
The question is: Does there exist a book of tecnic ( and how can I order it ) and are there other data available? --
Thank you,
Erik Ver Gucht -- Ronny.Vanhoutte at village.uunet.be
Oude Lettenhofstraat 18
8550 Zwevegem
Belgium
---
April 8, 1999
I have an 1938 500ccm Sertum. That's all of the information I have about it. please mail me some information about this motorcycle if you can. -- thanks -- piperski at hotmail dot com
---
Dear Sir,
I am very interested in motorcycle. I am now trying to restore a Sertum of 1932-1935. I do not know what its original colour was, if it was black or red. Could you help me to get this information?
Thanking you in advance and looking forward to hearing from you soon -- Gianluca Chiti
---
Hello Gianluca and Euro Moto mailing listees,
Sertum was founded in 1922 by Fausto Alberti. Before that date, Sertum was well known for it's manufacture of precision instruments. The factory was situated in the city of Milan (Italy). Sertum started with the production of a 174cc side valve single, soon followed by a 119cc two stroke single. In the thirties Sertum had a variety of bikes in production: singles, twins, with side-valves, but also overhead valves and overhead camshafts. After the World War II Sertum was one of the first factories which was able to start production again. At the 1947 Milan Motorshow they showed an impressive variety of new models. In 1948 Sertum hold together with Bianchi, Gilera, Guzzi and Parilla 97.74% of Italian registrations for motorcycles. It was a big factory at the time, the first post war years were definitely Sertum's golden years.
Unfortunately thereafter it went slowly bad for the factory, and in 1953 the factory was closed. Many factories were to follow later in the fifties.
Sertum also has a racing history. The brand is well known for it's long distance racing victories (like the Raid Nord-Sud, Milan-Taranto) and it's ISDT victories.
Anyway, your Sertum is made between 1932 and 1935. It is very little to go on, but one of these models could be it:
Sertum 120-S (1933-1938)
Sertum 175 VL (1931 - 1946)
Sertum 200 Batua (1931 - 1939)
Sertum 250 VL (1931- 1939) --> not to be mistaken with the post-war
250VL (1947 - 1953)!
Depending on the model, I can give you a description of the bike, colors, technical specifications etc.
guzziman at wxs.nl Ivar de Gier
If you have a query or information about Sertum motorcycles please contact us
---