Stock Motorcycles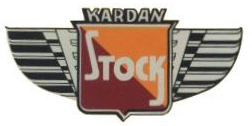 A Brief History of the Marque
Sophisticated in design, these included shaft-drive motorcycles with their own Heuss-designed power units of 173cc to 298cc.
The original machine was built in Berlin-Niederschöneweide by a company named Stock Motorpflug AG starting in early 1924; initially they produced motorized farming machinery. This company belonged to Richard Kahn of Mannheim who owned various manufacturing enterprises in Germany.

In the early 1920s Kahn began production of small motorcycles and used as a pattern the machines produced by the Evans Motor Cycle Company, USA, which had recently ceased trading. The source of the design was credited in their advertising, and these 119cc machines were built by Stock, relatively unchanged, until 1928.[2]
That year Stock employed a mechanical engineer named Josef Heuss who designed an entirely new machine, the Stock Kardan. These elegant and sophisticated machines had shaft drive and features such as an illuminated speedometer and a clock incorporated in the headlight.
In the early 1930s production was moved to another of the Kahn group's facilities at the Schnellpressenfabrik works in Heidelberg.
Richard Kahn, of Jewish descent, left the company around 1931, and Deutsche Bank(1) foreclosed in 1933. Some German banks did very well indeed during this period.
In total Stock produced some 30,000 motorcycles.
Notes:
1. Deutsche Bank features prominently in the Trump/Russia saga.
2. Several European manufacturers imported &/or manufactured machines based on the Evans Motorcycle
Sources: GTU Oldtimerservice, et al.
---
09-May-2021
motorbashi at gmail.com
Stock 1924
Hi,
I have a picture of a Stock motorcycle believed to be the first motorcycle imported to Iran. I'm not sure about the year it made, but it has a resemblance to Evans 119, 1924 or Stock R119. Would you be able to help with the identification? The model and year, the spec, other pictures, etc.
Mehdi Shirzadi
Iran
Have very basic info on another German manufacturer who sold Evans machines around that time. Will link to it when it's posted. There are also French and Italian versions, I believe. Some of those may have similar specs to yours.
Image was printed mirror reverse, not an uncommon mistake. That's why the brand on the tank appeared to be DOT.
Image posted to Comments
---
Thu Aug 16 2012
Triljon.Triljon<at>mail.ee
Stock kardan parts for sale
1924-33 ? Stock Kardan
I am selling these parts in E-bay Uk. The pictures are on the auction site ebay.co.uk
Tallinn, Estonia
---
Dec 20th 2009
Friedrich Kübler
---
Sat Dec 12 2009
issa at bmwyamahadot com
kardan stock motorcycle information
kardan stock ?
hi we have a 1929 kardan stock motorcycle in the shop and were wondering where to find specs on it. or a repair manual of any sort
california
Issa Eismont
Service Manager
BMW and Yamaha of Santa Cruz County
---
Thu Jan 01 2009
vick.mierzwa at metlabs.com.au
Missing Parts
Stock 298cc 1930?
Hi, I am looking for the following spare parts for my Stock motorcycle.
Fenag mag-dyno and mounting plate, including the engine cowling. This bike is very rare in Australia. If anybody can help with any information regarding locating these parts, please contact me.
Melbourne Australia
---
Tue Nov 25 2008
georg.josef.zimmermann at t-online.de
Stock Parts
Stock 200 cc sport version
Hello,
i have two Stock motorcycles, kardan drive, with 200 cc from about 1930, but both are incomplete. Unfortunately, the don't fit together. The older one has a foot gearshift system, the newer one has a gear stick. If anyone can provide me or is looking for information and/or parts, please contact me [by email] oder call me on the phone (phone number 0049 9181 465187)
...........
Attached are two images from a stock engine, 200 ccm, sport version. The missing parts from this bike are the wheels and the framework. From the second Stock bike (the older one) i have no images yet.
Regards
Georg
---
Fri Nov 24 2006
lenoxadler at t-online.de
Stock Kardan 1930 200
I have a stock kardan 1930 for sale .look ebay germany
BERLIN
If you have a query about Stock Motorcycles please contact us