Dalcerri Motorcycles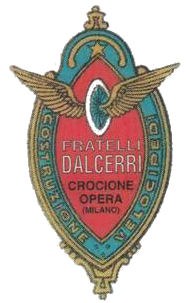 A Brief History of the Italian Marque
Dalcerri moto d'epoca
Francesco Dalcerri è un ciclista di Noverasco di Opera, in provincia di Milano, che costruisce nel 1947, probabilmente in poche unità, delle biciclette a motore.
---
Francesco Dalcerri was a cyclist from Noverasco di Opera in the province of Milan who built small numbers of motorcycles in 1947.
The firm produces bicycles to this day at Via Cavour, 19, Opera in Milano.
Sources: Moto di Lombardia
---
If you have a query or information about these vintage Italian machines please contact us
---