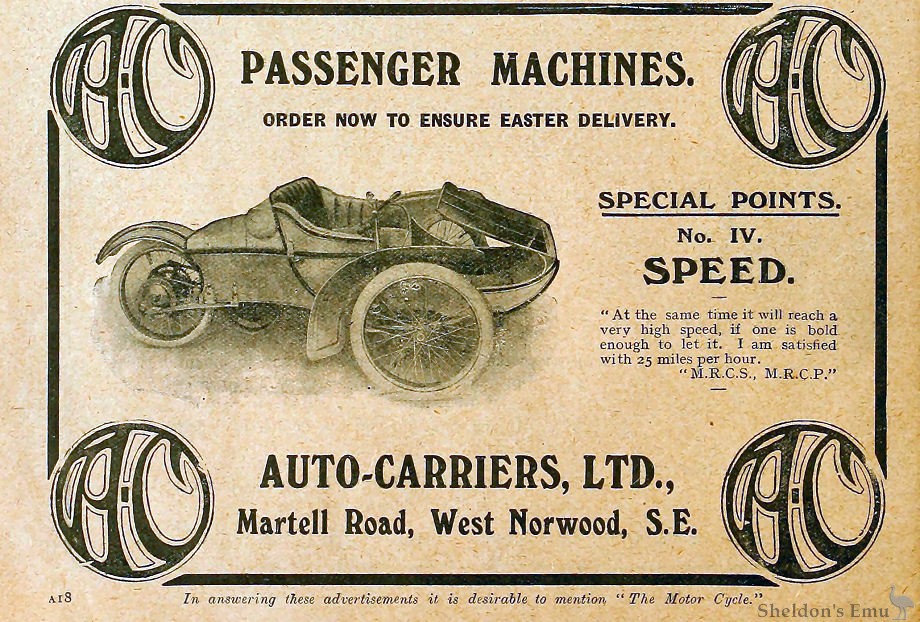 AC Cars (Auto-Carriers)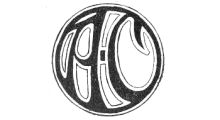 In 1900 the Weller Brothers entered business as general engineers, and began building motor vehicles in 1902.
The first AC car was presented at the Crystal Palace motor show in 1903; it was a 20-hp touring car and was displayed under the Weller name. The Weller Brothers in West Norwood, London, planned to produce an advanced 20-hp car. However their financial backer, Portwine, thought the car would be too expensive to produce and encouraged Weller to design and produce a much smaller delivery 3 wheeler. Weller did so, called it the Auto-Carrier and a new company was founded and named Autocars and Accessories.

1904 Production began, the three-wheel utility vehicle caught on quickly and was a financial success. This used a single cylinder engine and had tiller steering.

1907 Company renamed as Auto Carriers Ltd.

In 1907 a passenger version appeared named the Auto-Carrier Sociable. It had a seat in place of the cargo box.

1911 March. Details of the 5-6hp air-cooled engine car.

1911 Address is 42 Martell Road, Dulwich, London SE.

1911 They took over the Ferry works at Thames Ditton previously used by Willans and Robinson.

1911 The Members of AUTO CARRIERS Limited, at an Extraordinary General Meeting held at 42A, Martell-road, West Norwood, London, on the 26th day of September, 1911, decided that the business of Auto Carriers Limited would be taken over as a going concern by Auto Carriers (1911) Limited, and that Auto Carriers Limited be wound up voluntarily. Mr. H. E. Weller, of 42, Martell-road, West Norwood, was appointed the Liquidator. John Portwine was Chairman of the meeting.

1911 A meeting of creditors was held at Ferry Works in December
Production resumed in 1913, and then stalled again due to the war. The firm continued in the 20s and beyond, building automobiles. They briefly returned to 3-wheelers after WWII when they built invalid tricars, and in 1953 they produced the AC Petite, a three wheeler microcar similar to the Bond, powered by a 346cc single cylinder two stroke Villiers engine.
AC are well known for their sports cars, among them the AC Cobra.

1910 Cycle and Motorcycle Exhibition
F. B. Goodchild and Co., Ltd.
London. Stand No. 31.
The "A.C." sociable tricars, for which this company are sole selling agents, have become well-known by reason of their many successes this year. Practically no alterations have been made in the new models, but types showing the various applications to which these machines are being put are of more than passing interest. The "A.C." ambulance has accommodation for two patients besides the driver, and will appeal to those interested in first-aid practice. A model has also been evolved as a gun-carriage, and this was made good use of in the recent Army Manoeuvres. For business firms also this machine has proved a boon, as is evidenced by the large number now in use. The standard pleasure type, fitted with hood, wind screen and luggage carrier, is a particularly taking little vehicle for two.

Stanley Fair 1910
F. B. Goodchild and Co., Ltd.
London. Stand No. 31.
Six models of auto-carriers will be shown on this stand, there being practically no alterations from the 1910 standard specification, 'except in a few minor details, which have received necessary attention. Among the novelties are the A.C. carburetter, which is of unique design so that the air control is automatically connected with tie throttle, thus giving extreme flexibility. The exhibit includes A.C. Speed Sociables; A.C. Speed Sociables, fully equipped; A.C. Ambulance; Auto-Carrier gun carriage, with Maxim gun complete; Auto-Carrier standard; and Auto-Carrier special Box with rail.
Sources: historywebsite.co.uk, The Motor Cycle, Graces Guide, et al