AJL Sidecars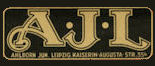 A Brief History of the Marque
Manufactured: 1927 - c1941
H. Ahlborn Jr. Leipzig, Kaiserin-Augusta-Str. 35b
This side-car manufacturer was located in the city of Leipzig and belonged to a mechanical engineer by the name of Hermann Ahlbau Jr, his initials forming the name of the company.
The floor of the sidecar was made of sheet steel, the body clad in aluminium.
They also made a range of trailers.
Sources: motor-lit-berlin.de, et al
If you have a query or information about AJL machines, please contact us