Brennabor Motorcycles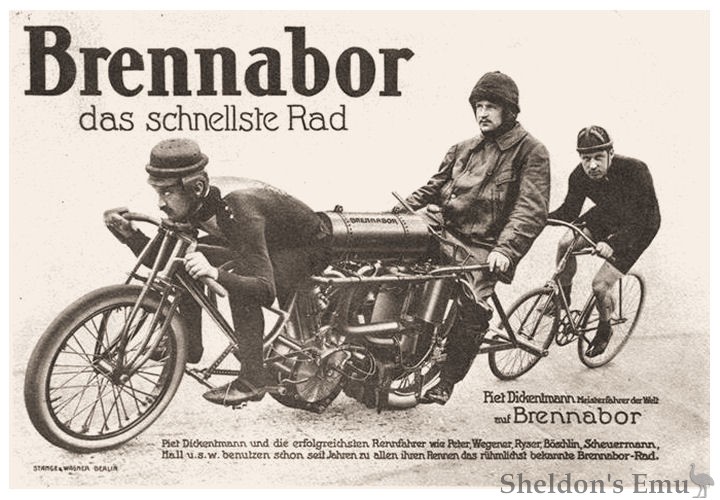 A Brief History of the Marque
Manufacturer: Brennabor-Werke, Brandenburg
1901-1912 (or 1916*), 1933-1940
Brennabor, an ancient name for Brandenburg, was established in 1871 by the brothers Carl, Adolf and Hermann Reichstein who produced baby carriages as their main product and became Europe's largest manufacturer. When the English bicycle craze hit Germany they were not slow to adopt and soon were building 20,000 units annually. The factory employed some 2000 workers and exported to the four corners of the earth. In 1902 they began production of motorcycles and cyclecars fitted with Fafnir and Zedel V-twins, and these continued to be marketed until shortly before WWI. [1]
In 1903 motorised luggage tricycles with air-cooled 2¼, 3½ and 5 hp single cylinder engines from Fafnir appeared, and these remained in the catalogues until 1912 when they ended motor tricycle construction.
By 1913 the firm was exporting to the German colonies and to Britain, Russia, Holland, Scandinavia, France, Italy, Spain, Austria-Hungary and the Balkan States, Argentina, Uruguay, Brazil, Australia, the Dutch East Indies, South Africa and even to China.
At this juncture a series of problems beset the company. Two of the founding brothers died, Adolph in 1910 and Hermann in 1913, leaving Carl Reichstein as sole owner. He handed control of the company to his three eldest sons Walter, Carl Jr. and Ernst. Then came war. His youngest son Fritz fell in 1917.
Wilhelm Koch had joined Brennabor's automotive department as the new chief engineer in mid-1913.
By the end of the 1920s Brennabor had 8000 employees.
In 1933 they again built motorcycles fitted with externally manufactured Fichtel & Sachs two-stroke engines of 48cc and later 98cc. These were in moped fashion, a style later termed disparagingly the Hermännchen..
The machines were well received, but ceased production in 1940, after which factory output contributed to the war effort.
The factory was dismantled by the Russians after the war and taken to East Germany where it resumed, after a fashion, the production of baby carriages. Other Brandendburg businessess which suffered the same fate included the Opel plant, practices echoed by Russia 70 years later during its invasion of Ukraine and other invaded or "annexed" Eastern European nations.
The firm was a major producer of fine automobiles including the Brennabor Juwel, for which they are well known.
Notes:
1. Wikipedia gives a date of 1916 for end of the first phase of motorcycle manufacture. Two other sources indicate 1912.
2. A 1911 advert for P.V. motorcycles reads "Telegrams: Brennabor, London"
Sources: Bjorn's Story, GTU Oldtimerservice, Axel Oskar Mathieu Archive, et al
---
If you have a query about Brennabor motorcycles, or have some information to add about these classic German machines, please contact us
---