Dei Motorcycles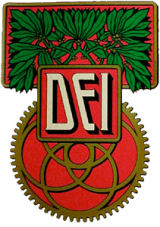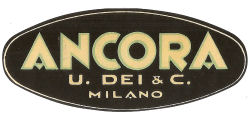 A Brief History of the Italian Marque
Dei moto d'epoca
Anche Umberto Dei, come altri costruttori, inizia con l'attivitè agonistica come corridore ciclista.
Avendo lavorato in diverse officine, non ha difficoltè a mettersi in proprio e giè nel 1894 da inizio alla sua attivitè di costruttore.
Nel 1903 applica sulle sue biciclette motori ausiliari di varia provenienza.
Nel 1908 entrano in societè con Dei, Pietro Febbre e Emilio Bozzi (che fonderè più tardi la marca di biciclette Legnano).
I soci portano nuovi capitali e nel 1909 vede la luce la prima motoleggera Dei.
La produzione continua fino al 1914 poi viene sospesa e riprenderè solo nel 1933, anno in cui la Dei assorbe la marca Ancora di cui continua la produzione ancora per qualche anno.
Dei utilizza motori Sachs e Villiers per le motoleggere e JAP per le motociclette di 250 e 500cc, motori che costruisce su licenza della Casa britannica.
Dalla fine degli anni Trenta la produzione si orienta solo su motoleggere con motore Sachs e costruisce biciclette con ruota posteriore motorizzata Saxonette.
Presenta anche una bicicletta azionata da motore elettrico e nel 1943 la Dei termina la produzione che riprende dopo la seconda guerra mondiale con la costruzione di ciclomotori e motoleggere con motori Mosquito della Garelli e Sachs.
---
Umberto Dei, like so many other motorcycle manufacturers, began his love of two wheels as a competitive cyclist.
Having worked in different workshops he had no difficulty starting his own business in 1894, and by 1903 he was fitting auxilliary engines to bicycles.
In 1908 he entered into partnership with Pietro Febbre and Emilio Bozzi.
The new partners injected capital into the enterprise and in 1909 the first Dei light motorcycle appeared.
Production continued until halted by the Guns of August in 1914, resuming, after a considerable hiatus, in 1933. In that year, the Ancora company was acquired.
Engines used were Sachs and Villiers for lightweight motorcycles, and they also built JAP engines of 250cc and 500cc under license from the British company.
Until the end of the thirties production was of light motorcycles with Sachs engines along with motorized bicycles with the Saxonette rear wheels.
1934 Models
98cc, 2 speed. Signoro/Ecclesiiastici model available.
74cc Modello da Uomo, Modello per Signora e per Ecclesiiastici. Route 26" x 1 3/4" x 2".
There was also a bicycle powered by an electric motor, but in 1943 Dei ceases production until after the war, subsequently building mopeds and light motorcycles with Garelli Mosquito and Sachs engines.
* Production dates vary according to source, with one giving 1903-1914 and 1934-1966, and another 1906-1966.
Sources: Moto di Lombardia, Henshaw
---
If you have a query about these vintage Italian machines, please contact us
---