Ghiaroni Lightweight Motorcycles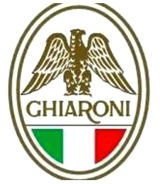 A Brief History of the Marque
Manufactured: 1966-1993
This company was founded by Efrem Ghiaroni in 1966. After three years, they released their first motorcycle and production focused on the ciclomotoristico sector.
In 1974 production commenced at a new factory in Vignola, Modena. Basic models were the Dream, the New Deal and the Surprise (these are the Italian names) which in 1978 were joined by junior mopeds named Bimbo TNT, Bimbo Bip Bip (I kid you not!) and Klin.
In the eighties the New Deal was fitted with a single speed Franco Morini engine of 49.9cc and was joined by the Brooklyn series, a sturdy 50cc moped with tubular frame, telescopic fork and hydraulic rear suspension.
The Brooklyn Camel with its piston-port four-speed Franco Morini engine and front disc brake is typical of the Brooklyn models.
Management of the company passed to Efrem's son Carlo Alberto Ghiaroni and the company continues to built bicycles.
Sources: MC Storico Conti, ghiaroni.com, et al
---
If you have a query or information about Ghiaroni motorcycles please
contact us