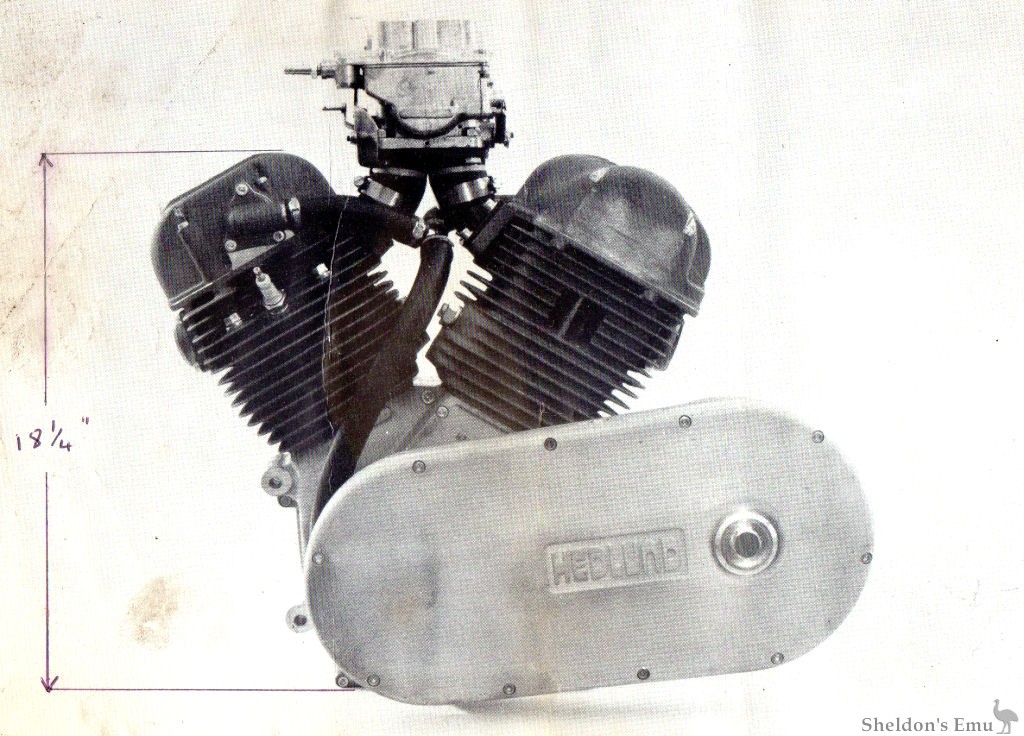 Hedlund Motorcycles
A Brief History of the Marque
The origins of the Hedlund engine can be traced back to 1955, when Nisse Hedlund (Nils-Olov Hedlund), a young engine tuner from Stockholm, and Gunnar Hagstrom, a talented Swedish engineer, produced two 500cc motocross engines for the Swedish company. Hedlund was also closely involved with the Lito project, and his expertise with Albin engines was considerable.
NH was the brand used on the first Hedlund MX engines.
In 1958, Hedlund and Hagstrom built two more engines, one of which was sent to the Husqvarna factory. Husqvarna were suitably impressed with the engine and invited Hedlund and Hagstrom to help them develop their new "ex-cam engine". The first and only prototype was completed on June 7th 1960, (Hedlund's 27th birthday), but it was considered to be too expensive and the project was scrapped. The engine is now in Husqvarna's own museum.
Hedlund continued to produce his own push-rod and over-head cam (OHC) engines throughout the sixties, some of which were destined for the Husqvarna motocross team. However, Husqvarna stopped producing their four-stroke machines in 1963, leaving their leading factory rider, Rolf Tibblin, without a bike for the 1964 season. He teamed up with Nisse Hedlund and between them they produced their own complete motocross machine in time for the 1964 season. Within a couple of years, four stroke machines were being completely overshadowed by the new lightweight two-stroke machines and even Tibblin defected to the Czechoslovakian CZ team.
Hedlund turned his attention to other forms of motorcycle sport and in 1967, he tried to get his engine accepted for speedway racing. Bengt Jansson was given the job of "test-riding" the speedway Hedlund, appearing on a number of tracks both in Sweden and in the UK during 1968. The engine was also put through its paces in an ice racing chassis and in a Hagon long track frame. A picture of Jansson sitting astride the Hagon/Hedlund long track bike appeared in the May 1969 issue of Speedway Post. The project was a short lived one though and ended with Hedlund and SVEMO at loggerheads.
The 497cc Hedlund was one of very few speedway engines to feature double over-head camshafts (DOHC). It was also built as a unit construction, i.e the clutch was housed within the crankcase. The long track version also had a two-speed gear box within the "unit". Compression could be altered and power varied between 44 and 50 bhp. The Hedlund was in fact a true union of European engineering - It was designed and built in Sweden using a Swedish Stefa magneto, the Matchless con-rod and Norton clutch came from the UK and the Mahle piston was made in Germany.
Sources: Speedway Workshop, correspondence.
---
23-Oct-2020
janottowang at yahoo.se
1984-06-06
Just finished putting together a short film of my ISR Hedlund being started after winter hibernation in 2019, but its too big to upload. I'll try a still from 2009 instead.
Jan-otto Wang
Sweden
Beautiful machine, Jan-otto. Do I understand correctly that it's dated as a 1984 model?
Hedlund-ISR-Twin-JWa.jpg posted to Comments
Hi there, Thank you for your really interesting entertaining web page.
Since you already have quite a lot of info on the Hedlund engine, and even on the ISR chassis combinations for the engine, I couldn´t help wanting to share my bike, although i see you already have a single picture of it from an ISR meeting at the factory a good few years ago.
Yes, the bike is registerred as a 1984 model. It was originally built by ISR (as in ISR brakes that still exists) for track racing in the Battle of The Twins class.
I got the frame, swingarm and tank directly from ISR in -86 with a preliminary registration title, just in case some idiot would try to comply with all the regulations for street use. I spent quite some time sourcing the bits and pieces before undergoing and passing the registration inspection. The bike has been on the road just about every year since, although many years (kids and family) very little.
I never got around to the finishing touches like paint etc. That wouldn´t have made it go faster anyway, and refrained me from selling it.
I made the linked film with the help of my digitally capable now grown up eldest in the spring of 2019. Use it on your web page if you wish.
I did since then stumble upon a BMW HP2 (with the electric starter) that is very convenient for everyday use.
The ISR/Hedlund has since undergone indepth servicing and will soon be in one piece again.
Kind regards JOW
Note to readers - do check out the video, it's a classic example of determination. Just hang in there. :)
---
24-Oct-2019
Bo.Osterberg at bredband.net
Hedlund
Here are some videos of the Swedish Hedlund engines....
bsqWqdA9XOo
pLrgQIGdC5Q
upCDLo3wPP4
Bosse Österberg
Linköping, Sweden
diagnosis2012
---
19-Aug-2019
karl.robinson at fillpack.co.uk
V twin 980
hello I am based in the UK and looking to build a Wasp sidecar outfit with V twin Hedlund engine. Can anyone help with supply of an engine. Thanks
Karl Robinson
UK
---
Tue Nov 01 2016
tim at trdistribution.co.uk
available for sale SOLD
Hedlund V twin 1000
I have a Hedlund V twin motor for sale. It is apart and in need of a lot of work to rebuild. Anybody out there interested ?
UK
I sorted and cleaned all the major stuff and laid it out for a photo. Light in the shed is rubbish today. The engine is all there, except for a few screws and nuts that were in a rust ball at the bottom of the box. Last ran in 1989, dropped the ex valve seat on the back head. Made an effort about 10yrs ago, had the cases vapour blasted and fitted new bearings. Had the crank rebuilt at NEB with all new custom made b/end. No gearbox.
As I understand/remember Nils built about 40 of these engines for sidecar MX use. They are compact and lighter than the Commando and similar engines, popular at the time. Bore is 95 with a short 63mm stroke, giving about 980cc. Duplex chain drive to a Norton gearbox. Carburettor was either a downdraft twin choke Webber, special narrow body one made for Ferraris, or a pair of side mounted Amal Concentric Mk2 (most pics of MX ones I have seen have these). The one I have is (according to the British importer and ex factory rider) the only Roadrace spec one made (1981 ish). It has bigger cams and sodium filled exhaust valves, I am not aware of any other changes. In it's day the engine made a reasonable amount of power and heaps of torque.
It was made for a British sidecar team who ran it without success for a couple of years, before selliing it to me in '84. A good friend helped build me a frame/chassis in his shed, which I ran for several years at club meetings and some Battle of the Twins races. It didn't really work out as the engine was not really up to constant high revs in the big end or gearbox dept. I won some club stuff, but I lacked the money and engineering knowledge required to do it justice, in hindsight. Attached are a couple of scans of the engine from the parts book and a photo of me on my bike at the Southern 100 in about '87 (broke the gearbox, again). (See gallery)
---
October 2012
I send you photo taken by me of Swedish motocross bike HEDLUND by NILS HEDLUND built with Rickmans METISSE fuel tank,seat and rear mudguard.
I hope you can use it on your site.
I shall prepare you some other photos of bikes from my archives so I can help you to grow up your site that I hope one day will become most important site for motorcycles reference.
Look forward to hear news from you,
Best Cordial wishes from
Justyn Norek
(TURIN - ITALY)
photo of ROLF TIBBLIN and HEDLUND 500 MX bike. This photo has been taken by me too. (See above, and also the Hedlund gallery. Ed. )
Best Regards
Justyn Norek If you have a query or information about Hedlund motorcycles please contact us