Featured Pages
Matchless Flat Twin 1916
An Outstanding Design by Harry Collier
Matchless 732cc HO Twin
---
Clement Ader
The Stuff of Legend
Pioneer in Telephony, Aviation and Motorcycling
Moteurs Ader
---
Guzzi's Grandpa
A shaft-drive transverse V-twin from 1904, another deft touch from Clement Ader.
Moto-Cardan
Danish Motorcycles
Sources: Jonathon Hayt (sidecars), mo-ped.se
---
Danish-English Motor Dictionary
---
If you have information or a query about a Danish marque please contact us
---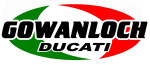 Ducati Gowanloch
Parts and Service for Bevel and Belt Drive Ducati. Huge stocks - Worldwide delivery. Est. 1977.