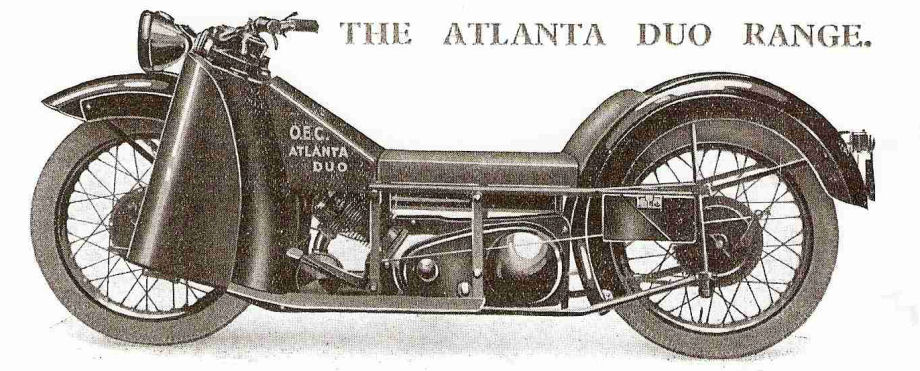 The Atlanta Duo Range
Model 36/P.I. 250cc O.H.V.
FOREWORD. The " O.E.C. Atlanta Duo " Motor Cycle can be ridden with equal ease either as a solo or with passenger on the long comfortable seat. The performance of the machine is quite equivalent to that of any orthodox motor cycle with similar power unit, and owing to the fact that the weight of both the rider and passenger is located between the wheels and in a much lower position than on the normal motor cycle, ease of control, apart from comfort, is greatly increased. Further features are the inherently stable Duplex Steering and the enclosed type Rear Springing. Legshields and footboards are easily detachable, and a detachable front screen may be had to fit in front of the handlebars. The legshields completely isolate the rider's legs from road splashes and offer a measure of protection in the event of a spill. The seat is easily straddled and equipped as standard, the ease of handling is appreciated by all, even over the worst of conditions. For trials, etc., where weight counts, the legshields and footboards may be quickly detached and in no wise affect the performance.
PRICES AND SPECIFICATION.
MODELS
36/P/O

250cc Two-Stroke, including electric lighting and rear springing

£46

.10

.0

36/P/l

250cc.

Overhead Valve, including electric lighting and rear springing

£49.

18.

0

36/P/2

500cc.

Side Valve, including electric lighting, and rear springing

£59.

10.

0

36/P/3.

750cc.

Side Valve including electric lighting and rear springing

£79.

10.

0
Alternative Engine units and components. Prices on Application.

FRAME.

Of standard Duplex Steering Type, but specially arranged to take the low seats, and with new type Rear Springing, with enclosed plungers and springs and bridge over top of wheel, adjustable. Built of high quality steel tubing to give rigidity with light weight.

MUDGUARDS, SHIELDS AND SEATS.




The front mudguard is 6in. valanced standard type, fitted to the steering girder, so that it moves with the handlebars, but is fully sprung. In addition a shield extends from the steering head on one side to the other round the back of the wheel, to prevent road splashes on to the rider's legs. Legshields of normal type with wide side valances are attached to the steering heads and the front ends of footboards, which latter extend rearwardly to a point in front of the gear-box are rubber covered. The long seat cushion is Dunlopillo. A back rest is provided on the front of the rear mudguard for the passenger. The rear mudguard is of sufficient width to completely enclose the upper ends of the rear springing and frame, and is some 12in. wide at the rear of the seat, offering complete protection against road splashes from the rear. All normal adjustments can be made without removing shield or seats.

CARBURETTER.

Pilot jet type, AMAL, with inward opening twist grip throttle and lever air control.

IGNITION AND

LIGHTING.




Magdyno or Dynamo, mounted in sheltered position behind the engine. Twist grip ignition control. Battery at rear.

EXHAUST.

Large diameter heavy gauge system, with efficient and neat silencing.

TRANSMISSION & LUBRICATION.

Four-speed Burman gear-box, with lever for hand or foot. 3 Speed 36/P/O & P/l. Left hand straight pull clutch lever. Grease cover to gear-box, oil-bath for primary drive. Grease-gun system to frame and wheels.

WHEELS

BRAKES AND STANDS.

Dunlop standard wired-on tyres, 26 x 3.25 on all models. Internal expanding brakes, 7in. diameter, 6in. on Model 36/P/O

and P/l. Heavy gauge rims and spokes. Central lift stand.

HANDLEBARS AND TOOLS.

Comfortably shaped handlebars of clean type, fully adjustable. Standardised control layout. Metal toolbox accessibly mounted on rear stays, complete with lock and key and kit of tools. Tyre pump and grease-gun.

TANKS.

Three gallon petrol, half-gallon separate oil. Tanks remain in situ, for all adjustments or engine and gearbox removal.









OPTIONAL FITMENTS.
High Frequency Horn .. £1 0 0 - Trip Speedometer ..£2 0 0 - Interchangeable Wheels £5 1 0- Front Wind Shield £2 0 0 - Carrier ..£1 0 0 - Under Tray ..£1 0 0< - LegShields..£1 5 0 - Side Panels..£2 0 0 -


ATLANTA WORKS : HIGHBURY STREET OLD PORTSMOUTH, HANTS