A SPEEDY "O.E.C.-BLACKBURNE" MODEL.
Fitted with a 5-7 h.p. o.h.v. Engine, this Mount is Capable of High Speeds.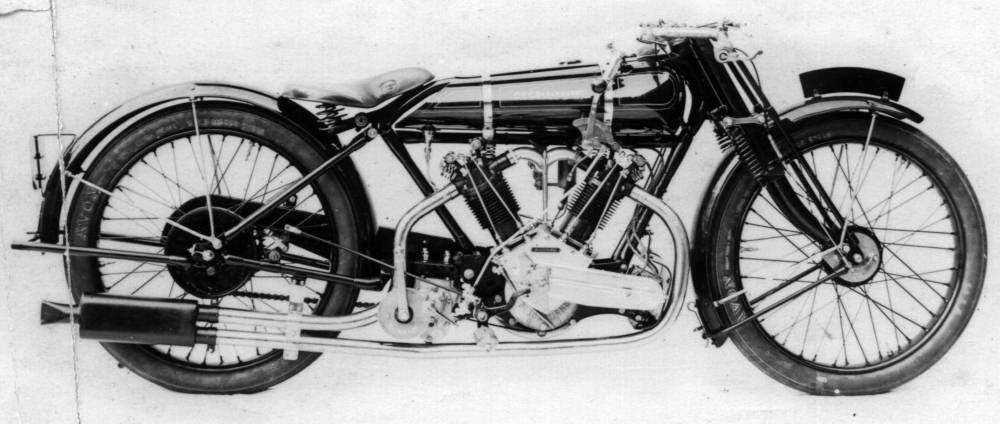 Both graceful and speedy is the 5-7 h.p. o.h.v. Sports O.E.C.-Blackburne here depicted.
THOSE of our readers who experience a demand for fast " sporting " motor cycles would do well to consider seriously the selling features of the O.E.C.- Blackburne 5-7 h.p. Sports TT. model, manufactured by the Osborn Engineering Co., Ltd., of Lees Lane, Gosport, Hants, for it is guaranteed to do no less than 85 m.p.h., and will, in fact, touch 90 m.p.h. As the accompanying illustration reveals, the frame layout, while being such as to ensure stability at speed, yet allows of easy access to the engine and other components. Ample clearance above the cylinder heads is provided, and thus the engine can quickly be decarbonised. The tank, of pleasing outline, holds 3 gallons of fuel and 1 gallon of oil, and is provided with extra, large fillers, both located on the "near" side. Lubrication is by a Best & Lloyd Mark II. mechanical pump driven off the half-time shaft, augmented by a direct hand pump.
Other features of the specification are: Amac carburetter ; large diameter exhaust pipes, having no acute bends, connected to .a large detachable silencer; Burman three- speed gear box, providing ratios of 3.8, 6.1, and 10.5 to 1 (other ratios to order); a choice of 28in. x 3in. or 26in. x 3in. wheels shod with extra heavy Avon racing tyres; Webb front brake; Druid wide " Type A " forks and Lycett No. 9 racing saddle. If desired, a rear carrier can be supplied- this is fitted with a capacious tool-box. All the detail work on the machine is carried out in the best possiblestyle while the finish is all that could be desired. Incidentally, both handle-bars and footrests are adjustable to suit individual requirements, and sidecar lugs, integral with the frame, are standardised. Many additional refinements, which cannot, owing to lack of space, be here described, are incorporated. Wheelbase is but 59in. ; ground clearance is 5in. ; saddle height is 27in. ; and the weight is 280 lb. Retail price, with the Blackburne o.h.v. 697 c.c. engine, is £120 as a solo, or £145 as a combination. This machine can also be obtained with the Blackburne 998 c.c. and 700 c.c. side valve units of the same make. A special sports sidecar is also listed.
Source: The Motor Cycle
If you have a query about OEC motorcycles please contact us