Mayweg Motorcycles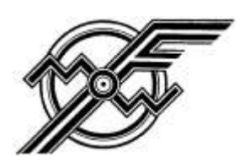 The trademark MWFO stands for Mayweg Plant Frischauf Offenbach. The logo is derived from the Swastika.
A Brief History of the Marque
The Mayweg story is a brief and rather unpleasant one.
Frischauf of Offenbach began as a workers co-operative in 1896, and began building bicycles in 1922, with motorcycle production following soon afterwards. Frischauf was a very progressive company which created housing and medical benefits for the workers.
After the Nazis seized power in 1933 they took over the factory - they murdered the CEO in his office, expropriated the property and the workshops, and threw anyone who complained into concentration camps.
The company name was changed to Mayweg-Werke AG and they resumed motorcycle manufacture, presumably using the original Frischauf jigs but fitting 200cc Bark 2-stroke engines. It is reported that they began work on a 500cc single of their own design.
In 1938 the company name was changed to REX-Maschinenbaugesellschaft mbH and production was shifted to armaments. During the war, Rex employed around 600 prisoners of war and forced laborers. The allies bombed the factory.
Sources: motosdoseculoxx.blogspot.com, frischauf-frankfurt.jimdo.com, offenbach.de
N.B. Prior to August 2021, the text on this page read very differently. It had been supplied by one "JF" who gave an account which was far from accurate. Sincere apologies for that.
If you have a query or information about Mayweg machines, please contact us