Motopiana Motorcycles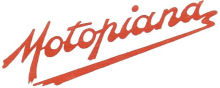 A Brief History of the Marque
Manufactured: 1923-1930
Soc. An. Motopiana, Via dei Servi, Firenze (Established 1926)
Light motorcycles with Villiers engines produced by the Piana company of Firenze (Florence) from 1923 by Gualtiero Piana. A 1924 advertisement in Motociclismo reads, "La Moto Piana-Viliers - 4 modelli - Da 3 HP. a 4-5 HP.".
In 1926, they released a new 250cc Villiers-powered model and in 1927 built a motorcycle with a 250cc single cylinder sidevalve engine which was selling the following year as the M 250 Standard. There were also JAP-powered 350 and 500cc S5 models.
1927 saw the creation of the first Piani engine, a 248cc SV, which demonstrated remarkable reliability.
The story begins much earlier with the brothers Ettore and Aristide Piana who succesfully competed in sidecar racing with a BAT V-twin-powered outfit.
The sons of Ettore Piani, Aldo and Gualtiero, both became succesful competition riders, and the Motopiani became a force to be reckoned with, beating Moto Guzzi several times and winning the 250 class at the Circuito del Lario in 1928. At the time, the OHC Moto Guzzi 250SS, which had previously won the race, would have been the bookies favourite.
The company formally closed on November 29, 1930 - yet another victim of the bankers greed.
Sources: motopiana.it, MC Storico Conti, Tragatsch p220, it.wikipedia, et al.
---
If you have a query about Motopiana motorcycles, or have some information to add about these classic Italian machines, please
contact us