Sanglas Motorcycles

A Brief History of the Marque
Made in Spain 1945-1979
The Sanglas venture began in 1942 as Spain was rebuilding after the disastrous civil war which ended just as WWII began. Hitler had used Spain as a testing ground for his newly developed military might in much the same manner as a certain Russian gentleman who, much to the horror of those who read history, is flexing his muscles in Eastern Europe.
The brothers Martin and Javier Sanglas came from a long line of Catalan industrialists and were encouraged by their father to enter the motor trade, beginning with industrial engines under the brand name Vellino. The company name was Talleres Sanglas with offices and workshops in San Martin del Palomar in Pueblo Nuevo, Barcelona, a newly created industrial centre.
They displayed their first motorcycle at the 1945 Barcelona Show, a Sanglas 350. Although unfinished (it reportedly had no tyres) it showed great promise - the machine was based on the best of Britain and Germany, with a top end similar to that of the AJS on a unit construction bottom end resembling a DKW, housed in a chassis using ideas from BMW and BSA.
In the late 50s Sanglas sold considerable quantities to the Spanish police and military, and exported motorcycles in military trim to a number of South American countries from the early 1960s on.
Towards the end of the 1970s they formed a partnership with Yamaha, adding a 392cc Yamaha twin to the range.
Production ceased in 1982.
Sanglas Models
Sanglas 50cc
1965-70 Series 1, 65-66, Series 2 66-68, series 3 68-70

Sanglas 50cc. Plegable. Minibike, looks like a Cushman

Sanglas 100cc. Zundapp

Series 1 1965-68. Series 2 66-67 (possibly available with full fairing). Series 3 68-70. Series 4 1970-71.

Sanglas 295 Rovena 1961 250cc and 250cc Sport, Villiers twin, possibly based on an Italian chassis. (See Rovena)

Sanglas 295cc Cromatica 1959-61

Sanglas 295 Segunda Serie 1961-1970

Sanglas 350 c.c (1945-1947)

Sanglas 350/A (1947-1949)

Sanglas 350/B (1950-1953)

Sanglas N-2 O BS Prototype 500cc

Sanglas 350/2 Y 500/1 (1953-1954)

Sanglas 350/3 Y 500/2 (1954-1957) available with solo saddle or dual seat

Sanglas 350/4 Primera Serie Y 500/3 (1957-1963)

Sanglas 350/4 Segunda Serie (1963-1966)

Sanglas 400 c.c (1964-1973)

Sanglas 400T (1971-1973)

Sanglas 400E (1973-1976)

Sanglas 400F (1976-1980)

500 S (1976-1978)

500 S2 (1978-1979) Composite wheels (or possibly mags), disc brakes, bikini fairing, ducktail

500 S2 V-5 (1979-1981) Mag wheels, bikini fairing, ducktail

Sanglas 400Y (1978-1981)

Sanglas S 400Y "New Look" (1982)

---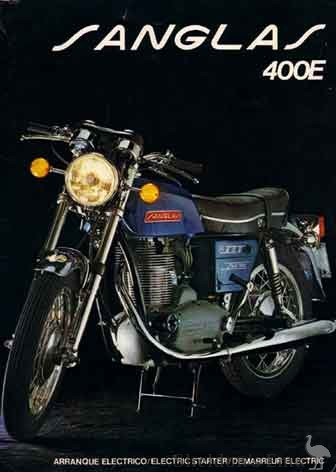 Sanglas 400E 1975 Specifications
Single-cylinder / four-stroke / air-cooled engine.

Displacement 423 c.c.

Bore / Stroke 82.5 x 79 mm.

8:1 compression.

Maximum power 30 CV at 6,500 R.P.M.

Electrical installation 12V - 250W

Amal 930 Carburetor

Fuel: super gasoline

Bosch electric start and pedal.

Bosch 225 T2 Spark Plug

Alternator 12V / 250W

Battery 12V / 38Ah

Speeds: 4.

Multi-disc clutch in oil bath.

Double cradle steel tubular frame.

Front suspension Tedesco telescopic fork

Rear suspension swingarm + Tedesco shock absorbers

Front drum brake 180 mm

Rear drum brake 180 mm

Wheels: front 3.25" x 18", rear 3.25" x 16 or 4.00" x 18".

Weight 168 Kg.

Maximum speed 160 km/h.

Tank capacity: 15 litres
Sanglas Military Motorcycles, Ireland
Sanglas motorcycles were imported into Ireland in the early 1970's for use by the Army.
Two models were used, the 400 "militario" ( very similar to 400T) and a slightly later model , the 400E "electrico" with electric starter. Apart from the starter and engine oil system, the main difference between the models was in the front forks and instrument layout. The side panels below the seat were more "square" to accommodate the larger battery on the starter model. The models were superficially similar, finished in army green with large handlebar faring and leg shields in fiberglass.
The main difference with the engines was that the 400 used a dry-sump oil system with oil tank under the seat while the 400E was a wet-sump with the engine oil shared with the gearbox ( Guzzi Falcone style). The 400 used pressed steel rocker-box covers while the 400E had aluminium castings. Other details ,such as slightly different engine side covers to accommodate the starter , separate the two models but the engines are very alike and many parts are interchangeable.
The Army eventually auctioned off the Sanglas bikes and for a while in the late '70's they were a marginally popular "budget" machine on Irish roads. However, as spares dried up they ended up being scrapped. Unless owners had the means to actually make bits they couldn't be kept running.
Opinions vary greatly about Sanglas bikes, one gets the impression that they were not a popular machine in the Army. At a time when the Jap factories were making the early sporty four cylinder models this is probably understandable. They compare well enough with older singles like British bikes, a 400 is livelier than a BSA B31 or G3L Matchless for instance , a tidy 400 will do 80mph+ ( genuine, I don't believe 90 no matter how loud it is). The electric starter was not considered to be any good by anybody. Even the factory fitted a kickstarter with it. There was always a suspicion that the starter pinion wore swarf off the crankshaft flywheel which then got into the engine oil. Anyway, I've never seen one working.
There seems to be some interest in Spain (finally) in restoring these bikes . I heard about owners groups on the continent in the past but never managed to find a source of spares. Maybe this will improve if some owners communicate more.
I hope this is of interest to someone .
Stay between the ditches,
Ger. -- nolang at ncad.ie
June 21, 2002

Sources Club Sanglas Catalunya, correspondence
---
Fri, 17 Nov 2017
schalkv at rohlig.co.za
Sanglas 500 v5 1982
Looking for the workshop manual I also have a lot of spares
Schalk
Johannesburg South Africa
---
Wed, 23 Aug 2017
nilshollund at hotmail.com
Sanglas 500 S2 5V S2 5V 1980
Hi is there anywhere I can get bearings for the steering for my Sanglas
Nils Hollund
SANDNES Norway
---
Thu Nov 03 2016
bob at westool.co.za
Ignition Timing
Sanglas 500 s2 v5
Ignition Timing. MM BTDC.
Durban South Africa
---
Sun Oct 26 2008
philgunn at iol.ie
Sanglas
400 Electrico
Looking for spare parts for a 400 electrico and 400 T
both ex Irish army
if you have any parts for sale drop me line thanks
Cork Ireland
---
Mon Oct 08 2007
Ldoughton2001 at yahoodot com
Sanglas Repair Manual
1974 Sanglas Electro 400 single
Hi,
I am desperately looking for a repair manual of any type for my sanglas 400. Any information would be greatly appreciated as these bikes seems to have been forgotten and all information cast away.
Please email if you can help. Thanx Lenny
Ireland, Wicklow Town
---
Mon May 07 2007
cthomson at curie.uct.ac.za
sanglas sv5
i alooking to make contact with the owners of sanglas 500 motorcycles
cape town
---
Sat Sep 09 2006
burbidgep at yahoo.co.uk
Parts Lists
Sanglas singles & twins
Free to good home - original parts lists for 400 & 500 singles and 400 twin. Also 500 dual seat and rear mudguard. "Buyer collects".
South midlands / north Cotswolds.
---
Mon Mar 20 2006
bohacs at supanet dot com
s2v5 spares
where can i obtain spares from in england.
the bike is a Sanglas s2v5 500cc single.
alex
alylesbury
---
Sat Jan 28 2006
thegordons at cheldoc.fsnet.co.uk
Villiers twins
Hi there!
I have found another bike manufacturer that used the Villiers twin units in the sixties, Spanish Sanglas!....Have a look.

---
September 17, 2002
James
I have purchased, unseen as yet, a Sanglas 400. I have been told by the vendor that the engine is a Yamaha XS400 twin so presumably a local Yamaha dealer could assist. That is assuming, in my as yet blissful, ignorance that all the late 400s had the same engine. I shall advise more fully when I collect the machine.
Frank Westworth, editor of Clasic Bike Guide, has a Sanglas. He is very approachable.
David Atkinson -- davidatkinson at dial.pipex dot com
---
---
April 18, 2002
I've a number of derelict Sanglas 400s (ex-Irish Army)....
See Spanish Motorcycle Forum
---
January 24, 2002
We would like to notify that we've just created the "Club Sanglas Catalunya"...
See Spanish Motorcycle Forum
---
December 26, 2001
Hi! I have a 1974 Sanglas 400e -- Mervyn Jones -- mervynjones at eircom.net
---
October 4, 2001
I have just started the complete restoration of a Sanglas 400, these bikes were brought into Ireland for the army...
See Spanish Motorcycle Forum
---
June 22, 2000
Sanglas
The only four-stroke Spanish motorcycles of the 60s and 70s...
See Spanish Motorcycle Forum
---
February 9, 2000
Please find enclosed two pictures of my Sanglas 400 T, before and after restoration.
For more details about Sanglas, you can visit www.sanglas.net (404)
I am looking for information and pictures of Motobic.
Bye
Miguel Cuenca Drouhard
---
December 4, 1999
There's not much information on Sanglas motorcycles on the net that I can find. If you find it interesting, I have some info at members.aol.com/greglond/sanglas.htm [404] and the national motorcycle museum have some pages, look at tower.org/museum/sanglas/sanglas.html [404]
Hope this is of some interest, contact me on greglond at aol dot com if you want any more info. -- Greg
---
If you have a query or information about Sanglas motorcycles please
contact us