Zanoni Scooters
M. Zanoni & C. Milano.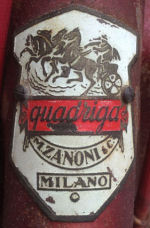 Currently very little is known of this brand other than that Zanoni manufactured bicycles in Milan. Their bicycles included miniature versions of racing cycles.
It is possible that there is a relationship with Tronconi & Zanoni, established in Milan in the 1920s. The firm developed into a major Moto Guzzi dealership.
---
Tue Sep 27 2016
dr.israel.gg at gmail.com
Help with Zanoni Milano Scooter!
Quadriga Zanoni Milano
I have a Zanoni Quadriga Milano Scooter with electrical problems and I would be know where to get information about how to fix it, or manual, or parts, any information would be appreciated.
Havana, Cuba
Zanoni-Quadriga-Cuba

---

Wed Aug 03 2016
kickersonly at gmail.com
Italian Scooter
Zanoni Quadriga
I have acquired a small vintage/antique scooter about which I cannot find any information. Your website is the only one that even lists the name as a manufacturer - but no link to any further information. I would like to share more information including pictures but would like to establish a communication chain first. Thank you, Jeff
GA, USA
Currently no further information, I'm afraid. I've been updating the Italian pages for the past couple of months, but there is no mention of it anywhere other than in the marque index.
Images and anything else you can add would be great, and may prompt other owners to get in touch.

On 8/7/2016 9:40 AM, Jeff Brooks wrote:
Many Thanks for your reply.
Upon studying the scooter further, I'm inclined to believe this scooter may have been a 'youth' scooter - in that the frame and the seating arrangement doesn't seem to be suited to an adult. Maybe I'm wrong, but we'll see where this adventure takes us. The scooter seems to be quite complete with all matters in working order. Though I haven't cranked it yet and don't know the CC size of the engine, it doesn't seem like it would take much...
Here's the very brief info I have on the scooter:
I purchased this from a Vendor at the annual "Antique Bikes on Main" event in Chesnee, SC, USA on July 30th, 2016. The Vendor told me he bought the scooter about 3 years earlier from a guy in Connecticut, USA who stated the scooter had been in his garage for 40 years.
That's literally all the information I have on it, aside from what I can assess visually:
It's tire-contact driven (not chain or shaft driven) by depressing the pedal in the center which then tilts the entire motor and drive backwards against the tire.
No suspension
Rear brake only
Back tire (a Pirelli) appears to be original - judging from the valve-stem size
Both tire sizes are an oddly 12 1/2" by 2 1/4"
There is no kick-starter. So you must be in motion and press the pedal to start the engine
No lights - Headlight nor Tail-light
The fuel tank is the small triangular piece on the rear fender
The body was meant to be hinged to the running board and engine service was meant to be attained by removing 2 screws and lifting the body towards the handle-bars. (The hinges have come loose and the body can now be completely removed and sat aside

The pictures are attached. Please let me know if there's anything else you'd like to have to "link" this information to. I, personally, would like for people to be able to send me, or by you, information about this scooter. So whatever you decide to do with the website and this information is perfectly fine with me. I have narrowed my search down to an Italian bicycle website that I plan to email in my endless search for information.
I really look forward to seeing what you do on the "Sheldon's EMU" website with my information. I'm excited about it.
Jeff
---
If you have a query or information about these classic Italian machines, please
contact us
---