Saltley Motorcycles of Birmingham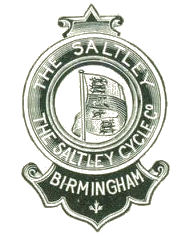 Saltley motorcycles were produced from 1914 to 1925*, at Snow Hill, Birmingham.
The company was well-established as a bicycle builder and entered the powered market with a lightweight powered by a 197 / 269cc Villiers engine, and with a choice of single-speed or two-speed chain-cum-belt transmission. The onset of war brought an end to the first phase of their motorcycle venture.

They entered the market again in 1919.

1921 The latest Villiers Mk IV engine, with flywheel magneto, joined the earlier version. Also added were further models with 347cc Vulcanus and 497 / 545cc Blackburne engines.
1925 The range continued and increased again with the addition of 292cc sv JAP and 348cc Blackburne models. After that, the firm went back to pedal power.
* A 1914 catalogue surfaced recently showing their first motorcycle "especially for export from Birmingham". Previously it was thought that they did not produced motorcycles prior to 1919.
Saltley-Vulcanus Two-stroke Motor Cycle. "NEMINE CONTRADICENTE."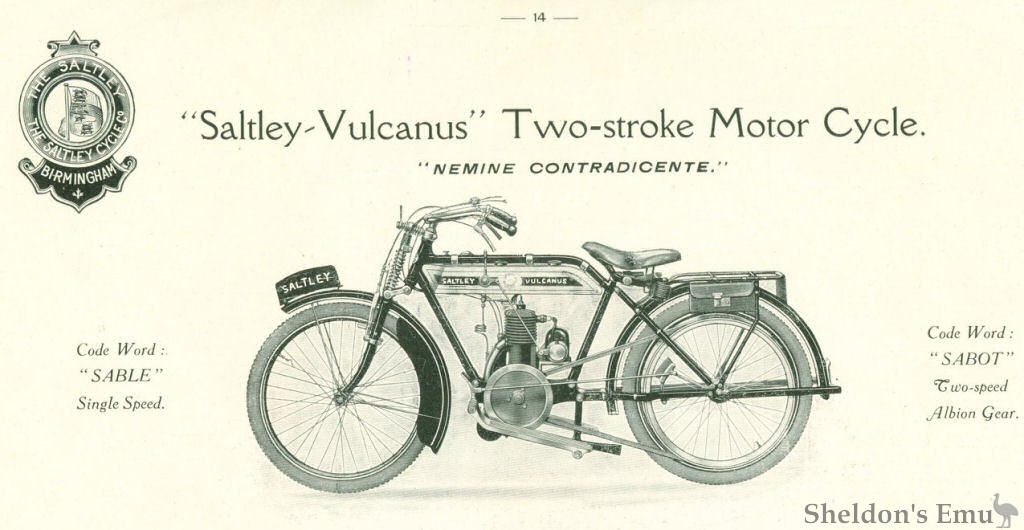 Frame. - Built up with best Reynold's Weldless Tubes, correct to gauges and butted where necessary. All executed with best materials and workmanship as illustrated.
Engine. - Two-stroke 2¼ h.p., 60 x 76 x 211 c.c.
Carburettor - Handlebar control, Amac or Senspray
Ignition. - Magneto Splitdorf.
Fork. - Patent spring buffer.
Brakes. - Bowden front rim and foot belt rim.
Wheels. - 24 x 2in. plated rims, Brampton Hubs.
Tank. - Very strong. Fitted with oil Pump and all necessary taps.
Transmission. - Best quality ¾in. belt.
Stand. - Strong tubular design.
Saddle. - Large pan seat.
Footrests. - Very strong, with rubber pads.
Handlebar, Long, giving a very comfortable position.
Toolbags. - Leather, box pattern, and tools.
Carrier. - Strong tubular pattern.
Finish. - Enamelled black. Aluminium tank with green panels, very handsome appearance.
Tyres. - Avon or Moseley. rubber studded.
Number Plates. - On front guard and carrier.
Petrol Consumption. - 100/120 miles per gallon.
Lub. Oil Consumption. - About 2000 miles per gallon.
The Saltey Motor Cycles arc Specially built for Export to meet the demand for a Good Reliable Machine at a Low Price. They are very attractive in appearance and excellent in running, being built of Best Material by skilled workmen.
Sources: Graces Guide, Steve Brown (1867 FB Group)

---
If you have further information or a query related to this page, please contact us