GN Cyclecars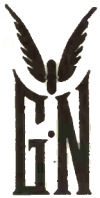 Manufactured by Henry Ronald Godfrey and Archibald Frazer-Nash from 1910 to 1914, and then by British Gregoire of Wandsworth until about 1925.
See also Frazer-Nash
Source: Graces Guide
---
04-May-2019
steamflyer59 at yahoo.com
I would like to purchase a copy of the book from which your articles on the Olympia are from for my library collection.
Can you help me with this?
.....
Thanks for your timely reply and thanks for the info about the Boston Library Collection source.
To what should I refer to in order to digitally peruse this particular book?
I am a student of motorcycle history and I am surprised that there doesn't seem to be a work on the subject of the pioneer and vintage era motorcycle industry trade & public shows .
I really appreciate the work that you do as I have landed on your site repeatedly.
I am very interested also in cyclecars and have read your articles on this subject as well .
I have noticed that you show photos of the GN cyclecar's mechanical anatomy. Views of the car's frame and drive train suspension etc.
Where can I get digital copies of these as I am contemplating building a 1/8 accurate scale model of this cyclecar.
Angelo Capodiferro
9 Willow Street, Wallingford , Ct. , 06492

The magazines may be downloaded in digital format from the Boston Library collection.
As far as I know there is no specific work on motorcycle trade fairs.
Have no further info on the GN at present. Suggest you download the text files for the relevant years from the links provided, then search through those.
---
If you have further information or a query related to this page, please contact us