Ambassador Motorcycles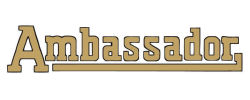 History of the Marque
Article on Ambassador History
See also DMW, who bought the factory in the early 1960s. Ambassadors were fitted with Villiers engines.
---
---
October 14 2019
dmarquezie at gmail.com
Ambassador
Hello
I have a 1958 Ambassador Statesman in great condition that I'd like to completely restore but need some help getting parts and any other general info on this bike. Any info that could be shared would be great!
Also, any idea of how many of this particular model were produced?
Thanks in advance
Daniel Marquez
Los Angeles, CA
---
04-May-2019
briandooler at gmail.com
1954 ambassador supreme, 225cc
Hi
I have totally stripped and rebuilt this bike right up to the front forks, sent to dynasurf,they couldn't separate them,any ideas on who could,where I could get some,or even where I could get some made
I would hate not to be able to finish this lovely bike
Please any help
Thanks Brian
Brian Dooler
Barnsley
---
13-Aug-2018
alvin at manx.net
1951 ambassador supreme
Hello I have recently bought this ambassador, on the look out for a few spares, especially the metal tank badges, please email if you can help.
Kelvin Potter
Isle Of Man UK
Ambassador-1951-Supreme-IOM images posted to Comments.
---
23-Jun-2018
gprzewoznik at aol.com
Ambassador 1957
Hello,
I'm hoping maybe someone can help me out. I have a 1957 Ambassador that my father-in-law purchased new back in '57. It is in need of restoration and I need help finding certain parts. It has the 197cc two stroke Villiers motor. I've tried over the years to find anyone over in England to point me in the right direction, to no avail. If anyone can help get me in touch with someone or a company that can help me out, that would be awesome! Thanks in advance.
Gary P
New Jersey USA
---
Sun Oct 30 2016
mrhoades787 at gmail.com
Villars
Ambassador I need to know were to find this number
Where do I find the model number?
Pennsylvania usa
---
Mon Dec 07 2015
RolandRosenkranz at aol.com
Scam
Ambassador Supreme
I posted an add on this good site looking for an Ambassador or parts back in October. I was contacted two days ago by a gentleman who said he had a 1952 Ambassador which he was parting out and asked if I was interested. Needless to say I wrote back saying I was very interested but could he please send a photo so I could see what we were talking about. Today he sent the photo -- It was my bike... not like my bike, but my exact bike which I own. He had apparently found a photo of it online from a prior owner who had posted it for sale and he was passing it off as his and selling the parts.
That said, if you get an email from hansblau53 at gmail.com please beware of what you're buying. what you think you're buying.
Please remove the previous add I had placed.
Los Angeles Ca.

---
Fri Jan 23 2015
bobnruthsavy yahoo.com
for sale
ambassador 9f
looking to sell my ambassador. not sure of value.
u.s.a.california
English

Ambassador-Villiers-9F
---
Tue Feb 18 2014
david.moreton2 at virgin.net
Frame number
Ambassador 1957 to 1959 ?? Super S with 2T engine
Cannot find the frame number, can anyone suggest location
Arbroath
---
Wed Aug 21 2013
alderson AT onecadley.fsnet.co.uk
Wanted
Ambassador 1949 CT
My old bike from the early 1960's, any one have a similar bike for sale?
Hampshire, UK
---
Tue Jul 23 2013
oates.david<at>sky.con
Help
Ambassador series 111
Hello I have bought what I believe is a 1949 Ambassador series 3 Reg No KKC105 Engine No 37095V2 please can anyone help to confirm what model this is and also I need workshop manual plus some parts etc, would be grateful for any help thanks Dave
Glossop in Derbyshire
---
Sun Aug 04 2013
mick<at>vernieshouse.orangehome.co.uk
Ambassador 2 strokes
Ambassador 250 twin Villiers
I had an Ambassador 250 Twin Villiers engine from new in the early 1960s. It was black and had lots of chrome on the forks. It sounded great through the twin pipes but the chrome was poor and if it rained I lost one cylinder. Great fun however. Got stopped by a Motorcycle Cop once as on half choke I had filled Hurst Street in Birmingham with blue smoke ......
Birmingham
---
Sat Apr 27 2013
sturgco1<at>gmail.com
motor info and appraisal
ambassador racer
Im looking for more info and possibly an appraisal on this motor. It was purchased in the early 60's maybe late 50's in japan at the motorcycle races. The motor has ben modified. Any help would be great.
Thanks,
Chris Sturgeleski
612-363-4079
mn,usa
---
Tue Sep 18 2012
mikemintys<at> yahoo.com
Happy days
Ambassador Unsure
I was 16 in 1960 with my first bike learning to ride slowly on the back lawn! Note the upside down handlebars to make it go faster. I seem to remember getting it up to an indicated 65mph down hill. Mike
Was the bike new, or a few years old, do you recall? The bike has plunger suspension, and this style was very short-lived. By 1960 most seemed to have conventional rear suspension, but 1956 models mostly still had rigid rear ends. Ed.
---
Sat Mar 03 2012
n.farley<at>sky.con
Electra 75
Ambassador Electra 75
does anyone know of the wherabouts of 516 CXB Electra 75.Would love to know if its still around
west sussex
---
Sat Aug 20 2011
boxjockey<at>hotmaildot com
1949 Ambassador
Ambassador Ambassador
I have a 1949 Ambassador and I am trying to find out as much as possible, thank you for any help you can offer...
Manchester, CT USA
---
Mon Jun 27 2011
shakey8025341<at>btinternetdot com
Brake part
Ambassador Super s
Need front brake plate 7" full width hub. accept whole wheel or complete hub.
Invernesss
---
Fri Feb 04 2011
lvbrusselen<at>comcast.net
manuals parts
ambassador 1950 6e villers
looking for shop manusls 6 volt dry cell batteries all cablesany ads manuals dated 1950 ambassador
usa
---
Mon Oct 04 2010
alexwardesq<at>hotmaildot com
Cost advice
Ambassador 197cc two stroke (Villiers)
Have found an old 197cc Ambassador in an antique shop in brussels, but needs a huge amount of work - in a very poor condition. on sale for 1500 euro (u1300). Don't think it's really worth this but can anyone advise? how rare are these bikes, can they be picked up cheaper in the UK? Many thanks for any advice...
belgium
Sounds too expensive to me. Ed.
---
Sun Sep 12 2010
mrpants1 at yahoo.com
gifts
Ambassador any
hi, I'm looking for some gift idea's for my dad and he has a few ambassadors already, I'm looking for advice or contacts so i can get him some kind of ambassador themed gift. any advice would be greatly appreciated
thank you
Phil Birchall
Manchester
---
Mon Aug 09 2010
mick.easton<at>hotmail.co.uk
A Guide to Ambassador Motor Cycles
Ambassador All
Brand new publication now available - "A Guide to Ambassador Motor Cycles". Gives details of every model of Ambassador motor cycle produced between 1947 and 1965. Please contact me for further details.
Preston
---
Fri Apr 02 2010
vern<at>vern3.wanadoo.co.uk
search
ambasador electra 75 250 twin
I am looking for my first bike Reg 108 DNG.Can anyone help please
britain
---
Thu Feb 04 2010
bryanti at ntlworlddot com
Year of manufacture
Ambassador Supreme ?
Could you please identify the year of my Ambassador with a frame number of S85412119 (I think !) Your help would be much appreciated...thanksIan
wiltshire
Try the page on serial numbers. Ed.
---
Thu Jul 02 2009
alderson at onecadley.fsnet.co.uk
Wanted
Ambassador Girder fork 197cc
Wanted, a girder fork 197cc Ambassador as I had one aged 17 in 1962 (still have pics) must be complete and preferably running. Mike
Hampshire, UK
---
Sun Apr 05 2009
mick.easton at hotmail.co.uk
Ambassador Motorcycles
Ambassador Supreme
Regarding my message dated 06 January 2008, just to note that for any discussion or advice regarding any pre-swing arm Ambassador motorcycles, please note my revised email address. Thanks.
Preston, UK
---
Tue Jan 06 2009
David.P.Lemnah at Inteldot com
1952 Ambassador for Sale
Ambassador Popular
I see someone was interested in buying a 197cc Viller's based Motorcycle.I have a 1952 Ambassador Popluar for Sale. It has the 197cc Mark 6E motor. The Popluar has Webb Girder front end with a rigid frame.It is complete and was running a few years ago. It is a complete bike.
Vermont (USA)
---
Wed Oct 15 2008
maycarr at tiscali.co.uk
information wanted
villiers ambassader
could anyone tell me what model bike i have as im thinking of selling it
haltwhistle
---
Sun Jan 06 2008
michael.easton at atkinsglobaldot com
Information
Ambassador Sidecar
Does anybody have any information on the 1955 Ambassador Sidecar model or the Surrey Rambler sidecar that these bikes were fitted with?
I own about eight Ambassadors, mainly Supremes and Embassys dating from the early 1950's and have just acquired the Sidecar model, but without the chair.
I have quite a bit of information relating to Ambassador motorcycles and can help with general queries if I'm able. It is ususally possible to date and identify the various models from the bike's frame number.
Please be aware that spare parts, particularly cycle parts are now very hard to find. Villiers engine parts on the other hand, are more plentiful.
There is no specific owners club for Ambassadors, although the bikes are catered for by the British Two Stroke Club. The man who probably knows more about Ambassador motorcycles than anyone else, with nearly fifty years experience of the marque is Fred Hibbert, 75 Victoria Park Road, Buxton, Derbyshire, England, SK17 7PF. Fred is not contactable by email.
Please email me if youcan help with the Sidecar. I would be particularly interested to know if any others exist, especially in Australia/NZ.
Finally, just to point out that I do not have any bikes or spares for sale.
Michael Easton
Michael was kind enough to send us an historical article on the history of Ambassador motorcycles: Ambassador History
---
Wed Oct 31 2007
leslie.walker at tiscali.co.uk
Finding year of manufactur from chassis No
Ambassador chassis No S961103
Could you please supply me with the year and model from the chassis No S961103. This is for the DVLA.The motorcycle was built with the Petter diesel engine by E.Dorsett in 1982 the DVLA are using this as year of manufacture.I know the Ambassador was built from 1946 -64.If possible could you please confirm this in writing for me to send to the DVLA as proof of manufacture. Leslie Walker
Sheffield
---
Sun Sep 23 2007
kinamann1 at hotmaildot com
Ambassador Motorcycles
Three Star Special
As the index tells,the last ones were equipped with fibreglass bodies. I encl.a picture of my -64 with squaretubed frame,must be one of the last ones? Norway

---
Sat Jun 23 2007
mcook at fsmail.net
clubs
dmw/ambassador
could you please let know if there are any clubs in the uk for these motorcycles
uk in general
Numerous classic clubs listed here:
http://bikelinks.com/directory/Classic_Motorcycles/Classic_Clubs/
---
Tue Jun 19 2007
sbu5970500 at aoldot com
Ambassador worth ??
1950 Ambassador
I may take on an Ambassador restoration,the bike is in baskets, don't know if it's complete,what should I expect to pay?
Thanks,Gregg
Orlando Florida
Try this page for help with motorcycle valuations. Ed.
---
Mon Jun 18 2007
billio at talktalk.net
Ambassador Popular Battery?
1954 Ambassador Popular
Can any body tell me what dry cell battery was fitted to my Popular, please?
I have recently acquired the bike and it came without a battery.
Does anyone have a picture of a battery carrier?
Many thanks,
Bill.
Kent
There may be some information on our page about Classic Motorcycle Electrics.
---
Sun Jun 10 2007
gha43422 at bingpond.net.au
Ambassador
Hi, I'm trying to find out what model Ambassador I have, and any information as to what the original model would have had on it????? The front forks are unsusual as the telescopic tube extend through the yoke and attach to a cantalever at the top.
Australia
Can you supply the frame number, this may help identify the machine. .......
Sat Jun 23 2007
ken.elliott3 at btopenworlddot com
Sunday June 10th
Ambassador
Our Australian friend who posted a query on the above date has a 1950 series 5, the only model fitted with those curious forks, see my own posting. Ken Elliott
uk .......
Mon Jul 02 2007
gha43422 at bingpond.net.au
Ambassador
1950's Serise 5
I have found a number on the frame which seams to be the only one that looks like it is the frame # but the first number is unreadable but may be able to match wat I have...
Frame # ?1092306.
Have attach photo of same.
Garry Harding
Adelaide, Australia.
Any clue's as to what the linkage on the left hand foot peg would have connected to
Photo of the linkage may give some idea
Adelaide, Australia
.........
Hi, you may have seen from the site that you have a 1950 Series 5 Ambassador. It was the only year these curious forks were fitted. Before they had Webbs pressed steel girders, after MP teles. The series 5 was the first one with a lead acid battery, this was charged through the standard lighting coils via a rectifier. On mine this was shot, so I fitted a Jap one from a small 2-stroke. The engine was a Villiers 6E, three speed box. Wheels were 300+19 inch. Do you have all the bits for it? Are Villiers parts available in Australia? The Series 5 is very rare here in UK, I only know of one other here. If you need any more info, please ask. Regards, Ken
---
Sat May 05 2007
ken.elliott3 at btopenworlddot com
ambassador
1950 series 5
hi i have an ambassador 1950 series 5 for sale if anyone is interested
Hello, attached is a picture of my series 5. I bought it in the early 1980s. It was attached to a home made sidecar, a wooden box body looked to have been used by a builder or decorator. The sidecar chassis had been narrowed and shortened to fit the bike, quite a neat job had been done on it. As you can see, the flywheel mag was missing, but engine was very good inside. Only had to change the mag side bearing and seal. As you can see, the series 5 was fitted with tool box, battery box and battery lights. The rectifier was shot, so changed it for a later Japenese job, also ran the bike on coil ignition, much more reliable. Took it to a rally in Belgium, and one in France, this one in a Transit van! Too far to ride, even for me. The carb had an air slide controlled by a wire to the handlebars, for cold start, no choke on the air filter. The exhaust was straight thro' with a butterfly flap controlled by another handlebar lever, to mute it a bit in built up areas, sounded great when fully open! I think this was an after sales mod. I replaced it with a pattern Burgess silencer. Ken

---
Fri Apr 27 2007
acromarty28 at yahoo.com.au
Ambassador Badges
1949 Series 3 Ambassador
Just wondering if anyone out there has a photo of a tank badge of an Ambassador only ever seen one, if anyone has any for sale am willing to buy them. Thanks for any help, Andrew.
Australia
Try this page: http://bikelinks.com/directory/Parts/Badges_Decals/ Hello, I had a look at Acromartys query. His bike would have looked like the attached picture. (1954 Popular, following on the basic models, Series 1,2,3,4, but with 8E engine, not 6E), Only difference would be the forks, his would have the pressed steel Webbs girders.
Ken Elliot.

---
Fri Mar 02 2007
sadlersstudio at aoldot com
Ambassador Motorcycles
Model 197 ?
I have been offered an Ambassador M/C with girder forks. Did they make one with girder forks?
Hello, just in case no one has answered your query, the first Ambassador m/c came in 1947. They were fitted with Webbs pressed steel girder forks and a Villiers 5E engine. In 1949 same frame, 6E engine. This basic model ran until 1951. In 1950 came two new models, one had Kaye Dons' own design of telescopic front fork. In 1954 basic model fitted with 8E, still with girder forks. In 1955, all models fitted with MP teles. Hope this is of help. Any more info, just ask. Ken ken.elliott3 at btopenworld.com
---
Thu Jan 25 2007
luiscastro-ajustador at hotmaildot com
motocicleta Ambassador
Hola a todos en el foro, soy luis castro de Villahermosa, Tabasco, Mexico y he comprado recientemente una motocicleta Ambassador con motor Villiers 197cc. la cual quiero restaurar, pero desconosco el modelo y añode la moto, el motor tiene la serie: 544B 540 y no encontre el numero del cuadro(desconosco donde va) en mucho agradecere cualquier informacion del modeloo fotos de su estado original, Gracias y saludos
Villahermosa, Tabasco, Mexico
Translation: ....have bought a Ambassador motorcycle recently with Villiers motor 197cc. which I want to recover, but desconosco the model and año of moto, the motor has the series: 544B 540 and encontre I do not number of cuadro(desconosco where it goes) in much agradecere any information of the model or photos of its original state...
hi, just saw your query on ambassador web site. i have a book on villiers engines, it says your engine number would have been in a Cotton Motorcycle, type Vulcan, frame number 58225. hope this is a help.
ken.elliott3 at btopenworld.com
Had another mail from Luis castro, in Spanish, so couldn't understand it! He sent a picture
of his bike, definitely an Ambassador, with the diamond shaped tank badge, teles and swing arm, so looks like the book picture of a Statesman or Popular, about 1958-9. So the book was wrong about his engine number!. Ken
Perhaps not - the engine may have been changed. Ed.
---
Mon Dec 18 2006
quigsteve at eircom.net
ambassador restoration
1954 197cc
attached pic of my late father's Ambassador
Ireland

---
Mon Dec 04 2006
lamb.adrian at gmaildot com
Ambassador Information
Ambassador 1949 Villiers 197cc
I have owned this bike for 10 years now. Until recently it lived under cloth in storage but I
now have it out fully working and in near mint-condition.
I would be happy to provide any information you require about the bike, including photos (closeups) etc.
New Zealand

---
Sun Nov 26 2006
acromarty at yahoo.com.au [bounced]
G'Day
recently purchased a 1949 Ambassador 197cc and would appreciate any information that anyone could provide me with as i wish to restore it to its former glory.Would love to get hold of any photos of a bike that has been restoredto factory specs, also any history of the bikes and company as this is my first restoration and first ambassador thanks to anyone that can help.
Australia
---
Wed Nov 15 2006
dean< at >bit.net.au
Ambassador model
Hi all,
I just bought this bike to restore, and i believe it's am Ambassador, but I'm not sure of the model or year. Any help would be appreciated, particularly a copy of a workshop manual.
Thanks In advance.
Dean.

---
Tue Oct 24 2006
lam8retta at hotmaildot com
ambassador motorcycles
statesman 175 2L 1958
hi i own an 1958 model statesman (quite rare i beleive) anyone else out there have the same model.
just email me
thanx mick.
uk
---
Fri Sep 01 2006
don.yoga[at]blueyonder.co.uk
ambassador mk3
hi can you please help ive tryed taping in the villers eng no but dont get any where the no is ser 4163 any help gratefully recieved
gillingham kent
.........
dont have a picture at the moment but it is a Ambassador MK3 quite rare the only info i have is from the old style log book eng no SER 4163, eng size is 197 cc
yours don

Had a look at don yoga query, his engine no. doesn't match any in the Bacon book. 1948 Mk 3 started Engine No. 809-154, Frame 3058595. 1949 Mk3, eng.809-1450, fra. 3291375. 1950 Mk3 eng. 944-15484, fra. 44503266. 1951 Mk3 eng. 949-27261, fra. 311504711. Could well be fitted with replacement engine. Ken Elliot.
---
Sun Jul 02 2006
vcole at execulinkdot com
engine #
hi, i have a villiers motor with the number94922874 stamped on yhr mountand b70d5 stamped on thr cylalso fk2 stampewd on other side of cyl . any help on id would be greatlt recivied. thanx . i was told it was a francis barnett , but i'm not sure that is correct.
canada
This page on Villiers Engine Numbers is the only source I have for such information, but I don't think the numbers you have supplied will appear here. Ed. thanx with your info , ifound out it's a 1949 ambassador.the motor is all there ,great condition . , has comp.and looks like it will run. frame is great shape , well painted , no rust . but missing fenders , lights, front brake cable .. . any ideawhat these things are worth ? thanx again for your time . you helped a great deal.
pep.
Try this page for help with motorcycle valuations. Ed.
---
Mon May 15 2006
jmcurado at mail.pt
ambassador 197cc
hello.i'm joao curado from portugal and i have an 197cc ambassador to rebuilt.my email: jmcurado at mail.pt
i dont know anithing about my bike.any help nedd.thanks
---
Fri Mar 10 2006
gerry.greensmith at virgin.net
ambassodor
front end psrts
ealing
---
Fri Feb 03 2006
herohonda at autocarevascodot com
Knowing villiers
I have a bike looks like the Ambassador its got a villiers engine with no AAA26878A I need more info on this pls could u help
Goa India
---
Tue Jan 24 2006
sonneve at online.no
Ambassador Motorcycles
Is there somewhere in Europe an owners club?
I would recommend the British Twostroke Club. Ed.
---
Sun Dec 25 2005
t.cresswell at virgin.net
AMBASSADOR 197CC 2 STROKE
I have an ambassador 197cc 2 stroke instruction book printed march 1952 for sale.price by negotiation.(uk based)
---
Sat Nov 05 2005
mean69ms at yahoodot com
Identification of Ambassadore?
I have a motorcycle which I believe may be an 1949 Ambassadore. It has a Villiers 197cc engine. E/No 809-572 Frame No UD/530. Can you identify it by these no's? Any help would be appreciated.
Alan

Hi, saw your query on Ambassador website. Your engine number is from 1948 Series 3, the frame number should be a row of seven numbers. The first in the series was 3058595, so yours should look like that, cannot place the frame number you give with any British built bike. Do you have a picture? Regards, Ken from england .
........
Thank's for you email regarding my query on my Ambassador. The bike I have is in rough condition. I have had several email's, some saying it is a Series 3, dates ranging from 1948 up to 1952, but most saying it is an Excelsior. Frame no is still unknown. I have attached a couple of picture's for you. Alan from Australia." PS. I was in England last year, loved it and your bike museum.
.........
Hello Alan, thanks for your reply, I have a book on British post war bikes, which covers all those using Villiers engines. It is by a chap named Roy Bacon, generally accepted to know what he was talking about! Your engine is definitely one used by Ambassador, as I said. from 1948 series 3, but it is very difficult to tell much from the pictures without a frame number, as the different makes all looked much the same! Most Marques only built the frame, buying in all the other bits and pieces. Your teles are from a later bike, as Webbs girders were used on Ambassador basic Series bikes up to 1954, when they were fitted with MP teles, like yours. In 1955 they were fitted with Plunger rear suspension. So I can only guess you have a bit of a Hybrid, tho' none the worse for that, as they are great fun to ride. I enclose a picture of a 1954 Popular, which followed on in the basic Series type.
---
December 25, 2002
Hi,
I have an Ambassador Motor cycle Series III. The engine is a Villiers 197cc. I need a lot of parts to restore it. Anybody who can send me pictures please? It would be much appreciated. --Charles from Gozo.--chagalea at maltanet.net
P.S. I attach an old photo of my bike.
---
November 10, 2002
Hi; my name is Roberto and I live in Hollywood California, and I have a Villiers ambassador 1950...
see Villiers Forum
---
September 26, 2002
When I was in high school I owned a maroon colored 1957 Ambassador...
see Villiers Forum
---
Hi,
Can you help please I am looking for information on a bike for a friend. It is a 1952 or 53 Ambassador with a 197cc Villiers motor. ...
see Villiers Forum
---
January 21, 2002
I appear to be in the same boat you are. I have been given (I do not have it yet) an Ambassador MC with a Villiers 2T twin. I was looking for a club in England that might point me in the correct direction to get a parts book and owner's manual. There is a good section in Roy Bacon's book on Villiers 2 stroke engined bikes. If you find anything, please let me know
Thanks
Mike Sullivan--Mike.Sullivan at rfmacdonalddot com
California
---
June 26, 2001
... a 1964/65 vintage Ambassador motorcycle and is after...
See British Motorcycle Forums
---
February 19, 2001
Denmark 19.02.01
I would like to get in contact with other Ambassador owners from all over the world. My 197ccm Ambassador from 1948 is not running and not complete, so I need all the information on spare parts that I can get (what do they look like and where can I find them). I have been able to find some information on the Ambassador motorcycle, and would naturally be glad to help other Ambassador owners. The free information that I could give is e.g. a copy of my instruction manual and spare part list, or photos of different parts. Please mail back, if you are interested. Jesper Rotboell from Denmark--jr at oersted.dtu.dk
If you have a query or information about Ambassador motorcycles please contact us