Busmar Sidecars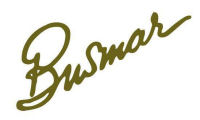 A Brief History of the Marque
Manufactured: Field Street, Blackpool from 1950 to 1965 using wooden bodies with aluminium alloy panelling on a steel frame. Some were fully enclosed and very spacious.
Models include: Lancastria Family Saloon, Devon and Devon II, Astralette, York I and II.
The firm ceased sidecar manufacture in 1965.
The Busmar range built in Blackpool includes this Durham single-seater coup&eacute which. mounted on a standard rigid-wheel chassis. costs £75 4s. 2d. or, with sprung wheel, £81 15s. 3d., inclusive of P.T. The model illustrated has the "springer" chassis and, together with the other sidecars marketed by this well-known concern, can be inspected on Stand No. 129.
I should like to see the Busmar Astral catch on. Here is the first real attempt to streamline a large two-seater side-car. Only heaven and probably Harold Karslake, that mine of motor-cycling historical knowledge, could tell us how long ago someone stuck a nose on a sidecar and topped it with a near-vertical windscreen. Sidecars have had noses ever since. And in their vast, chilly spaces, the legs of winter passengers have bobbed up and down like icicles in a freezing sea.
The man responsible for the surgical operation which has abolished the snub-nose is Len Smith, a director of Busmar Sidecars. He has been trying to produce his pipe-dream sidecar for three years but has not before been able to find the time.
MotorCycling, November 3rd, 1955
---
20-Nov-2020
glen at a19poolsandspas.co.uk
Busmar Sidecars
Does anyone know for sure who founded Busmar sidecars in Blackpool
Glen
Durham
---
Thu Mar 01 2007
deborahawills at hotmail.com
busmar sidecars
swallow
Hello! My father, John Wills, founded this company with Bill Lyons. Is there any information you can share with me about this?
Deborah Wills
---
If you have a query about vintage British sidecars, please contact us