Busse Motorcycles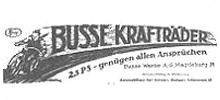 A Brief History of the Marque
Production dates: 1922-1926*
Busse Kraftfahrzeug AG of Magdeburg designed and built motorcycles with strong frames with engines of 150cc to 175 cc from Grade and DKW, and also produced one equipped with a 200cc Paqué engine. There were also some machines with a 140 cc two-stroke engine of their own design.
Total output of the factory was around 1100 machines.
*Notes: GTU & Ozebook agree on dates, Wikipedia says 1923-1928
Sources: GTU Oldtimerservice, Ozebook
---
Tue Jan 10 2017
scbusse65 at gmail.com
where do I start to find a 1920-1930 Busse [german] motorcycle?
New Jersey
---
If you have a query or information about Busse motorcycles please
contact us