CEMEC Motorcycles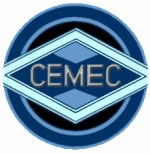 Made in France 1951 to 1958
CEMEC
Centre D'Etudes Moteurs à Explosion et Combustion
The company was founded in 1945 as Centre de montage et de récupération (CMCR) (English: Assembly and Repair Centre) at Neuilly-sur-Seine.
The company was located in Bièvres and from 1951 to 1958 produced motorcycles very similar in design to BMW models of the same era.
Several pages of technical information available at jlbweb (see sources).
A rough translation of the French begins:
ENGINE:
The engine of the CEMEC is a 4-stroke gasoline engine, 2 opposed cylinders (flat twin) with a total capacity of 748 cm 3 for the L7 and C8, 497 cm 3 for the C5.
The engine type L 7 is side valve and the types C 8 and C 5 are overhead valves.
The aluminium crankcase is in two halves, the division between the axis of the cylinders.
The barrels are cast iron with cooling fins, bore is 78 mm.
The valve guides were directly bored in the casting.
...
IGNITION:
Ignition is by a double coil Ducellier 6 volts. The C.E.M.E.C. is equipped with a 60 watt dynamo France, driven by a chain. The ignition timing is controlled by a hand lever located on the handlebar.
Sources: JLB Creations
---
Wed Jan 12 2011
dawers<at>o2.pl
CEMEC for sale
I'm looking for sale motorcycles Cemex with boxer motor ,
offers with price and photo on email
Poland
---
Wed Dec 07 2005
felix at cyclesalvagecanada dot com
CEMEC MOTORCYCLE
I have owned a cemec l7 for over 30 yrs, & still looking for parts, I do have an org parts book and some spair parts, if I can help any one e me at "parts at cyclesalvagecanada.com" my name is felix.
English
---
August 28, 1999
In my book 'Enzyklopädie des Motorrads' it is told, that Cemec (Centre D'Etudes Moteurs à Explosion et Combustion) was located in Bièvres. The company produced bikes from 1951 - 1958. -- Leiterw at aol dot com
We do have an old French motorcycle made by CEMEC approx. built in 1955. We are restoring this one and looking for information about it. Books, and also looking for technical information and spare parts... What do you know about CEMEC?? And maybe where to find in on the web?? -- Regard -- Barend Peters -- The Netherlands -- bwpeters at worldonline.nl
---
If you have a query or information about Cemec motorcycles please contact us