Empo Mopeds
A Brief History of the Marque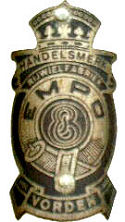 Founded by Emsbroek and Poesse in 1913, the factory was in Vorden.
Empofabriek 1913-19791
In the mid-1950s they produced the Empo-Carley using a Carley bicycle attachment engine, and also built mopeds with TWN 47cc engines.
In the early 1960s formed an association with Cyrus and began marketing their mopeds re-badged as Empo. The company failed in 1970, and this was a factor in the failure of Cyrus the following year.
Notes
Condor Club and Wikipedia NL give quite different dates of closure, the former saying 1979.
---
If you have a query or information about these classics from the Netherlands please contact us
---