Hirth Motorcycles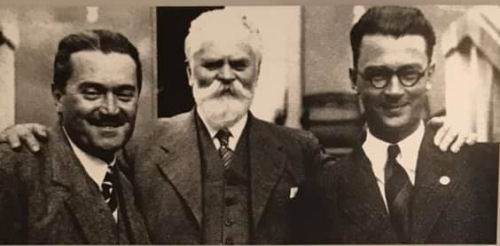 Hellmuth Hirth b.1886, Albert Hirth b.1858, Wolf Hirth b.1900
Built by pioneer aviators Hellmuth and Wolf Hirth in Stuttgart, 1923~1925. The motorcycles were very highly regarded and achieved excellent results in competition. Wolfram lost his leg in a 1925 racing accident but this seems to not have slowed him down as he was still setting records in 1926. The Hirth firm was founded in 1920 as a manufacturer of aircraft engines, and in 1927 part of the company was divided off to become Mahle of piston fame.
The younger of the two brothers, Wolfram was a founder of the Schemp-Hirth glider company, and flew sailplanes wearing a prosthetic limb. The story has it that he had one of the smaller bones from his amputated leg fashioned into a cigarette holder.
The Hirth, Schemp-Hirth [
1
] and Mahle companies all remain operational (2019).
Engine & Pistons
Motorräder Marke "Hirth"
Ziel war die Entwicklung standfester Kolben aus "Elektron", einer Aluminium-Magnesium-Legierung. Dieses Elektron war gegenüber dem bislang verwendetel Aluminium-Kupfer-Gemisch leichter. Und damit geeignet für höhere Drehzahlen.
Der ökonomischste Weg zum Test lag in kleinen Motoren - günstige Versuchssträger dafür waren Motorräder! Also fungierten die Hirthschen Zweiräder in erster Linie als Belastungsobjekt für den neuen Werkstoff.
Allen Maschinen aus der Hirthschen Schmiede gemein waren Zweitaktmotoren mit Doppelkolben. Mal mit zwei, dann mit Vier Kolben. mal stand der Oder die Zylinder, mal lagen sie. Die Motorräder aus dem Cannstatter Versuchsbau besaßen allesamt Wasserkühlung. Die zwei Pleuel jedes Zylinders liefen nebeneinander auf einem gemeinsamen Hubzapfen der Kurbelwelle. Der lang-gezogene Brennraum im Zylinderkopf mit einer zentraen Zündkerze war dadurch konstruktionsbedingt natürlich schrägliegend.
Erfolgreiche Fahrer der "Hirth"-Rennmaschinen
· Wolf Hirth
· Erwin Gehrung
· Franz Islinger
---
The goal was the development of solid pistons made of "electron", an aluminum-magnesium alloy. This metal was lighter than the aluminum-copper alloy currrently in use, and thus suitable for increased engine speeds.
The most economical method of development was to use small engines - inexpensive experimental motorcycles. So Hirth's two-wheelers acted primarily as a test-bed for the new material.
Common to all machines from the Hirth workshop were two-stroke engines with double pistons. Sometimes with two, then with four pistons. The motorcycles from the Cannstatter experimental building all had water cooling, and the two connecting rods of each cylinder ran side by side on a common crankshaft crankpin. The combustion chamber in the cylinder head had a central spark plug.
Successful riders of the "Hirth" racing machines
· Wolf Hirth
· Erwin Gehrung
· Franz Islinger
Hirth-Verzahnung
The Hirth coupling (or Hirth joint) was developed by Albert Hirth, the elder of the three brothers, for use in aviation engines. It has a great many applications and was used, for example, in the Adler twins of the 1950s. The Hirth-Verzahnung is currently in use in aviation turbine engines, surgical operating equipment, bicycle cranks and photography gear (rosette).
Technical data, Hirth racing motorcycle (#120)

Technische Daten Hirth-Rennmaschine:
Wassergekühlter Einzylinder-Zweitakt-Doppelkolbenmotor mit liegendem Zylinder,
Bohrung 45 mm, Hub 80 mm,
Hubraum 254 cm³,
ca. 11 bis 14 PS bei ca. 8000/min, ein 26er-SUM-Vergaser, handgeschaltetes Dreiganggetriebe von Burman, Kettenantrieb
Fahrwerk: Doppelschleifen-Rohrrahmen mit verlöteten Fittingen, Webb-Trapezgabel vorn, starre Zweiarmschwinge hinten, Simplex-Halbnaben-Trommelbremsen, vorn Ø 120 mm, hinten Ø 150 mm
Gewicht ca. 80 kg
Tankinhalt 15 l
---
Water-cooled single-cylinder two-stroke double-piston engine with horizontal cylinder.
Bore 45 mm, stroke 80 mm.
Displacement 254 cm³, approx 11 to 14 hp at 8000 rpm, three-speed Burman gearbox, chain drive.
Chassis: twin loop tubular frame with brazed fittings,
Webb fork
, rigid rear, Simplex half-hub drum brakes, front Ø 120 mm, rear Ø 150 mm
Weight approx. 80 kg
Tank capacity 15 litres
---
Notes 1. Shemp-Hirth gliders have won more world championship events than any other brand - in fact, more than all the other brands combined. World records include a soaring flight in the Andes of over 3000 km by Klaus Ohlmann, who has also soared over Mount Everest.

Sources: François-Marie Dumas, Wikipedia, Zweirad Museum, schempp-hirth.com
If you have a query or information about Hirth motorcycles please contact us