Lily Motorcycles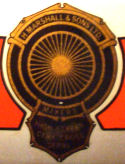 Fri, 27 Oct 2017
johnm at medes.force9.co.uk
Marshall Lily lily year not known
Richard Marshall was my Gr. Grandfather and I was born in Clay Cross and still live a short distance from where the motorcycles were built. I have been trying to find a surviving motorcycle, and some time ago found a company in the Netherlands I think was called Gedes but the bike had been sold and I received no reply to my email. I would like to make contact with the present owner of the bike in a hope to obtain any further information and pass on any information we can supply to the present owner if required.
John Richard Marshall
Chesterfield United Kingdom
---
Thu Feb 05 2015
ben.wieringa at hetnet.nl
Marshall Lily
Lily 3,5 HP
As new owner of this Lily would like to get in contact with Mr D.C.Marhall (emailadress failed) or anyone else who nows about this machine and his maker
Ben Wieringa
Schildwolde Netherlans
---
Sun Apr 11 2010

nick.smithgjrn<at>btinternetdot com
Lily Motorcycle (British)
Lily 3.5hp
Attached (assuming it works) some shots of a surviving Lily (aka Marshall-Lily). The engine is a rare 3.5 hp TDC, the gear a Brampton variable pulley.
It's not mine, by the way.
Kent, UK
---
23 February 2007 22:30
d.c.marshall at ntlworld.com
A little bit about my self, I come from 5 generations of shop owners in Clay Cross, Derbyshire. During the early 1900s my Gt Gt Grandad Richard Marshall set up building motorcycles using T.D.Cross engines and calling them LILY after his mother. I am attempting to join this forum in the vain attempt of tracing one of these machines.
Please find attached a newspaper/magazine article about the machine.
I hope to hear from you soon.
Dmar
---
If you have a query about Lily Motorcycles, or wish to share some information about these classic British machines, please contact us