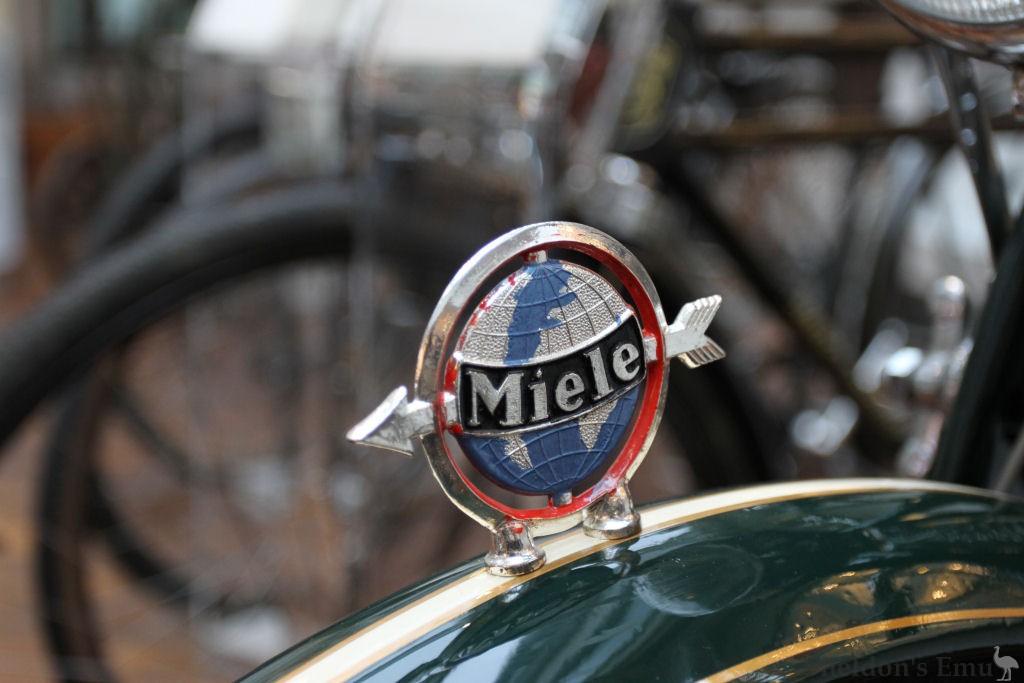 Miele Motorcycles
A Brief History of the Marque
Manufactured in Bielefeld and Gütersloh 1930s to early 1960s.
Founded in 1899 by Carl Miele and Reinhard Zinkmann, the German company manufactured milk-centrifuges and other dairy equipment. In 1907 the company had 60 workers and from 1911 bicycles were manufactured. The first automobiles were built for the military during the Great War and in 1916 a second factory was established in Bielefeld, production of these ceasing shortly after the armistice.
In the 1930s they produced bicycles and motorised bicycles in various guises including Saxonette rear wheel engine models. In 1927, the Miele vacuum cleaner became popular and in 1929 they introduced the first electric dishwasher.
During World War II they built control units for torpedoes.
Postwar production commenced in 1949 with "simple transport machinery" and the first mopeds appeared in 1953. These machines proved very popular and Miele became one of the largest motorcycle manufacturers in Germany.
Models include
Miele Saxonette, 1938-1940, 60cc Sachs
Miele K2 Herren-Motorfahrrad, 1940, 198cc Sachs
Miele 420 Herren-Motorfahrrad, 1939, 98cc Sachs
Miele 720 Herren-Motorfahrrad 98cc Sachs
Miele 620 Damen-Motorfahrrad, 1938-1939 98cc Sachs
Miele Damen-Motorfahrrad, 1935 98cc Sachs
Miele H3 Herren-Motorfahrrad, 1932-1934 74cc Sachs
Miele H6 Damen-Motorfahrrad, 1932-1934 74cc Sachs
Saxonette (1930s)
Miele Moped K50 (1954-55)
K50S (1956-58)
K51 (1957-58)
K52 (1958-61)
K52 Sport (1958-61)
Miele Moped K52/2 1959
K52/2G (1958-61)
Sport (1958-61)
K53 (1960-61)
K61
K21 (1950)
K30 (1950)
K31 (1952-53)
K100 (1952-55)
K150 (1953-55)
Miele Gentleman Model 720
Year: 1939
Engine: Fichtel & Sachs 2-stroke 98cc 48x54mm
Power: 3hp at 4000rpm
Weight: 62kg
Fuel consumption: 1.5 l/100km
Top speed: 60km/h
Sources: JF, et al.
---
11-Sep-2020
kennyhardy05 at yahoo.com
Miele 1940 H2
I have a 1940 Miele H2. I was wondering if you know where I can find a fuel tank. That's all I need to finish it.
Kenny Hardy
Williamstown, WV USA
---
Tue, 06 Feb 2018
mechen at citynet.net
Miele 420, but I think a 720
Where can I find replacement parts for model 420 (720) motorbike?
Glenn Holt
Parkersburg WV USA
---
Wed Feb 15 2017
info at trustsa.gr
MIELE K50
Do you sell these logos because i would like to buy 2 logos (miele - logo - 1) and 1 logo (miele - logo - 4)
GREECE
No, sorry, we don't sell logos.
---
Mon Feb 06 2017
koulagreen at gmail.com
2 rubber wheels and inner tubes needed
Miele Sachs 1 1935 See photos
Please help me to purchase 2 rubber wheels and their inner air tubes
Yeovil- Somerset
---
Thu Jan 26 2017
nuddy26 at hotmail.com
Availeble parts request
Miele 1938 2 stroke 98cc
Hello.
I'm looking for several parts for a Miele motorcycle from 1938 2 stroke sachs engine.
The parts i'm lokking for are a headlight, taillight, gas cap,
Foxhol. Netherlands
---
Mon Aug 15 2016
lizcarwtn at aol.com
1957 Miele Mopad with Sachs
1957 1957 Miele
I mother has a 1957 Miele Mopad with 5000 orginial miles. Very interested in knowing the potential value. The motor still works. Please provide a contact number to speak with someone.
New York
---
Mon Dec 01 2014
joliver98 at hotmail.com
1952 Miele 98cc
Miele 98cc
Hello,
I just purchased a 1952 Miele bike that was restored but could use a few extra parts. I am looking for the front emblem that would mount on the front fender, and a brass washer that mounts in the exhaust port. Any advice on where to find parts would be greatly appreciated.
thanks
Colorado USA
---
Thu May 03 2012
bister49<at> yahoo.com
mielewerke unknowm
I have a mielewerke a.g gutersloh no.540671 kg58 hubraum 97.03ccm bike is complete cannot find anything on it. owned for 30 yrs looking to sell thanks
wisconsin,usa
---
Fri Oct 17 2008
jennydawson at freeukdot com
Miele Motorcycle
Are Miele motorcycle spares available and from where
Lincolnshire UK
---
Sun Dec 02 2007
andrew at realestatesnamibiadot com
miele motorcycle
1929?100cc
i have one in near perfect condition and would like to know the aprox value

Our page on Classic Motorcycle Prices may help with evaluation.
---
Thu Sep 27 2007
mechen at citynet.net
Miele 1939 mototclcke
Ned tank decals, chain guard decal, and battery holder that went under the gas tank...
US
---
Sat Jul 07 2007
clark-white at msndot com
Miele Motorcycle
I recently found a 1935 or 1936 Miele Motorcycle with a Sachs engine. I need some engine parts, are any available.
Louisiana, USA

---
Sun Aug 27 2006
oestefo at gmaildot com
Motobicleta Miele 1962
Tengo una motobiciclete Miele del año 1962 y quisiera saber si la puedo vender a un coleccionista y a que precio
Chile

Translation: I have a Miele (moped?) 1962 and wanted to know if I can sell it to a collector and the price it may bring.
Try the page on Collector's Motorcycle Prices.
---
Sat Jul 29 2006
mail at mieles.co.uk
Miele
Miele 1938
I am looking for assistance I have owned this bike for 10 years and it is in original Luftwaffe Colours and would like advice on whether to restore in original Green and Yellow or in Luftwaffe blue ?
Moray, Scotland
---
Mon Jun 19 2006
giovannino.carrano at tin.it
Informazioni su adesivo Miele Motorcycle
Salve, dove posso trovare un adesivo Miele Motorcycle? Saluti
Italia


Translation: where I can find an adhesive Miele Motorcycle? Try the Badges & Decals Directory at Bikelinks. Ed.
---
September 23, 2003
Hello, my name is Glenn I have a Miele motor bike that I am having a very hard time finding background info on. If you can help, it would be greatly appreciated. It is, as best as I can tell a bike manufactured in Germany in either 40's or 50's it is a moped, in that it has pedals and a Sachs engine, complete with leather gun holster with the Miele logo embossed on it. I have tried to identify this bike, Miele makes washing machines and such these days, and I am at a dead end right now.
The Sachs engine displays the following info:
"Fichtel & Sachs A.G. Schweinfurt a.M."
"Mot NR. 248246 Hubraum 97/98 CCM"
"Bohring 48 M/M Hub 54M/M BR.PS. 2.25"
The case has a casting #? 248248
The Bike is a Miele with the following nametag info:
"MIELEWERKE A.G. GUTERSLOH"
"NO 535038 RG 58"
"HUBRAUM 97.03 CCM"
I have questions.
1) can you help me identify the vintage and year, I can find NO info on this bike.
2) Are there parts avialable to refurbish the engine, I am in the process of restoring this bike, but have not gotten into the engine yet.
3) are there any owners manuals available (LOL) just need info if some are.
4) any owners of either these bikes or knowledge of such, please pass my addrerss along to them.
I attach photos of the bike here in hopes that someone can help me identify it as to year and history etc,. Any help you can provide will be more than I have been able to find.
Thanks in advance Glenn mechen at citynet.net
---
September 3, 2002
Looking for info on a Miele moped, single cylinder with pedals, original embossed Miele handgun holster, Sachs engine. Trying to date it Miele's home page timeline indicates it may be 1940-1945. I have pics I can send. It has tank mounted shift. I am having a hard time locating any info on it...... Thanks Glenn Holt mechen at citynet.net
---
December 6, 2000
Hi I have visited your site and saw photos of ancient Motorcycles. I have ancient German motorcycle Miele, I shall be grateful for any information on it (him). Beforehand thanks, Nazarov Anatoliy mail-to:motoretro at narod.putin
If you have a query or information about Miele motorcycles please
contact us
---