Ner-A-Car Motorcycles

A Brief History of the Marque
Sheffield Simplex Co., Canbury Park Road, Kingston-on-Thames.
Designed by American Carl Neracher during the First World War, these unusual machines were built first in England and then later also in Syracuse, New York. They featured a low-slung steel chassis with hub-centre steering and transmission by friction drive to the rear wheel on early designs. The steel chassis, which was more like that of a car, housed two-stroke engines of 221cc and four-strokes of up to 347cc in sv and ohv configuration. The Model C of 1924-25 had a Blackburne engine.
The design met some resistance in the United States and in 1919 backing was found in Shefield, England where the Simplex company agreed to build the machine for Britain and its colonies, excepting Canada. Simplex began production in 1921, and the following year backing was also found in the USA where the first machines left the Ner-a-Car Corporation's Syracuse, New York factory.
In 1922 the strange little contraptions were soon the talk of the town after Cannonball Baker rode one coast to coast, NY to Los Angeles, in 8 days. He spent 172 hours in the saddle, and averaged 30mph. He stayed off the freeway.
A report on the 1924 Motor Cycle Show reads, in part,
"Model B, of the Ner-a-Car, has been considerably modified since last we saw it at Olympia. The flywheel magneto is discarded, and its place is now taken by an ordinary h.t. magneto, which affords easier starting. A steel flywheel is now fitted, which increases the efficiency of the disc driving gear. The price has been reduced from 457 Jos. to 450. The new model C, has a Blackburne engine and Sturmey-Archer three-speed gear box. Provision is made for the adjustment of the driving chain, and a Best and Lloyd oil pump is part of the standard equipment.
Sources: Motor Sport Magazine, et al.
---
24-Aug-2020
cookef at talktalk.net
Neracar Model C 1924
Hello there,
I have a fully restored machine but because I am getting on a wee bit (85) would like to add a sidecar. I believe they are banana shaped which adds to the desire to have one. Anyone got one to sell please? Pretty please? FRANK
Frank Cooke
Gloucester, England
---
10/15/2018
Robertpaddis at gmail.com
Neracar Model C with Blackburne engine
Looking to buy or trade. 350 cc single cylinder
Bob Addis
Cohoes, New York USA
---
Mon Oct 27 2014
jumdem at fsmail.net
Where is it
Ner-a car Blackburne model C
I have a photo of my great grandmother on one of these machines, reg EO 3319, which went for auction in 2009 by H & H auctions, do you know if it is a museum or such as I would love to see it.If in private ownership whould it be possible to give my details to them so that they might contact to arrange a viewing? My Great Uncle Thomas Kitto owned it when living in Barrow-in Furness Lancs.
Carlisle England
---
Thu Nov 10 2011
doug-becky<at>yahoo
dot com
1925 Neracar
1925 Model B
I am thinking about buying a 1925 Model B but I have no idea what the value is. Can you give me an estimation? It has been re-done and appears to be all original. Thanks
Indiana
---
Thu Apr 15 2010
gregfuji<at>cox.net
selling ner a car
Ner-A-Car neracar
Wanting to sell my neracar. what is it worth. 1922 restored in late 80's excelent condition.
Arizona
---
Thu Jun 18 2009
holeintheuniverse at verizon.net
cannonball baker
1922 neracar
got a photo taken by my grandfather of cannonball baker leaving the shop for his 1922 crossing. pretty cool. gramps did a cross country trip from jersey to ca. on a harley. i have quite a few pics of the trip. i can send you a copy of baker (or others) if your interested.
DC
---
neracar all
Hi, my original Neracar website has been deleted by Orange as they no longer offer that type of website.
Can you please change your link to
https://sites.google.com/site/martinphilp2/home Thanks.
Ken Philp
---
Mon Oct 08 2007
Munducani at hotmaildot com
Parts needed
ner-a-car
I need a front hub and bearings for a 1922-24 ner-a-car. I am in the process of restoring one.
Pennsylvania, USA
---
Mon Sep 18 2006
mhahn at cib.ca
ner a car
I saw a ner a car at the Wheels Through Time museum in Maggie Valley Tennisee, USA. The description stated it employed the Ackerman principle in its steering system. Are you able to confirm this for me?
Canada
---
Sun Aug 20 2006
john-stanley at eircom.net
Ner-a-car
Hi
I am hoping to purchase a Ner-a-car, can you help me locate a machine for sale
Thanks
John (Ireland)
---
Tue Jun 13 2006
ahimsa83 at gmaildot com
Ner-A-Car 1922-3 ?
My grandmother, Hilda Albino (néé Barns) was the first lady in Kent to have a motocycle, a Ner-A-Car.
Acording to my mother's autobiography, ("Beauty - Not the Beast" ISBN 0 85978 056 2. The autobiography of Muriel, The Lady Dowding.) this photo was probably taken in about 1922-23 in front of grandmother's house in Beltinge, near Herne Bay, Kent, on the south-east coast of England
Perhaps you can define which model it was. There appear to be no lights for driving at night.
Regards, David Whiting
Frejus, France



Ner-A-Car 1922 Model A Kent detail
--Original Message--
From: David Whiting [mail-to:ahimsa83 at gmaildot com]
Sent: 13 June 2006 10:56
To: Ken Philp
Subject: RE: 1922-3. My grandmother on her Ner-A-Car (contd).
Hello again, David.
Thanks for the enlarged photo - I can now see that it's a post-July 1922 Model A, but I'm guessing that the photo was taken some time later, as it looks to me as if the front mudguard stay is flat, and it should be tubular.
So maybe the weight of the lights had an adverse effect on the stay and was removed. I have a photo of Gwenda Janson/Stewart/Hawkes - the fastest woman around Brooklands at 136 mph in 1935, and her first motoring involvement was with a 1,000-mile test on a Ner-a-Car. The photo at the end shows that the right lamp and stay has been lost!! So it was not unheard of!
With regard to the rear light, there are a few imperfections on the photo, just a few speckles - your gran seems to be looking right at them! Just below there is an out-of-focus bright oval, quite small, and I'm pretty certain that that's the top of the rear light.
I also see that the Reg. No. is KK not XK, and I know of no other bike with a KK reg.
I live in Loughborough, between Leicester and Nottingham in the East Midlands.
Thanks for permission to use the photo. It will end up second on the Photo Gallery in due course.
Thanks again.
Kind regards, Ken Philp.
Good morning Ken, from a warm and sunny French Côte d'Azur,
Very many thanks for the info on my grandmother's Ner-A-Car. Fine, please use the photo.
The photo of granny's Ner-A-Car is a scan from a very small and old photo, the original is not good. However, I send the photo again as a larger (628KB) image (instead of 62KB sent last time). (I doubt the maximum definition of 4.62MB BMP would pass by Internet)
Unfortunately on the original photo, the rear is not in sharp focus to see the rear light detail you mention. It is strange that there is no sign of front lights having been fitted. I have never seen a Ner-A-Car; the steering system looks very strange and it would seem that it had strange handling chiastic.
Granny was a very interesting and 'individual' person with a loving but strong personality.
I remember how fast she used to drive her English made (Slough factory) Citroën Light 15 car just after the end of World War II, usually with the sliding roof (UK models only) open (below, like this - not her actual car).
Great web site you have. I found you all on the Internet, and thought I should share my photo with you.
As I could not afford to run live steam, I had vintage cars in my younger days, the first a 1929 Sunbeam 16hp tourer with original paintwork and a Citroën 5cv that was imported especially for the 1921 Glasgow motor show (two seater with UK drive), chassis number 495, of a pre-production run of only 500. I was only the 3rd owner of both cars and they had complete history and documentation from new.
Where abouts are you in England? I shall be coming over this July and August and staying with my daughters near Bath.
Best wishes, David.

--Original Message--
From: Ken Philp [mail-to:kenphilp at hotmaildot com]
Sent: 12 June 2006 21:14
To: ahimsa83 at gmaildot com
Subject: RE: 1920s - my grandmother on her Ner-A-Car.
Hi David, just been looking at the photo of your gran, and enlarged it, but the focus when enlarged isn't good enought to see if it's an early or late model.
It DOES, however, look as if it has the special rear light. If you look at the left top of the rear number plate you can see a light spot, which I'm pretty sure is the top of the cast alloy rear light.

Hi David, my name is Ken Philp, and I run the biggest Ner-a-Car website -
www.ner-a-car.co.uk (404) I can probably tell you more that Don Proctor ( neracar.com (404)) as he's on Vancouver Island, has an interest in US models, whereas your gran's bike is an English model. If you look at the History page on my website, you may seesome similarities with Don's description - I THINK he "borrowed" some of it! But we're all Ner-a-Car friends!
The bike is an English Model A, built in 1921 or 1922. It is just like my own bike - see the photos on the Photo Gallery linked to the website. Thecurious thing is the absence of lights - they were all produced with twinheadlights, an electric one on the right, and an acetylene one on the leftto meet the Construction and Use Regulations for parking at night. The rearlight was unique in that it was a combined electric and acetylene one in thesame body, now quite rare - I only know of 3 or 4 left! Happily, I have one!I've just got the electric ones working, but don't intend commissioning the acetylene ones!
So that's a brief identification of the bike. I see the Reg. No. is XK 2523, and the nearest I have to that on record is XF 9215, registered in August 1921. the later one is XX 3411 registered in March 1925. Therefore it looks by interpolation at a 1922 machine, maybe registered in 1923?
If you want any more info then please feel free to ask - I've turned into a bit of a Ner-a-Car Anorak!
Also would you mind if I include the photo on my website, please? Your agreement would be noted!
Kind regards,
Ken Philp
---
November 10, 2002
I live on Vancouver island, British Columbia, Canada, and own a Neracar, and also have a spare front fender for one. donproctor at hotmaildot com
---
April 26, 2002
Hi,
At last the book is about to be printed! Have a look at the website to check the price, and as you're in the States, your best contact to get a copy will be stuart at motomorini.co.uk
He is/was the owner of the 2 bikes shown on the website.
Regards,
Ken Philp -- kenphilp at hotmaildot com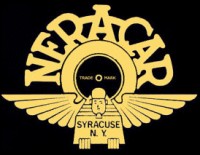 If you have a query about Neracars or have information about these classic machines, please
contact us