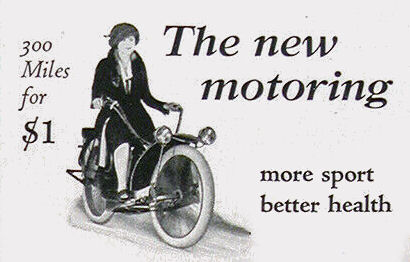 Action so smooth and smart it gives you a sense of flying. Control so easy and simple that you learn in five minutes.
Get into the outdoors in a spirit of play.
Know the blood-tingle, the exhileration, the vigor that comes with NERACAR riding.

Men and women, boys and girls, ride in any clothes. Broad mud-guards keep off dust. No bar to straddle -- step in from side.
Feet on ground at start and stop.
Low and light. Wonderfully steady and easy to handle because the weight, approximately 175 lbs., is centered close to the ground.

Simple, safe and trouble-proof in anybody's hands. 3 - speed friction drive, shifted by convenient lever, engaged and disenaged a quarter turn of left grip. - no gears or clutch.
35 miles an hour. Takes hills smoothly.
85 to 100 miles to the gallon. This makes motoring cheaper than street cars.
Explore your country on a NERACAR --
ramble along new paths and trails inaccessible with ordinary vehicles. Enjoy the woods and streams. Take this handy little car along on your vacation. Ride it or express it and have it waiting for you.

Write for descriptive folder.
NER-A-CAR CORPORATION
204 So. Geddes St., Syracuse, N.Y.
FULLY EQUIPPED -- NO EXTRAS !
$225
Price includes 2 Electric Head Lights,
Tail Light, Luggage Rack and Tools.
AT SYRACUSE, N.Y.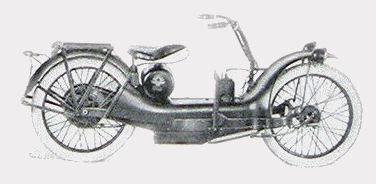 National Geographic, 1922.

Cut Transportation Cost
Eliminate economic
WASTE with one-man transportation at 300 miles for a dollar. Save time lost in parking or delays in congested traffic. Neracar glides through openings too small for autos. Cover the ground in half the time.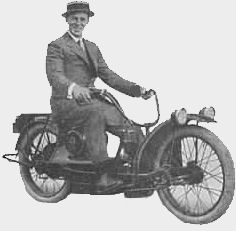 300 Miles for $1
85-100 Miles to Gallon
35 Miles per Hour
Neracar is an automobile on two wheels -- clean, comfortable, SAFE.
Learned in five minutes by young or old, either sex. Easy riding on balloon - like tires and fine springs. Low center of gravity resists skidding -- feet on the ground at start and stop. No grease or dirt on your clothes. Step into a Neracar -- no bars to straddle. Ride from door to office -- park on curb. Efficent, economical, fascinating.
More vacation for less money. Save transportation expenses -- use Neracar at 1/3 of a cent per mile. Enjoy new pleasures and country otherwise inaccessible. If tired, nervous, run down, ride the Neracar -- hundreds, young and old, testify to it's benefits.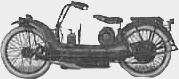 An automobile on 2 wheels
NER-A-CAR CORPORATION
Syracuse, N.Y.
Dealers! Write for our Plan
Advertisement in the Saturday Evening Post

---