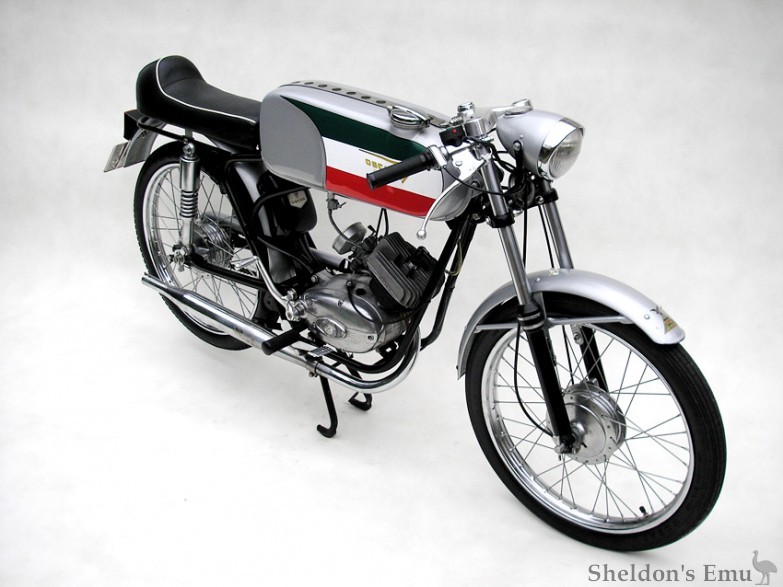 Oscar Motorcycles
Oscar began production in the mid-1960s in Rastignano, Bologna, producing a range of lightweights. The best-known of these was the Oscar College.
The College was a single-speed model equipped with a 49cc Franco Morini engine. This was followed by the Mister College which was fitted with a 4-speed FM 4M engine.
The "Export" version had a 19 mm Dell'Orto carburettor and was much more powerful, developing around 4.5 h.p. at 5,000 rpm. The Mister College is considered the first "tuboni" type moped offered on the market. In the early 70s hydraulic rear suspension was introduced to the mopeds, previously rigid-framed.
The firm began delivering more sporty machines around 1967 with the Model F84, which had clip-on handlebars and a racing-style saddle. These were followed by the Fennec Cross and Can-Am mini-bike in 1974 and the College Trial in 1977.
In 1975 the machines received new front suspension and a new Franco Morini engine with "Turbo" cylinder head.
A 110cc two-stroke was introduced which used the same chassis with an enlarged fuel tank. It did not take the world by storm.
Oscar ceased production in the early 1980s.
Sources: autoemotodelpassato, et al
---
10-Sep-2018
Udo.Hopfinger at web.de
Oscar College 50
I buy the Bike without Dokuments. The Bike is White with blue Stripes. Have you Dates - HP, RPM .......
i need it for the German TüV.
Frame Nr.: OSCAR MC/R 11493 DGM12593 OM
Thanks Udo.
Udo Hopfinger, Germany
Will add information as it comes to hand.
Also, try this page: Engine Numbers and Frame Numbers
---
Tue Sep 27 2011
mjeantaud<at>hotmail.com
Exploded View
Oscar Can Am
Looking for exploded views about Oscar Can Am
Drôme
---
Tue Feb 02 2010
pikmal at gmail
dot com
Oscar Morini Franco motorcycle
OSCAR Motorcycles Oscar College 50
Some pictures of my College 50, year made 1974. Very good runner.
Ljubljana, Slovenia
---
Tue Oct 06 2009
fabien.chauvineau at free.fr
Oscar trial
Restau d'un oscar college
........
Wed Oct 07 2009
Restauration Oscar College
Oscar College
J'espère que les images seront chargées cette fois-ci....
---
Sat Jun 20 2009
alainchantalgarrigue at free.fr
oscar trial collège
voici des photos de l'oscar collège de l'année 1976/1978
je suis à la recherche de pièces moto et moteur de cette même machine.
merci d'avance
Thu May 14 2009
alainchantalgarrigue at free.fr
oscar trial collége
je cherche un oscar trial ou documentation des années 1977 à 1980 avec moteur motori franco morini
turbostar
---
Fri Jun 19 2009
alainchantalgarrigue at live.fr
oscar trial collège
oscar oscar
bonjour a tous les collectionneurs,je vous fait parvenir des photos de cette machine introuvable et je serais ravis de me faire parvenir des photos que je n'est pas en ma possession .
Je suis a la recherche de pièces oscar trial collège et moteur franco morini
MERCI
CASTRES 81
---
Wed Mar 04 2009
mgoossens at gbo.schulen-ts.de
Oscar
75? Mister College Prototipo
HELP!!
I need a Manuel or other papers.
Thanx
Berlin
---
Thu Jan 01 2009
Urbi44 AT libero.it
Motociclo - ciclomotore
Oscar College
Messo bene... Cromature senza ruggine
Emilia Romagna
---
Fri Feb 15 2008
d.zappieri at iol.it
Oscar Can Am
Do you have pictures of the Oscar Can Am? I need to know how was the patch of the tank.
Milan
---
Thu Feb 07 2008
albertobassi at supereva.it
Oscar Mr. College Prototipo ORIGINAL DECALS
Ciao! Cerco le decals originali del Mister College Prototipo del 75-76. Mission Impossible??? Grazie! Alberto
---
Tue Nov 27 2007
aon.912051051 at aon.at
Ersatzteile
Oscar CAN AM
Hallo!
Ich suche Ersatzteile für Oscar Can Am!!!
Tachogehäuse, Tachowelle, Tachoantrieb, Schutzbleche, Benzinhahn, usw.
Austria, Kaernten
Translation
I look for spare parts for OSCAR CAN to!!! Tachogehaeuse, Tachowelle, Tachoantrieb, shields, gasoline cock, etc.. Austria, Kaernten

---
Mon Oct 08 2007
oscarprsident at yahoo.de
Hallo...
Kenne jeden Teil von einer Oscar can am , haben auch jeden Teil und auch 6 Stück fertig zusammengebaute Oscars.
Ã-sterreich
Translation: Know each part of OSCAR CAN AM, also each part and also 6 Stück have finished assembled Oscars
---
Thu Sep 20 2007
avv.malagutimaurizio at tin.it
oscar motorcycles
Mister College
Sono proprietario di un Mister College 48 cc. del 1968. E' una moto che era molto diffusa a Bologna negli anni '70. Il motore è un Morini Franco . C'è qualcuno che conosce questo motorino e che ha pezzi di ricambio?
Bologna
---
Wed Aug 09 2006
F.VOET at HOME.NL
motor cycle
oscar jear 1963
i need more information about these moped, if its possible, thanks a lot
roosendaal
---
October 30, 2001
Please, Have you got some website address to give me .because I try to repair my 1673 Oscar Can-ham, and I don't find website of Oscar.
thank you very much
Hadrien -- Hbidouard at aol dot com
[1973, perhaps? Ed.]
---
February 10, 2001
Bonjour,
j'aimerais savoir si vous aviez des informations sur les motos de la marque "oscar".
Merci -- WimmerZeyo at aol dot com
Sheldon's translation: "I'm looking for information on the Oscar motorcycles"
---