Smart Motorcycles and Sidecars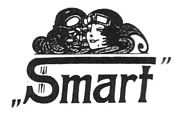 A Brief History of the Marque
Manufacturer: Eduard Platzer, Motorrad- und Seitenwagenbau
Smart motorcycles and sidecars were built in Neustadt, Vienna from 1924 to 1932. Many components were sourced from England, including SV and OHV engines from Villiers, JAP and Blackburne in 150cc to 600cc capacity.
From 1927, they employed only JAP engines of 350 and 500cc, both SV and OHV. Some 140 machines were produced in total.
Models:
Smart AS 350 Tourer 1924-1932, 141 built.
Single-cylinder four-stroke 350cc JAP, Burman 3-speed gearbox. Milles electrics, ML Magneto, Brampton forks.
Smart 175cc 1923 single cylinder two-stroke. Two speed gearbox with kick starter and belt drive. 4 1/2 litre fuel tank, low profile tubular frame.
Sources: voz.co.at, et al.
---
If you have a query or information about Smart motorcycles please contact us