Although it appears to be a flat four, in fact it is a wide angle (170°) v-four. This is a rather clever solution as it allows for a lower C of G whilst giving better ground clearance for the cylinders.
Credit:
Michael Zacher
Licence:
CC BY-NC-SA 2.0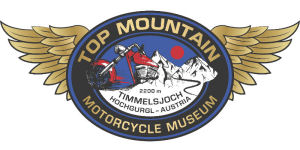 Top Mountain Motorcycle Museum
In April 2016 lifelong motorcycle enthusiasts Alban and Attila Scheiber opened the spectacularly located museum on Timmelsjoch High Alpine Road in the European Alps.
Tragedy struck on the 18th of January 2021 when fire destroyed the museum and its contents. More information...