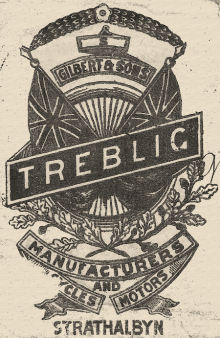 1904
Last week Mr. Gilbert, of this town, did a fast run on the Treblig motor manufactured by his firm here, leaving Strathalbyn at 12.2 and arriving at the post office Adelaide as the tower clock chimed 1.30, the thirty five miles over partly cut up and generally bad road, thus being accomplished in one hour and twenty-eight minutes...
Southern Argus (Port Elliot, SA) Thu 14 Jul 1904
1907
STRATHALBYN AGRICULTURAL SOCIETY
... a very creditable display of 'Treblig' and other bicycles, motors, &c, from the local cycle and motor factory of Messrs. S. Gilbert & Sons.
Southern Argus (Port Elliot, SA) Thu 10 Oct 1907
1908
STRATHALBYN SHOW ..A Treblig motor was on view fitted with a Minerva 2 3/4 h.p. air-cooled motor, and the latest torpedo shaped tank, which hold 2 1/2 gal. of petrol. High tension magneto is fitted without the coil, which is usual with other ignitions. The control is fixed to the handle bars, turning the right hand grip altering the spark advance. It is also fitted with an automatic carburettor. Spring forks are supplied, and being a long machine riding is very comfortable.
Southern Argus (Port Elliot, SA) Thu 29 Oct 1908
1914
Messrs Gilbert and Sons of this town have just completed a very fine motor-cycle of their well-known 'Treblig' brand, which has in it several new features, bringing it up to the very latest style. It is fitted with a J.A.P. twin cylinder engine of four horsepower, high tension magneto, Brown and Barlow carburettor, three-speed gear, spring forks, and has all the newest devices for simple working, nothing better having yet been applied in this State. The machine has good ground clearance, works almost noiselessly, climbs hills with the greatest ease at top speed, and is most beautifully fitted up, the high-class workmanship leaving nothing to be desired. Messers Gilbert are to be congratulated oh their latest type of cycle, which surpasses altogether any of their previous excellent productions.
Southern Argus (Port Elliot, SA) Thu 2 Jul 1914