Westfalia Motorcycles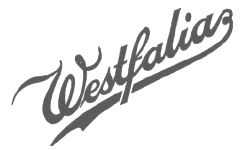 A Brief History of the Marque
Manufacturer: Ramesohl & Schmidt AG, Oelde

Established in 1893, the firm built only one motorcycle model, in 1901.
The only surviving example of the Westphalia is on display at Das Motorradmuseum Heiner Beckmann in Harsewinkel-Greffen.
The firm built automobiles from 1906 until 1913 when that part of their business was sold to Hansa Automobil-Gesellschaft m.b.H. of Varel (later Hansa-Lloyd), and Ramesohl & Schmidt continued with their main operation of producing Westfalia milk separators.
GEA Westfalia is still in business.
Sources: Wikipedia, motor-car.net, Axel Oskar Mathieu Archive, et al.

Fri Dec 05 2014
alex.sirakoulas at gmail.com
Westfalia invalid Tricycle
Hello i have found this westfalia antique tricycle i have no information on it bit it is very well built with an internal gear shaft with gear option as well as push pull movement hand propelled with brakes and all it is complete but rusted i am planing on retoring it and i would need some info like year of build and some info on westfalia tricycles
Greece
The Westfalia invalid tricycle was built by H.W. Voltmann in Bad Oeynhausen.
---
If you have a query about Westfalia motorcycles please contact us
---