Dingley Brothers Motorcycles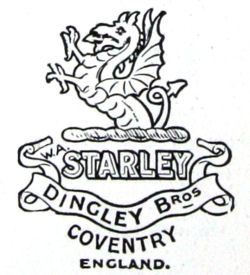 Philip Dingley established the company in 1890. Based at Viaduct Works, 74 Spon Street, Coventry, they built Starley bicycles.
The Red Book of 1920 lists them as a manufacturer of motorcycles.
An article on the firm at onlinebicyclemuseum.co.uk suggests that Dingley took over the old Starley factory at Viaduct Works, Coventry, and mentions that Davison Motorcycles give that address in their advertising in the early 1900s. There was a Starley motorcycle built in 1902/03.
Sources: Graces Guide, onlinebicyclemuseum.co.uk.
If you have further information or a query related to this page, please contact us
---