NOVEMBER 30th, 1922. Page 871
The Olympia Show.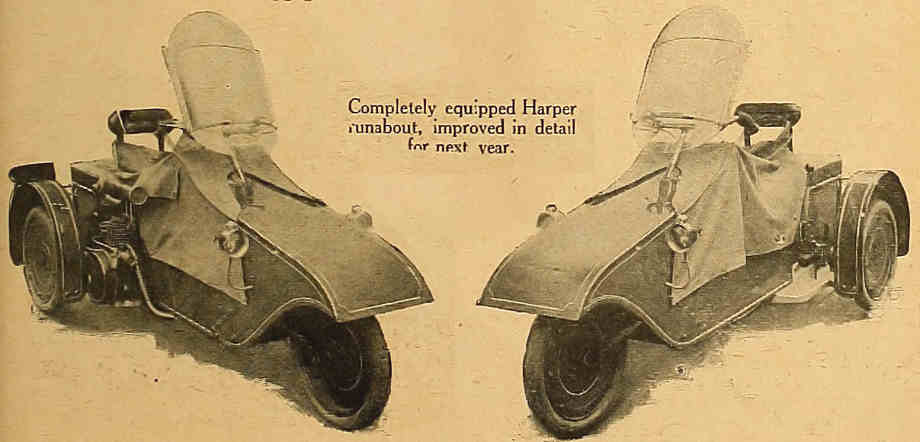 HARPER RUNABOUT. (122.)
Solo Three-wheelers. 2 H.P. Model.
70x70 mm. (269 c.c.); single cyl. two-stroke; petroil lubrication; Zenith carburetter; flywheel mag.; 3-sp. gear; clutch and lever-starter; chain drive; 2¼in. tyres.
Price £100.
E. H. Carlisle and Co., Ltd., 188, Deansgate, Manchester.
The Harper runabout stands in a class by itself. Its designers, recognising the demand for an exceptionally light, handy vehicle giving complete weather protection, have succeeded in producing a most, attractive little three-wheeler. Low upkeep and running costs are claimed for it, and, considering the power unit is only of 269 c.c. capacity and the entire weight only 280 lb., the claim may well be justified. A three-speed gear, chain transmission giving direct drive on all speeds, Zenith carburetter, independent foot and hand brakes, starting from the seat by lever, and foot acceleration are details which go to the making of a workmanlike little runabout.
The matter of luggage-carrying has been well considered, the space under the emergency extra seat being ample for light parcels, while provision has been made for the carrying of such things as golf clubs, fishing rods, and tennis rackets. The whole of the mechanism and body is supported on the quarter-elliptic springs, a desirable feature for so small a machine. On the question of actual road performance the little Harper can boast of a good record in the Scottish Six Days Trials. For the makers to have entered such an arduous event with a three-wheeler fitted with so small an engine exemplified fully their faith in the machine, and their temerity was justified.
Tradesman's box carrier models are available.
Olympia Show 1922
N.B. R. H. Carlisle and Co of Manchester was a dealer.