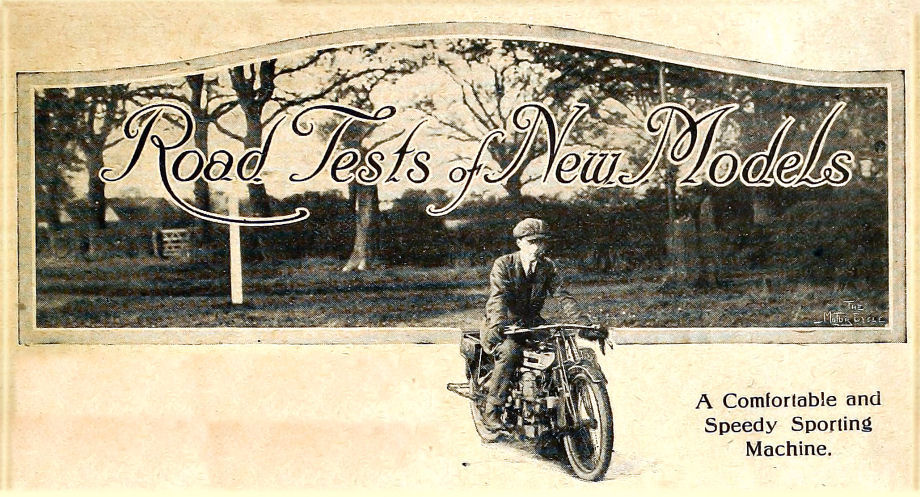 THE 3½ h.p. FLAT TWIN BROUGH
A Comfortable and Speedy Sporting Machine.
MANY machines are fast: many machines are comfortable: some are fast and comfortable: a few are fast and comfortable simultaneously: but very few mediumweights come under this category. The new 3½ h.p. sporting Brough is one of the very few. Or, more explicitly, the Brough may be driven at really high speeds over really bad roads with little appreciable effect on machine or rider.
For nearly ten years Messrs. W. E. Brough have produced flat twins with a distinctly sporting flavour; and the machine that we recently rode away from Nottingham bears evidence of this in every line. Although not identical in every respect with their 1921 model, the main features are the same. It is an entirely new design, and has a 496 c.c. flat twin engine with overhead valves and detachable cylinder heads. A speed I of 60 m.p.h. is guaranteed, which, for a three-speed countershaft machine with touring equipment, is an excellent figure.
Not on our test mount, but included in the final design is a large internal-expanding Ferodo-lined front brake, also a special Amac carburetter that bolts directly on to the timing cover, which contains the cored gas passages.
We may now mention our only difficulty with this particular mount. Until we learned to get the engine really "revving" in second gear before engaging the rather high top ratio, we found a slight but distinct tendency to "pull-up" when accelerating. The deeper float chamber and shorter manifold of the new carburetter, however, should remedy this. And, even so, the get-away, after short experience, is as rapid as any who consider their tyres could desire.
Speeds that are Deceptive.
Once under way the speed, on account of the remarkable degree of comfort, becomes deceptive, and only with streaming eyes and a "scraped" corner comes the realisation that we have been doing forty-five on a road where we had previously never exceeded thirty-five. It must not be inferred from this bit of lurid corner work that the steering is difficult. Naturally, an outsize in wheelbases makes the Brough a different proposition from the usual T.T. machine to pilot round a "hair-pin"; but, again, experienca docet, and, having learned - well, the cycle almost steers itself.
That notorious "snag" of the flat twin, difficulty of lubrication, appears to have been very effectively overcome. We set the automatic feed at an extravagant opening, and, although on one memorable night ride, lost among strange and slimy byways, we covered more than ten miles in second gear, with a following wind, that every now and then obscured our path with dense exhaust smoke, we never had occasion to remove a plug.
Specially pleasing to the critical ear is the exhaust note, well silenced, but with just that hint of a "crackle" that indicates latent power awaiting a favourable opportunity of making itself felt. Indeed, the machine "feels" like a big twin in its general proportions; a "long" engine and tank of large size make it difficult to believe that the capacity of the power unit is but that of a 3½ h.p. single and there was nothing in the Brough's performance that tended to emphasise the limitations expected of the 500 c.c. engine.
Mudguarding for a sporting type of mount is unusually complete, a large flap at the lower end of the front guard proving most effective without, on account of its diagonal setting and flexible construction, materially affecting wind resistance.
The rear guard, too, proved an excellent protection on some very muddy journeys. A simple shield serves to protect the rear chain, but the primary drive is enclosed in a large aluminium cover. Both are quickly detachable.
The exposed position of the valves keeps them efficiently cooled, and their lubrication is effected through hollow operating rods.
Thus a specification essentially intended for speed actually combines the reliability and strength of a hefty single with the smoothness and comfort of a spring frame twin. And how it attains this latter end Without any form of frame springing presents a nice little problem for the theorists. Several factors contribute - the even torque of a well-balanced engine, a silky cush drive, a long wheelbase, large tyres (kept fairly soft), a comfortable riding position in conjunction with an excellent saddle (Brooks B 170) are, probably in the order we have given them, chiefly responsible.
But theorising, fortunately, does not alter the fact that the latest Brough is comfortable. It is that rare type of machine that on account of its diverse qualities should appeal alike to clubman and tourist.
The Motor Cycle December 30th, 1920. Pages 861, 862