CZ Motorcycles USA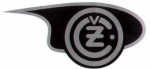 Dec 2008
Guys:
You are not going back far enough to connect CZ and Indian. I'm not sure of the exact relationship in the early days, but there was something. There are photos of CZ 125b's with an Indian decal curved around the CZ tank emblem. This would have been from about 1947.
From 1950 thru 1957 I worked for a large family (not mine) owned sporting goods business. We sold Schwinn, Raleigh, Evinrude, boats, guns, toys, fishing tackle, bowling balls, skis, you name it. And Indian. We sold a few Chiefs, but the thought was that the new lightweight Arrow and Scout were a better fit for our customers growing out of bicycles and Whizzers.
It was a different world right after the war. There were no Jap bikes, and the English had not yet recovered enough from the war to export. There were all kinds of small motorized contraptions built in the USA. We sold Whizzers by the truckload, Simplex Servi-Cycles, and toward the end a few Zundapps.
We also sold CZs from the 1947-8 125b thru the 150c of 1953 or '54, as best I remember. We purchased the CZs from International Motorcycle Company (IMC) in New York City. They definitely did not have Indian decals.
I've been told or read that IMC was owned by a pair of Jewish brothers that left Czech to escape Hitler in about 1938, coming to the USA to sell Czech glassware and other Czech products, struggling until they hit on motorcycles after the war. Remember, that from 1945 to the early 1950s there was a huge shortage of motorized transport of any sort here in the USA as elsewhere.
IMC also sold Jawas, but we never carried them because they would have competed with the Indian Arrow and Scout, 220cc single and 440cc vertical twin.
By 1950-51 new car production had caught up with the pent-up demand from WWII, and the light motorcycle business faded. The 5 brothers that owned the dealership correctly saw more profit in the marine business, which was growing rapidly with the introduction of fiberglass replacing wood for boats. Boats and motors were more family oriented and generated more repeat business, whereas motorcycles became a sport thing for teenagers and rough young adults. In those days, you could not get a date if her father knew you rode a motorcycle!
Indian folded in 1953, although the company struggled on into the early 1960s importing English Enfields and other stuff. In about 1955 our dealership sold out all the motorcycle parts and took down the signs.
My guess is that immediately after the war when the Czech motorcycles became available, the Czech brothers had no way to distribute motorcycles so they made a deal with Indian to get access to the Indian distribution system and dealerships. It would also have been good for Indian, as they had nothing to compete with the then-new Harley 125, a pre-war German design the USA took as war reparations. BSA also was given this design information and built a very similar model 125. I think they called it the Bantam.
Indian at that time was headed by Ralph Rogers who also owned Torque Engineering, developers of what became the 1948/9 vertical cylinder Arrow and Scout. These had left-side shift, down for 1st gear, same as CZ and now the world standard. The deal must have looked good to Indian too, as the CZ 125 fit nicely into their line. And, Indian was located in Springfield, Massachusetts, not far from New York.
My copy of The Iron Redskin by Harry Sucher is a wonderful history of Indian, but it makes no mention of CZ.
Indian was a worthy competitor to Harley before the war, selling roughly equal numbers of machines in some years, well less in others. Indian bet big on the Arrow and Scout, and bet wrong. Early machines had many problems due to lack of adequate development and testing as well as bad manufacturing quality. By the time they had the bugs worked out in about 1950 the market had dried up. They underpowered singles were dropped and the Scout became a 500 cc Warrior, and Warrior TT with upswept pipes and bobbed fenders, but it was too late.
If anyone has a 1950 or '51 Warrior, contact me. I'd love to own one or just take one for a ride. It feels and looks much like grown-up Perak. Rounded tank, similar controls, low seating position, adequate power, and a nice ride with telescopic forks, plunger rear suspension and a sprung solo saddle.
This is my own view of things, and I welcome additions or corrections.
Don Kueny If you have a query about CZ motorcycles please contact us